Cannibal Shrimp Invading U.S. Waters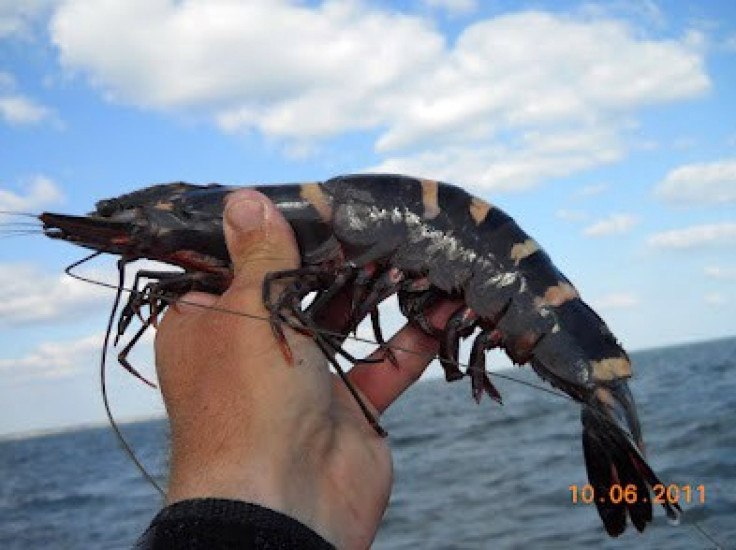 The United States is being invaded by cannibal shrimp, according to a new report by the U.S. Geological Survey and the National Oceanic and Atmospheric Administration. The shrimp, which can grow up to 13 inches (33 centimeters) long, have been seen in the coastal waters ranging from North Carolina to Texas.
The cannibal shrimp, actually a species of Asian tiger shrimp, are native to Asian and Australian waters and feed on other shrimp species, reducing native population while boosting their own. Recent estimates show that the cannibal shrimp population was 10 times higher in 2011 than in 2010, but getting an exact number is difficult, researchers said.
They are probably even more prevalent than reports suggest, because the more fisherman and other locals become accustomed to seeing them, the less likely they are to report them, Pam Fuller, a biologist with the U.S. Geological survey, told CNN.
Sightings of cannibal shrimp rose from 21 in 2008 to 331 in 2010, according to the NOAA. If the cannibal shrimp continues to increase, the species could severely damage native stock, researchers said. Tiger shrimp lay can between 50,000 and 1 million eggs during their lifetime that hatch within 24 hours, according to the NOAA.
In addition to potential predation of [the cannibal shrimp] on native shrimp species, this non-native shrimp may also have an advantage over them in competing for food resources, the USGS says on its website. Tiger shrimp are also susceptible to a variety of viral diseases and are capable of transmitting them to native shrimp and other crustaceans.
Cannibal shrimp eat more and grow faster than native shrimp, leaving less food and nutrients for other shrimp to consume.
U.S. fishermen have attempted to farm tiger shrimp in the past, but to no avail, researchers said. Tiger shrimp are difficult to breed in captivity and require a lot of space, which U.S. fisheries didn't have, according to the Secretariat of the Pacific Community's Coastal Fisheries Program, an intergovernmental organization that monitors fisheries in the South Pacific.
Farms should be located in brackish water areas or coastlines with available freshwater supply throughout the year, the organization says on its website. These conditions are not commonly found in the region.
Waters off the coast of Asia, Thailand and Australia are much more suitable for farming cannibal shrimp, according to the SPC. The last U.S. tiger shrimp farm closed in 2004 without ever having raised a successful crop.
In 1998, approximately 2,000 cannibal shrimp escaped from an aquaculture facility in South Carolina. Scientists recovered over three hundred of the specimen in the following months, but the USGS and the NOAA point to the incident as one of the most likely introductions of the species to U.S. waters.
Fortunately, there is one silver lining to the tiger shrimp population boom, Fuller said.
They're supposed to be very good, she told CNN. They can get very large, sorta like lobsters.
Tiger shrimp is one of the most widely farmed species of shrimp in the world, according to the Food and Agriculture Organization of the United Nations. Over 770,000 metric tons of tiger shrimp was produced in 2009, the last year data is available for, with a total value of over $3.5 billion.
Despite being edible, the shrimp pose a serious threat to the ocean's ecosystem, James Morris, an ecologist with the NOAA, said in a statement.
The Asian tiger shrimp represents yet another potential marine invader capable of altering fragile marine ecosystems, he said. Our efforts will include assessments of the biology and ecology of this non-native species and attempts to predict impacts to economically and ecologically important species of the Atlantic and Gulf of Mexico.
Researchers from the USGS and the NOAA will begin to take samples of cannibal shrimp to examine their DNA, which may shed light on where they are coming from.
We're going to start by searching for subtle differences in the DNA of Asian tiger shrimp found here - outside their native range -to see if we can learn more about how they got here, Margaret Hunter, a geneticist with the USGS, said in a statement. If we find differences, the next step will be to fine-tune the analysis to determine whether they are breeding here, have multiple populations, or are carried in from outside areas.
© Copyright IBTimes 2023. All rights reserved.
FOLLOW MORE IBT NEWS ON THE BELOW CHANNELS