Cara Delevingne Cast In 'The Suicide Squad': Is Model The Next Cameron Diaz?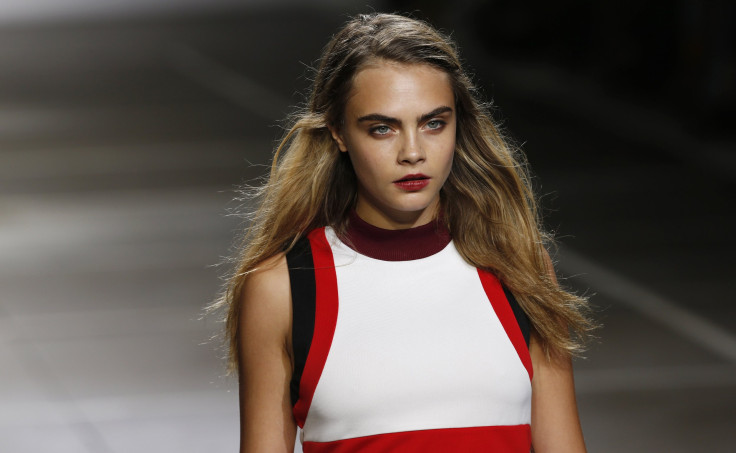 If you don't know who Cara Delevingne is, you haven't been paying attention. The 22-year-old supermodel known for her bushy brows, goofball persona and alleged bisexuality has been all over the runways, the tabloids, and soon she'll be on the big screen -- and it won't be the first time.
On Tuesday, Warner Bros. named the official cast of the much-anticipated film version of D.C. Comics' "The Suicide Squad," slated for August 2016. Delevingne will play supervillain the Enchantress, alongside Jared Leto, Will Smith, Tom Hardy and Margot Robbie, Variety reports.
"Queen Delevingne," as she's been dubbed, has already made her mark as a trendsetter. Her famous bushy brows launched a thousand beauty editorial think pieces and made the "power brow" the new "It" look for 2014. The beauty blog StyleList notes that Google searches for Cara Delevingne and her brows surged over the past year. Not since Brooke Shields in the 1980s have bushy brows been so in.
Delevingne's a favorite model of Chanel designer Karl Lagerfeld, and she was recently named Model of the Year by the British Fashion Awards.
Perhaps it's Delevingne's extracurricular activities that have cemented her fame: Although she briefly dated One Direction's Harry Styles, it was her much-publicized romance with Michelle Rodriguez that put her on the tabloid map. Famous for her tomboyish style while off-duty -- her favorite look is jeans with hightops and a baseball cap -- Delevingne was snapped topless with Rodriguez during vacations together, and drunk at basketball games making out. Most notoriously, one photo showed the two women holding hands while they both got IV drips filled with vitamins after a night of hard drinking.
Delevingne is already a movie veteran: She had a small role in "Anna Karenina" a couple years ago, a leading role in the British movie "Timeless," and she's in talks to lead in the movie adaptation of John Green's "Paper Towns."
Is Delevingne poised for the sort of rare model-turned-actress transition that Cameron Diaz was able to achieve, starting with 1994's "The Mask" with Jim Carrey, the movie that launched her solid acting career? If Hollywood's love for beautiful, goofy and talented women is any indication, the answer is yes.
© Copyright IBTimes 2023. All rights reserved.