Cavs vs. Warriors Game 6: Start Time, TV Channel, Live Stream Info, Prediction For 2015 NBA Finals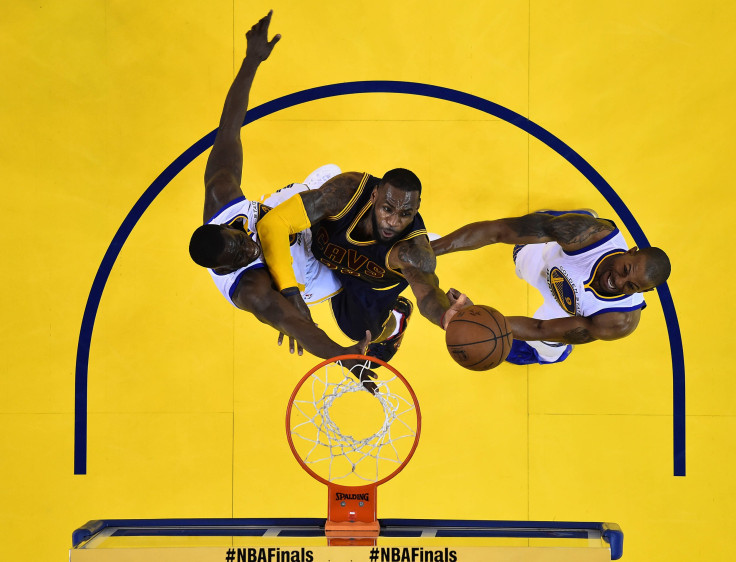 Throughout these playoffs, and the NBA Finals in particular, Cleveland Cavaliers forward LeBron James has reached a level of play unlike anything witnessed before. He's averaging 36.6 points, 12.4 rebounds, and 8.8 assists in the Finals, and notched 40 or more points in three out of the five games thus far.
James has received limited support from this patchwork group of Cavs, and now he'll have to put them on his back at least one more time, starting with Tuesday night's Game 6 against the Golden State Warriors at Quicken Loans Arena.
Down 3-2 after falling in Game 5 104-91, the matchup marks the first time Cleveland has faced elimination this postseason and James said he's determined to deny Golden State from its first title in 40 years, whether it's in Cleveland or back out West.
"We don't want them celebrating at all, no matter if it's on our home floor or their home floor," James said. "We've come this far, and we've been very good at home. We have to understand why we weren't good in Game 4. We had a lack of energy. We had a lack of effort in a lot of areas in Game 4, and we can't repeat that or they'll raise the trophy for sure."
And the Warriors are quite aware that the Cavs will be in desperation mode in order to extend the series to a final Game 7.
"The mentality is that this will probably be the hardest game that any of us have ever played, and I think that's the right mentality to have when you're going on the road and going against a team that has fought us as tough as anybody all year," Warriors guard Andre Igoudala said. "This is a once-in-a-lifetime opportunity for a lot guys, and some guys don't ever get here. You've got to take advantage of the moment.
"It's not going to be given to us. We have to earn it. The hardest games are closeout games. We've had some really hard closeout games this postseason, but this one is probably 10 times harder."
The Warriors and point guard Stephen Curry are coming off a scintillating performance in Game 5 that placed them in position for the title. Curry scored 17 of his 37 points in the fourth quarter as Golden State broke the game open late in the final period. Igoudala also provided 14 points, eight rebounds, and seven assists, with Draymond Green coming up with a consecutive solid game of 16 points, nine boards, and six assists.
But they'll have to repeat that all-around team performance in order to bounce the Cavs and James. The Warriors essentially needed that team effort to contend with James' consistent dominance throughout the series, including his triple-double in Game 5.
The 30-year-old James, who is basically assured the Finals MVP should Cleveland win the next two games, put up 40 points, 14 rebounds, and 11 assists for his second triple-double of the series and third overall in these playoffs. James has pasted together these almost superhuman games with some help from a supporting cast that's largely struggled against the much deeper Warriors. Guard J.R. Smith totaled 14 points in Game 5, and big man Tristan Thompson poured in 19 points and 10 rebounds with two blocks and two steals to dominate the inside.
Yet the pace favored the Warriors even after the Cavs went small to contend with their speed. Cleveland head coach David Blatt sat center Timofey Mozgov for all but nine minutes in Game 5, choosing instead to rely on Smith and veterans Mike Miller and James Jones.
Blatt also hinted that Mozgov won't be affected by the move, and that he could be back to his regular role in Game 6.
"He'll be back playing like he always can, I'm sure, because he's got character and he doesn't listen to a lot of you guys," Blatt said tongue-in-cheek to reporters.
The move did pay off for most of the game until the fourth quarter, the period the Warriors have owned in the series. Curry managed to break away from Cleveland's Matthew Dellavedova, and Golden State won the period 31-24. All told, the Warriors have outscored the Cavs 94-60 in the final quarter.
Start Time: 9 p.m. ET
TV Channel: ABC
Live Stream: WatchESPN
Point Spread: Warriors by 4.5 points
Over/Under: 194 points
Prediction: Cleveland over Golden State, 97-95
© Copyright IBTimes 2023. All rights reserved.