Cecil The Lion Update: Yelp Users Outraged After Thousands Of River Bluff Dental Reviews Vanish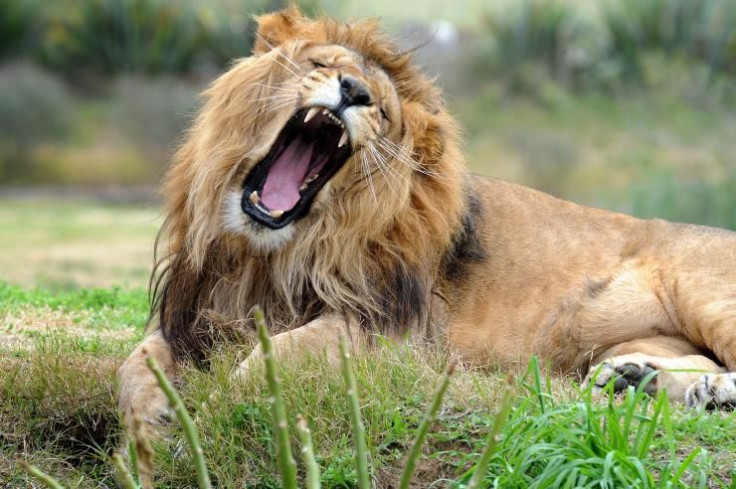 Updated Monday, 5:40 p.m.:
Yelp Inc. released the following statement:
"We, too, are horrified by the senseless death of Cecil the lion and understand that many of us feel compelled to share our outrage. We are also equally committed to preserving the integrity of the review content on Yelp. This is why we follow the same approach for every business that lands in the news, good or bad, or even repugnant. And while that's a highly contested process this week, we are committed to keeping Yelp useful for everyone. We encourage you to continue the conversation on Yelp Talk."
The full statement is available on Twitter. A Yelp spokesperson also confirmed to International Business Times that "media-fueled reviews" typically violate the site's content guidelines.
Original Story:
How do you wage Yelp warfare when Yelp won't play along? Online critics of the American hunter who killed Cecil the lion are in an uproar after Yelp Inc. removed thousands of reviews trashing his dental practice.
River Bluff Dental in Bloomington, Minnesota, has been the target of fierce criticism on various online review platforms since last week when the Telegraph identified Walter Palmer as the recreational game hunter who paid upward of $55,000 to kill the beloved feline on safari in Zimbabwe. Almost immediately after Palmer was named in the press, critics took to Yelp, Facebook, Google and other platforms to voice their disgust and vent their rage at Palmer's place of business, with many saying they hope Palmer suffers the same fate as the lion he slaughtered. Others posted outright death threats against the hunter.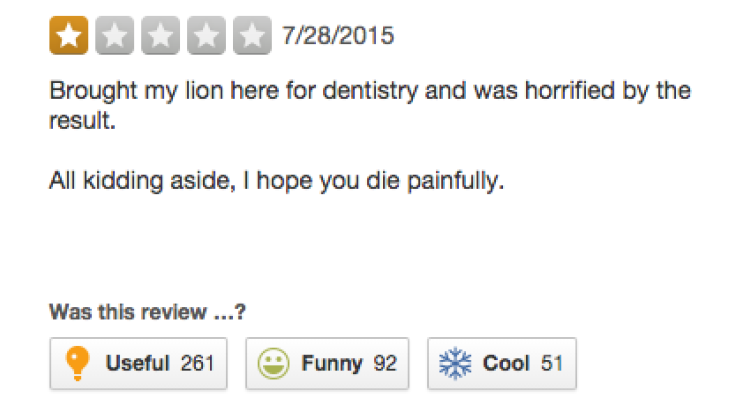 The Yelp page for River Bluff, which had only four reviews before the story broke, had more than 4,300 mostly one-star reviews by late last week. But as of Saturday, less than 500 remain on the main page. While some have been relegated to Yelp's "not recommended" bucket, most have been wiped completely.
Furious at the sudden disappearance, Yelp reviewers are signing an online petition calling on Yelp to stop stifling their speech:
"Yelp's autocratic censorship of this this [sic] historic, unprecedented outpouring of participation in public debate silenced and disempowered their loyal contributors and deceptively erased the debate from public view -- apparently to protect River Bluff Dental and its criminal dentist Walter Palmer."
Yelp did not immediately respond to request for comment. The site's "content guidelines" favor reviews that reflect firsthand customer experiences, and its "terms of service" prohibit direct threats.
Focused criticism of a business whose profile is suddenly raised by the media is not uncommon, and with Yelp being the most well-known online review platform, it often serves as the de facto destination for angry consumers. Last year, after a Philadelphia restaurant was identified as the establishment where a group of diners may have eaten before they attacked a gay couple, Yelpers quickly gathered their pitchforks and went in for the kill, trashing the restaurant with one-star reviews even as Yelp deleted them.
At the time, a Yelp spokeswoman told International Business Times that the company has a special team in place that monitors businesses at the center of high-profile media stories. "Reviews that are found to be in violation of Yelp's Terms of Service or Content Guidelines, including those that are contributed as a result of media attention and do not reflect a first-hand experience, will be removed from the site," she said.
Her comment speaks to differing points of view with regard to what role online review forums should play. Is Yelp exclusively a platform for first-hand customer reviews, or may it also serve as a megaphone for the airing of legitimate grievances, irrespective of their relationship to the business at hand? The petitioners argue that the reviewers criticizing River Bluff Dental took the time to post pictures, links to media reports and other information that contributed to the worldwide debate surrounding Cecil's death, and so their reviews should remain intact by virtue of being a matter of public concern.
Yelp Inc., whose stock plummeted to a two-year low last week after it reported disappointing earnings, likely sees it differently. The company has been struggling with slower subscriber growth and poor public perception, but it sees the reputation of its reviews as the cornerstone of its business.
The company has its work cut out for it this week. Even as Yelp was removing reviews of River Bluff Dental on Saturday morning, new ones have been appearing at a rate of about 20 per hour. Expect this game of Whac-A-Mole to continue for a while.
Read the full petition here.
Christopher Zara is a senior writer who covers media and culture. News tips? Email me. Follow me on Twitter @christopherzara.
© Copyright IBTimes 2023. All rights reserved.