Charlie Hebdo: Finding Latest Issue In Paris Is All About Connections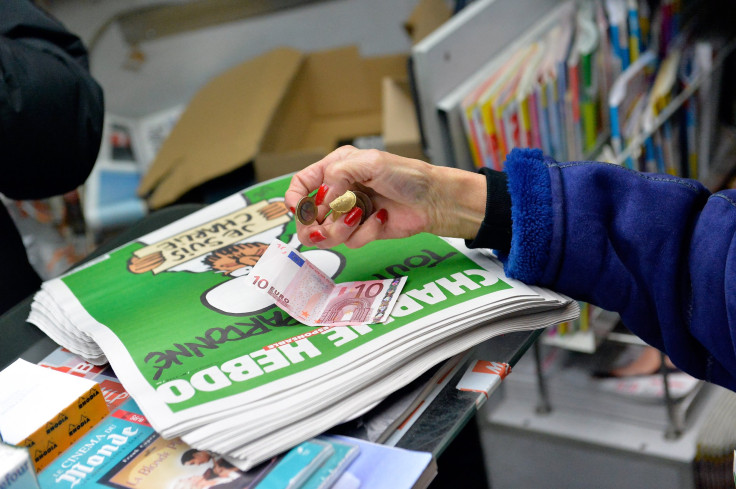 PARIS -- At 6 a.m. in the 19th arrondissement, one of the most dangerous of the city's 20 districts, it is still pitch-black. The shops are all closed, there's barely any light and the streets are nearly empty -- except for a peculiarly long string of people, bundled in winter coats, who seem to be queuing to a hole in a wall. Minutes later, a man in a wheelchair approaches the queue.
After he'd tried several other kiosks, this newsstand was Joel Nekkab's final stop in his hunt for the new edition of the satirical Charlie Hebdo weekly, the first to be printed after the massacre at its offices last week that left 10 employees dead.
All across Paris, lines for the historic issue began to form as early as 4:30 a.m., and though many newsstands didn't open until 6 a.m, copies of Charlie Hebdo were nearly impossible to find for the average Parisian, but like so many other things in the French capital, getting a copy depended on who you know. Charlie Hebdo had officially sold out in France before 10 a.m., but International Business Times found that certain newsstands were keeping copies reserved for certain customers in one of the best districts of Paris. In the 19th arrondissement, though, Nekkab was unable to get a copy.
"I'll try again tomorrow," said Nekkab, who works for the Association for the Paralyzed of France. "I would have liked to be part of the march on Sunday as well, but us, we roll, you know,"
Another man from the 19th arrondissement, luckier than Nekkab, did get a copy. "I'm going to frame this and keep it for my grandchildren," he said.
He was one of the last customers to receive a copy at Arthur Lie's newsstand in the 19th arrondissement. He wasn't a regular reader of the magazine, but he wanted this issue. "Don't lose hope. There will be more copies," he said encouragingly.
Lie arrived at his store to find a line of about 75 people Wednesday morning, and he didn't even open the front gate before beginning to sell his copies of Charlie Hebdo. He turned away more than half of his customers.
"I went to three newsstands before I got my copy," said Emmanuelle, a resident of the 19th arrondissement, who didn't want to give her last name, fearing harassment in her neighborhood. She said she is typically afraid to walk around the district in the dark, but she made an exception Wednesday to get a copy of Charlie Hebdo. She was born in Paris and told IBTimes she lived in France during World War II.
"In France you can't speak about Islam anymore. It's the government's fault; they're Islamophiles. When people make fun of Jesus, no one says anything," Emmanuelle said.
"When I was young, I was very far-left, so this, is a memory. I saw Cabu [Charlie Hebdo cartoonist] last year, and to know Cabu and Wolinski [Charlie Hebdo cartoonist Georges Wolinski] were assassinated... It hurts."
After three radical Islamists stormed the Charlie Hebdo office, killing staff members, the attackers reportedly hijacked a grey car in the 19th arrondissement to make their getaway. The Kouachi brothers and an acomplice reportedly took the car and forced the driver out at gunpoint, but not before he saved his dog.
The man whose car was hijacked by terrorists in the 19th arrondissement owns Kiosque St-Germain across town in the affluent neighborhood of St. Germain. His stand is set up across the street from a large Louis Vuitton store and sits next-door to a cafe, large by Parisian standards, where waiters in crisp white button-downs serve large groups of tourists espressos that cost €4.10 each ($4.82).
On Wednesday morning, Patrick, who asked to be identified only by his first name, had been turning away customers asking for Charlie Hebdo since about 6:30 a.m.
"No more Charlie Hebdo. Reserve your copy for tomorrow," Patrick called out to the ever-changing crowd in front of his tiny newsstand. Patrick was taking reservations for copies expected to come out Thursday without taking names, and claimed he had not saved a copy for himself.
"They [the attackers] wanted to kill the press, but they ended up dying in a printing house," Patrick said. "They are not going to win."
Patrick had turned away roughly a dozen customers in a span of five minutes, but then an older, well-dressed man entered the kiosk and asked for a copy of Charlie Hebdo.
"You didn't get one?" Patrick asked, cocking his head to the side before reaching behind the counter to pull out a copy bearing the green cartoon of the Prophet Muhammad holding up a "Je Suis Charlie" sign, and handed it to the man.
"He reserved it," Patrick announced, but the woman waiting in line balked at that.
"From your conversation, that's not what it looked like," she said, distraught that she was unable to get her hands on a copy.
Patrick said he'd received 115 copies and thet they "were finished" in roughly 30 minutes. That was before he gave a hidden copy to a customer.
"I have a special relationship, you know," Patrick said. "Georges Wolinski and Charb [Charlie Hebdo director of publishing Stephane Charbonnier] used to come here."
Kiosque Saint-Germain did much better than Helmy Awad's newsstand in the 19th arrondissement, as Awad had only received 20 copies. Awad's newsstand was Nekkab's last stop in his quest to find a Charlie Hebdo Wednesday morning. But he did not give up and even said he is organizing a "roll" (in lieu of a march) this week so that even those in wheelchairs can show their support for Charlie.
"You need to think about those who are shot," Nekkab said. "If they're Jewish, if they're Muslim, what does it matter?"
© Copyright IBTimes 2023. All rights reserved.
FOLLOW MORE IBT NEWS ON THE BELOW CHANNELS