Chicago Elections Chief Got Lobbying Contracts from Rahm Emanuel's Administration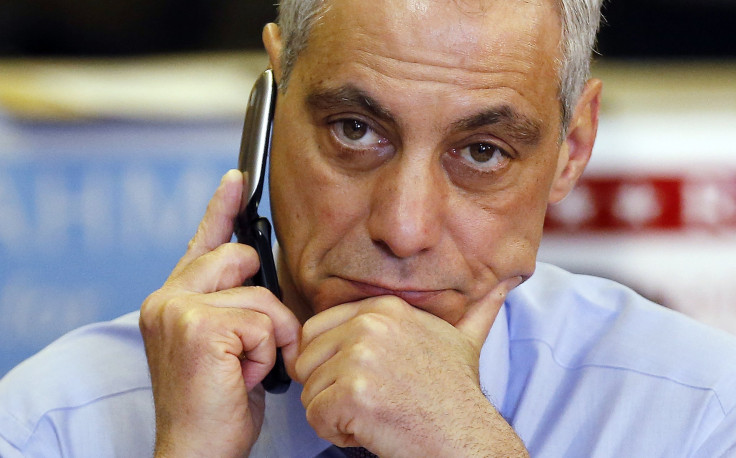 If Chicago's first mayoral runoff in history ends up razor close on April 7, the city will be relying on a purportedly independent arbiter to oversee any recount. But that arbiter, the Chicago Board of Election Commissioners, is chaired by a politically-connected lawyer whose firm has received secret city lobbying contracts from incumbent Mayor Rahm Emanuel's administration. After receiving those contracts, the chairman has already used his power to boost the mayor's allies against anti-Emanuel challengers in other municipal elections.
Board chairman Langdon Neal was appointed to his position by the Cook County Circuit Court, not by any city official -- a structure that is supposed to preserve the board's independence from candidates for municipal office. However, the laws establishing the election commission do not prohibit Neal from getting contracts from the mayor, whose election he will oversee. How much he has made from those contracts remains a closely guarded secret: the Emanuel administration has denied an open records request for the terms of the deals, refusing to respond to International Business Times within the timeframe mandated by Illinois law.
The only details that have been disclosed are in city lobbying records, which show that Neal's law firm, Neal & Leroy, was awarded three lobbying contracts from Chicago Public Schools, the Metropolitan Pier and Exposition Authority, and the Public Buildings Commission of Chicago at the beginning of 2012. Neal himself was listed as a lobbyist for the agencies in the city's disclosure database in 2012, and the most recent city records show Neal is registered as a lobbyist for the agencies in 2015. All three agencies that gave Neal & Leroy lobbying contracts are controlled by Emanuel's appointees.
A 2013 advisory opinion from Cook County officials said Neal's dual roles as an election overseer and a registered lobbyist contracted by Chicago does not violate county ethics rules. Ethics experts, though, say that the financial links between Neal and Emanuel's administration present an inherent problem for an election official who is supposed to be independent from the candidates running for office.
"The type of relationship that Neal & Leroy has with Chicago governmental authorities presents a conflict of interest and should be illegal," said Dick Simpson, a professor of political science at the University of Illinois Chicago.
Neal and Emanuel's office both did not respond to IBTimes' request for comment.
As IBTimes was seeking comment for this story on Friday, Neal announced his plans to step down from the Chicago Board of Elections after the runoff vote. Neal did not say whether his law firm would continue its contract for city lobbying work from the Emanuel administration.
On March 10, IBTimes filed an open records request with the Emanuel administration, seeking the disclosure of the total amount paid by Chicago Public Schools to Neal & Leroy. Chicago Public Schools declined to provide IBTimes with details of the lobbying expenditures. The denial came at the same time the Emanuel administration also denied IBTimes' open records request to release more than 1,500 emails between the mayor, his top aide and one of his top donors, Grosvenor CEO Michael Sacks.
David Melton, the Executive Director of the Illinois Campaign for Political Reform, questioned why Chicago Public Schools needed to hire a lobbyist for business with the City Council, where Emanuel allies constitute an overwhelming majority.
"I have no idea as to why CPS would need a lobbyist, given the mayor's control of the school board and his majority on the city council," said Melton. Of the refusal by the Emanuel administration to disclose the terms of the city's contract with Neal's law firm, Melton said: "This contract is significant enough to merit public exposure and I am at a loss as to why they would not disclose it."
Emanuel officials' decision to award new lobbying contracts to Neal & Leroy preceded the Chicago Board of Elections issuing decisions that benefit the mayor's close allies.
In one race, Ald. Deb Mell -- the sister-in-law of former Illinois Governor Rod Blagojevich -- who was appointed to her position by Emanuel, faced off against Tim Meegan, a public school teacher who was an outspoken critic of the mayor. In Chicago's initial round of voting on Feb. 24, city officials said Mell crossed the 50 percent threshold -- which allows candidates to avoid a runoff -- by just 14 votes. The race, though, was marred by charges of electoral improprieties, including an allegation that "a Mell campaign worker was seen opening a ballot box," according to Meegan's campaign manager Christopher Poulos. Despite that, the Board of Elections denied requests to permit a runoff.
"The election was so close, and the potential illegalities so significant, that we thought that the Board of Elections would grant the public a runoff, so as to remove any question as to whether or not a majority of the ward voted against Deb Mell," Poulos told IBTimes.
In another aldermanic election, Emanuel critic Pete DeMay was kicked off the ballot by the Board of Elections in a race that would have pitted the challenger against a reliable ally of the mayor.
Neal & Leroy had previously secured contracts to lobby for the same three city agencies under former Chicago Mayor Richard Daley. In 2007, Neal faced public criticism about potential conflicts-of-interest at the beginning of the former mayor's final term. In a 2011 Chicago Tribune story about his firm's lobbying work for both the city and corporate clients, Neal said, "I'm not a lobbyist, I don't do lobbying work."
© Copyright IBTimes 2023. All rights reserved.