China Says US Turning Taiwan Into 'Ammunition Depot'; Sends Navy Vessels Around Island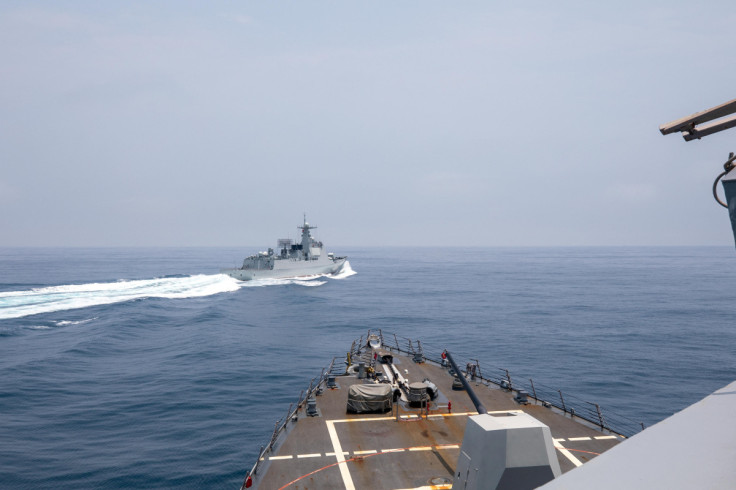 KEY POINTS
A spokesperson for China's Taiwan Affairs Office said the U.S. was turning Taiwan into a "powder keg"
The U.S. announced a $345 million defense package for Taiwan on Friday
Taiwan staged military drills last week
Tensions between the United States and China continue to escalate as Beijing slammed Washington's pledge to provide millions in military aid to Taiwan, accusing the U.S. of turning the island nation into a storehouse for ammunition.
Chen Binhua, a spokesperson for China's Taiwan Affairs Office, told reporters Saturday the U.S. was turning Taiwan into a "powder keg" and "ammunition depot."
Chen was responding to a reporter's question about the White House's Friday announcement regarding a $345 million military aid package for Taiwan. He said Taiwan was depending on the U.S. to "seek independence by force."
"No matter how much the DPP (Taiwan's Democratic Progressive Party) authorities and the 'Taiwan Independence' separatist forces spend tax money from ordinary people in Taiwan and buy American weapons, they will not shake our firm will to solve the Taiwan issue and realize the complete reunification of the motherland," Chen said in a press release, according to a Google translation.
Taiwan's Ministry of National Defense on Saturday said two People's Liberation Army Navy (PLAN) vessels were detected around the island. The next day, six other PLAN ships were detected in waters around the island country. By Monday, 13 Chinese aircraft and six PLAN ships were detected by the Taiwanese military. The ministry said six of the J-11 and J-16 fighter jets "crossed the median line of the Taiwan Strait."
Chinese Foreign Ministry spokesperson Mao Ning last week said Beijing "firmly opposes any form of official interaction between the U.S. and the Taiwan region," adding the country will take "resolute and strong measures to safeguard our sovereignty and territorial integrity."
Taiwan has been increasing its weapon purchases from the U.S. in recent years as China continues to step up military maneuvers around the island.
Early in March, the U.S. approved the potential sale of $619 million in new weapons to Taiwan, which includes 200 anti-aircraft advanced medium-range air-to-air missiles (AMRAAM). At the time, Taiwan's defense ministry said the missiles will help the island country in defending its airspace "from the Communist military."
The self-governing nation also staged its first-ever military drill at the Taoyuan International Airport last week. Commercial traffic was briefly halted as Taiwanese soldiers practiced defense drills against a simulated attack from China. They were part of Taiwan's annual "Han Kuang" wargames.
"In addition to familiarizing our forces with command and control, this drill can also signal to potential enemies that we are getting ourselves prepared for such contingency," said Alexander Huang, a military expert with Taipei's Tamkang University.
Taiwan also held air drills simulating its response to Chinese missile attacks in several cities last week. As part of it, residents in seven counties in the northern part of the island were subjected to emergency scenarios such as a missile attack, wherein firefighters simulated putting out fires caused by a missile attack targeting a train station.
Taiwan's Ministry of Foreign Affairs (MOFA) said it will continue to cooperate with the U.S. and "all like-minded partners" to defend the island nation's peace and democracy.
© Copyright IBTimes 2023. All rights reserved.