Cincinnati Bengals vs. Houston Texans 2015: Prediction, Preview, Betting Odds For Monday Night Football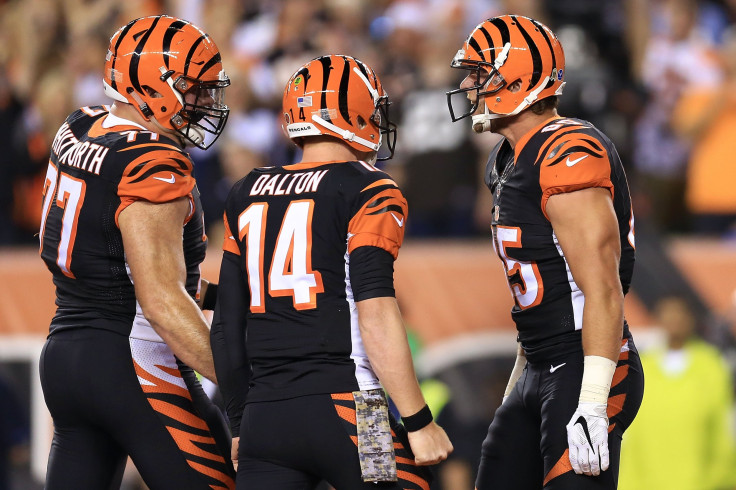 Recent "Monday Night Football" games have been surprisingly competitive, but that may be coming to an end in Week 10. Following three straight games that were decided in the final minutes, Monday's matchup might see the Houston Texans (3-5) lose big when they visit the Cincinnati Bengals (8-0).
The regular season is only halfway completed, but Cincinnati has all but wrapped up the AFC North with their perfect start. Houston might be one of the worst teams in the NFL, but they are alive and well in the AFC South race, trailing the Indianapolis Colts by just a half-game.
Cincinnati is the biggest favorite on the Week 10 schedule, according to vegasinsider.com. The Bengals are giving the Texans 11 points, and the over/under is 47.5 points.
Super Bowl Contender
After winning last year's Super Bowl and starting the season at 8-0 with a string of dominant performances, the New England Patriots are clearly the team to beat. In the quest to find the biggest challenger to the defending champs, it'd be difficult to pick any team over the Bengals.
Going perfect through the first eight games of the season, the Bengals have answered every challenge that's come their way. Cincinnati has a 20-point road win in Oakland, which looks more impressive each week. They've gotten wins over the two-time NFC champion Seattle Seahawks and the Pittsburgh Steelers with a healthy Ben Roethlisberger. The Bengals also have a 13-point road win over the Buffalo Bills, who have moved above .500 in Week 10.
Cincinnati has been effective on both sides of the ball. They rank third in points per game (28.6), having scored at least 24 points in seven of eight games. The Bengals' No.4-ranked scoring defense gets better each week, having allowed 20 total points in their last two contests.
Quarterback Edge
The Bengals have had the same starting quarterback for every game in the last five seasons, and he's playing far better than he ever has. During that same time, the Texans have started eight different quarterbacks, and Houston's future at the position remains a giant question mark.
Andy Dalton is about to lead the Bengals to their fifth consecutive playoff appearance. He was never considered among the top quarterbacks before this season, but Tom Brady is the only signal caller that had a better first half of the season. Dalton ranks second in passer rating (111.0), sixth in completion percentage (67.4), and seventh in touchdown passes (18), while totaling 2,226 yards and four interceptions. Having posted a passer rating of at least 95.9 in all but one game, it seems clear that Dalton won't be slowing down anytime soon.
Brian Hoyer has put up decent numbers for the Texans, but his 97.1 passer rating and 13:3 touchdown to interception ratio don't tell the whole story. Hoyer was benched after the season opener because he played so poorly, and he reclaimed the job because Ryan Mallett played worse than any quarterback this year. Hoyer is coming off a strong game against the Tennessee Titans, and he's played especially well against the AFC South.
No Running Game
Houston's instability at quarterback has been a major issue, but they haven't been able to survive the loss of one of the NFL's best running backs. The team won two games when Arian Foster missed half the season in 2013, and they are having another bad year with the running back having suffered a season-ending injury.
It's no coincidence that the Texans have had virtually no rushing attack in their five losses. During those games, the team is averaging 73.2 rushing yards on 3.2 yards per carry. Only one NFL team is averaging fewer than 82 rushing yards per game, and no team is below 3.3 yards per carry on the season. Houston's leading rusher in their five losses has averaged just 41.4 yards per contest.
Having suffered multiple injuries this year, Foster was never really productive, averaging just 2.6 yards per carry. Alfred Blue leads the team with 273 rushing yards. Cincinnati's run defense has been their biggest weakness, ranking last by allowing 4.9 yards per carry.
Prediction
Cincinnati has easily handled subpar competition all season long, and Monday night should be no different. The Bengals' one weakness is their run defense, and the Texans have proven that they won't be able to take advantage of it. Dalton and Cincinnati's offense will be able to score against Houston's pass defense, and the Texans don't have enough weapons to keep up with the AFC North's top team.
Cincinnati over Houston, 28-13
© Copyright IBTimes 2023. All rights reserved.