Cisco Systems 2Q Results Blow Past Estimates on Record Sales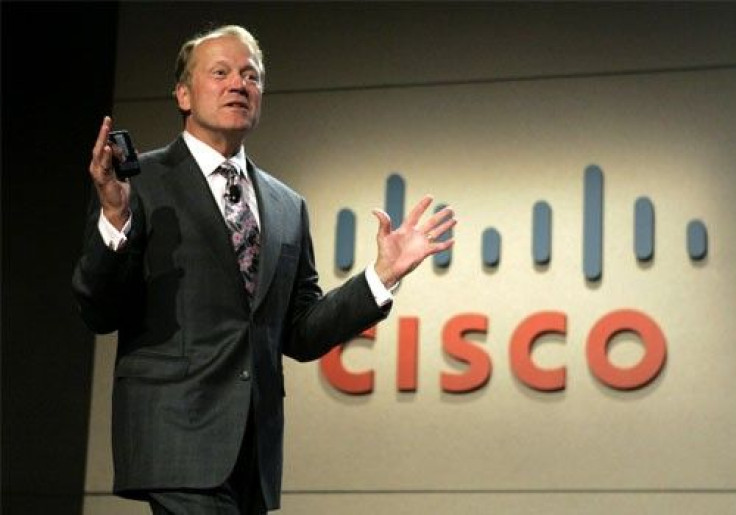 Cisco Systems, the No. 1 provider of Internet equipment, reported second-quarter results that blew past estimates for both earnings and sales.
Cisco said net income rose 43 percent to $2.2 billion, or 40 cents a share, compared with $2.07 billion, or 32 cents, a year ago. Revenue jumped nearly 11 percent to a record $11.5 billion, ahead of the $11.2 billion top estimate of Wall Street analysts.
We are executing well on our three-year plan to drive earnings faster than revenue, CEO John Chambers said. We are gaining mindshare and wallet-share, he said during an investor call, where he said he had met with more than 100 top customers at the recent World Economic Forum in Davos.
Chambers forecast Cisco's pace would continue, with third-quarter revenue gains between 5 and 7 percent above the $10.9 billion of the 2011 quarter. Net income then was $1.8 billion, or 33 cents a share.
CFO Frank Calderoni forecast third-quarter operating income would range between 45 and 47 cents a share, with net income ranging between 35 and 37 cents.
Cisco shares rose more than 4 percent in after-hours trading, before an investor call with Chambers and Calderoni. They were at $21.05, up 65 cents, before the call began but gave back most of it despite Chambers' buillish forecast.
Cisco's performance could be a bellwether for the entire technology sector, which in general reported improved performance in the fourth quarter for computers and software, with mixed results for semiconductors.
As well, Cisco's results may foreshadow demand from Eurozone countries, which account for about a third of revenue. Over the past six months, most technology companies headed by IBM, Hewlett-Packard and Microsoft have been relatively immune from the European crisis because customers ordered more products to become more efficient. Cisco said European sales overall rose 7 percent but sales fell in both France and Germany.
Chambers, 62, took steps last year took steps to lower San Jose, Calif.-based Cisco's costs, especially after the company paid $6.9 billion to acquire Scientific Atlanta in 2006, leaving it with costly factories in Mexico and a bigger payroll. The company fired 9 percent of its 73,000 employees in July, incurring $1.3 billion in severance and termination costs that were spread over several quarters.
Last quarter, when Cisco reported first-quarter net income fell to $1.8 billion, or 33 cents a share, as revenue rose 4.7 percent to $11.26 billion, Cisco shares rallied, gaining 7 percent on Nov. 10, after Chambers said the company was performing better.
Still, there are no sure bets in the sector. Shares of Cisco rival Juniper Networks plunged nearly 11 percent on Jan. 27 after reporting dismal fourth-quarter results and issuing a poor forecast for the current quarter. Juniper has about a 20 percent share of the Internet equipment market compared with Cisco's 50 percent.
Other competitors include HP, HuaWei, Dell and Ciena.
Cisco shares closed at $20.40, up 20 cents, on Wednesday. The shares have gained about 13 percent so far this year. Cisco's market capitalization is $109.5 billion.
© Copyright IBTimes 2023. All rights reserved.