'The Colbert Report' Finale: Watch Best Moments From Stephen Colbert's Goodbye Episode; The Complete List Of Celebrity Cameos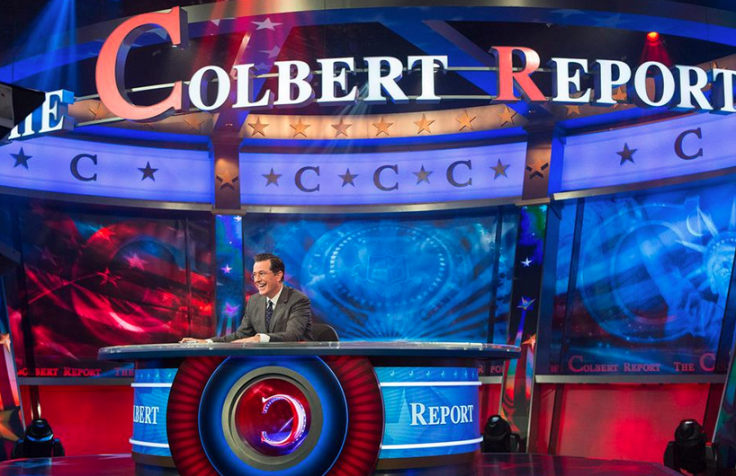 The final episode of "The Colbert Report" aired Thursday night and it was no normal series finale. Host Stephen Colbert, who is ending the show to take over CBS' "Late Show" after David Letterman's retirement in May, pulled out all the stops to end his nine-year Comedy Central run. The finale brought back a few fan-favorite segments, more than a few celebrity cameos and even an epic battle with Death himself.
All that most fans will be talking about, though, is the star-studded musical number Colbert used to close the finale. The host broke into an acapella version of "We'll Meet Again" and was soon joined by "Daily Show" host Jon Stewart and then a jaw-droppingly large list of celebrities. The A-listers who participated in the performance, included:
Musicians: Willie Nelson, Yo-Yo Ma, Randy Newman, Cyndi Lauper, Ric Ocasek, Michael Stipe, Toby Keith, Barry Manilow, Jeff Tweedy, Peter Frampton
Actors: Bryan Cranston, Mandy Patinkin, Jeff Daniels, James Franco, Patrick Stewart, Elijah Wood, Alan Alda, Tim Meadows, Paulina Porizkova, Bradley Whitford
TV hosts: Andy Cohen, Jon Stewart, David Gregory, Terry Gross
Journalists: Tom Brokaw, Katie Couric, Charlie Rose, Christiane Amanpour, Arianna Huffington, Stone Phillips, David Leonhardt, Jake Tapper, Emily Bazelon, Leslie Stahl, Maureen Dowd, David Remnick, Dan Savage, Katrina vanden Heuvel, Tom Friedman
Authors: Doris Kearns Goodwin, Andrew Sullivan, Gloria Steinem, Samantha Power, George Saunders, Paul Rieckhoff, Matt Taibbi, Jonathan Alter, Nate Silver, Joe Quesada, Ann Patchett, Bing West
Dancers: Lil Buck, David Hallberg
Fictional characters: Cookie Monster, Big Bird
Directors: Ken Burns, George Lucas
Athletes: Kareem Abdul-Jabar, Alexi Lalas, Ed Viesturs
Politicians: Bill de Blasio, Andrew Young, Mike Huckabee, Cory Booker, Claire McCaskill, Eliot Spitzer, Eleanor Holmes Norton
Others: Francis Collins, Neil DeGrasse Tyson, Henry Kissinger, Trevor Potter, Mark Cuban, Dean Kamen, Naquasia Legrand, Garrett Reisman, Shepard Fairey, Steven Pinker, Jeffrey Toobin, Brian Greene, Father Jim Martin, Norm Ornstein, Peter Colbert, John Colbert, Richard Clarke, Jimmy Wales, Grover Norquist, Cass Sunstein, Cliff Sloan, Evie Colbert, Madeleine Colbert
Watch the celebrity filled musical number below:
There was also the question of how Colbert would end his character. The host's plans to play it straight on CBS, and the Grim Reaper's scheduled appearance as the host's final guest Thursday night had some fans speculating that the fictional "The Colbert Report" Stephen Colbert would meet his demise. Well, thankfully for them, just the opposite happened. On the episode, Colbert brought back an old segment, "Cheating Death with Dr. Stephen T. Colbert D.F.A." In the segment, Colbert killed Death and by doing so, became immortal, later signing off "from eternity."
Watch Colbert take on Death below:
There is no word on the official date Colbert will premiere his spot on CBS, but his devout viewers will likely follow the host to his new network for his much-anticipated debut. For now, fans will just have to enjoy moments from Colbert's nine satire-filled years on "The Colbert Report."
What did you think of "The Colbert Report" finale? Tweet your thoughts to @Ja9GarofaloTV.
© Copyright IBTimes 2023. All rights reserved.
FOLLOW MORE IBT NEWS ON THE BELOW CHANNELS