Comcast Unfazed By Anti-Merger Coalition: Group Headed By Dish Network, TheBlaze Is Not 'Real News'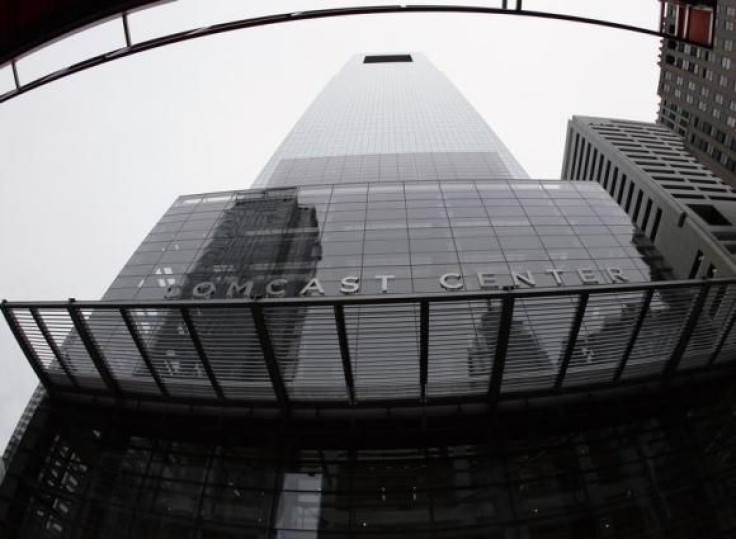 You know things are getting serious when your opponents write a manifesto. A coalition of companies and nonprofit organizations has come together to stop Comcast Corp.'s proposed $45 billion takeover of Time Warner Cable Inc., saying the combined colossus would gain unprecedented market power over the U.S. broadband and cable industries and further stifle competition.
The group, which calls itself "Stop Mega Comcast," is composed of more than a dozen for-profit and nonprofit entities, including the satellite-TV company Dish Network, the Writers Guild of America, the Parents Television Council and Glenn Beck's TheBlaze TV. The coalition contends that the merger, which is still subject to regulatory approval, runs counter to federal antitrust laws.
Comcast isn't blinking.
In a statement Wednesday, the Philadelphia cable giant characterized the coalition as nothing more than a hodgepodge of competitors and special interests -- some of which also fought to prevent its merger with NBCUniversal in 2011.
"It is no secret that some companies that want billions of dollars in higher fees for consumers are paying lobbying firms to organize against this transaction," Comcast spokeswoman Sena Fitzmaurice said. "This minority of self-interested opponents has used the same tactics in our past deals, and their claims were not found to be credible by the expert agencies. We believe the same will be true here."
In a blog post Wednesday, Fitzmaurice went further, essentially calling the coalition a nonissue. "There is no real news here," she wrote.
The coalition disagrees. In its manifesto (yes, it really has one), it says the combined Comcast-TWC would control 50 percent of the nation's residential broadband market. It adds that Comcast's ownership of NBCUniversal already makes it uniquely poised to quash competition from rival content companies, and those companies could be further harmed if Comcast is allowed to increase its cable and broadband footprint.
Comcast claims it would only control about 35 percent of the broadband market, not 50 percent, as the coalition contends.
Dish Network has been among the most vocal opponents of the Comcast merger. In an August filing with the Federal Communications Commission, Dish said the merger would "permit and motivate the combined company to hurt or destroy online video rivals through its control over the broadband pipe."
The WGA came out against the merger in March -- just a few weeks after the proposed deal was announced -- saying it would be bad for talent. The guild, which represents Hollywood screenwriters, also opposed the Comcast-NBCUniversal merger.
Noticeably absent from the Stop Mega Comcast coalition is Netflix, another vocal merger opponent.
In October the FCC suspended the pleading cycle for the merger, but on Wednesday it restarted the clock. The new deadline for public comments is Dec. 23.
Christopher Zara is a senior writer who covers media and culture. Got a news tip? Email me here. Follow me on Twitter @christopherzara.
© Copyright IBTimes 2023. All rights reserved.
FOLLOW MORE IBT NEWS ON THE BELOW CHANNELS