Conservative PAC Ad Campaign Urges GOP Supporters To Dump Trump In 2024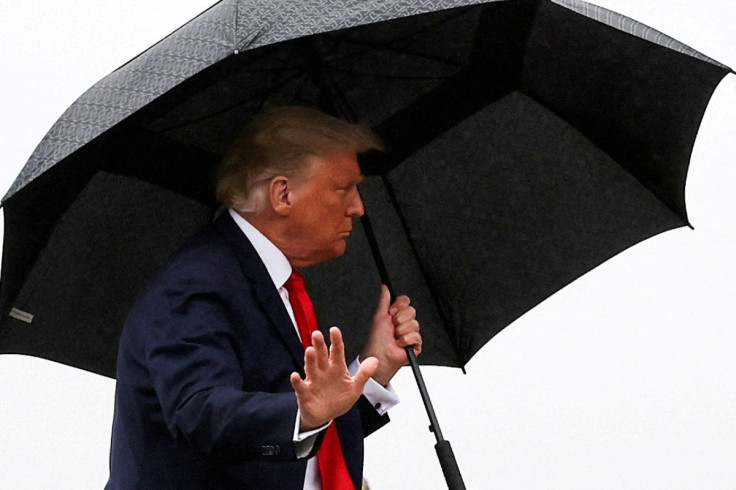 KEY POINTS
Club for Growth's David McIntosh previously said the GOP should be open to another candidate besides Trump
A Win it Back ad features a GOP supporter saying the country needs someone who can 'freakin' win'
Trump threated to sue the Club in 2015 over ads targeted against him
A super PAC tied to the conservative group Club for Growth is launching a multi-million-dollar ad campaign telling Donald Trump supporters why they should turn away from the former president and instead try a different GOP candidate for 2024.
The Win It Back PAC's ad campaign will run in the key primary states of Iowa and South Carolina through the end of July, aiming to block the ex-POTUS from getting nominated by the Republican Party, Politico reported.
TV commercials were supposed to begin airing in the two primary states Tuesday under a $3.6 million budget that Win it Back has dedicated to the campaign.
David McIntosh, Club for Growth's president, previously said the anti-tax group would not support a Trump 2024 bid, saying "the party should be open to another candidate." While the Club is not running the ads itself, McIntosh and another top PAC official are involved in Win it Back, as per a filing with the Federal Election Commission earlier this month.
The new PAC recently released a video wherein a GOP supporter first talks about how the Democrats have made a "hot mess" in the country. The narrator goes on to say that while he "loves Donald Trump" and appreciates what he has done, the business mogul just "got so many distractions."
"We definitely need someone that can freakin' win. I think we'd probably lose that bad if you voted for Trump. You want somebody smart, who actually knows how to build teams, to solve issues, focus on the issues that really need to be fixed," the narrator says to end his monologue.
Sahil Kapur, a national political reporter for NBC News, tweeted that the ad was "being presented as an anti-Trump ad," even as it took the narrator 45 seconds to switch "from praising Donald Trump to gently questioning his electability."
Club for Growth has been attacking Trump through ads in recent months, with one ad released in May that urged Americans to tell Trump to "stop cheating seniors." The ad was aimed at opposing Trump's social security plan, which the PAC says was "same as Joe Biden's." The PAC says the strategy will render automatic cuts to senior benefits.
Trump's relationship with Club for Growth has been rocky for years, but tensions have escalated recently.
In February, Trump called the PAC the "Club for NO Growth," adding that the group was "an assemblage of political misfits, globalists, and losers." His comments came after McIntosh told reporters that the Club invited potential Republican presidential candidates for a donor retreat in Florida. Trump was left out of the list of guests, McIntosh confirmed.
In 2015, Trump threatened to sue Club for Growth over ad attacks, ahead of the 2016 presidential election.
Meanwhile, division within the GOP has become more apparent in recent weeks even as Trump continues to lead in 2024 polls.
Former Wyoming Congresswoman Liz Cheney said she's not sure the Republican Party was "salvageable" at this point, seemingly alluding to the split over the recent indictment of the ex-POTUS over his handling of classified documents. Several GOP members also acknowledged that Trump's alleged mishandling of classified documents was a serious matter that the party should not downplay.
© Copyright IBTimes 2023. All rights reserved.