Cowboys News: Who Replaces Anthony Spencer? Four Players In Line To Take Over; George Selvie, Edgar Jones Atop Dallas List?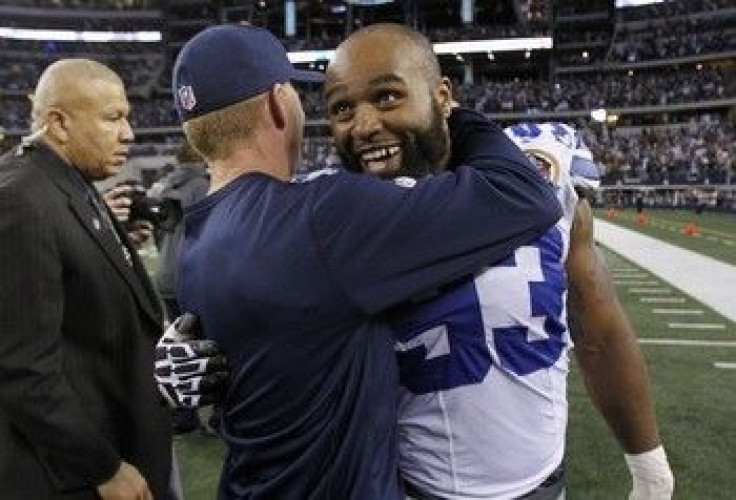 The Dallas Cowboys defense suffered a serious blow on Wednesday, when it was revealed that defensive end Anthony Spencer will require micro-fracture surgery on his injured left knee.
The operation is unfortunate both for the Cowboys and the 29-year-old, according to The Dallas Morning News. Dallas placed the franchise tag on Spencer this summer after contract negotiations went nowhere, and it's possible one of the Cowboys most talented players won't play again in Big D.
So far the Cowboys are second in the NFL with 13 total sacks this season, but losing Spencer is still a major long-term setback. Last season, Spencer was first on the Cowboys with 95 total tackles, and second with 11.0 sacks. Spencer could be sidelined until January or February, after making one appearance in Week Two against Kansas City, totaling two tackles.
Spencer and All-Pro DeMarcus Ware were supposed to benefit from the Cowboys switch to the 4-3 defense under new coordinator Monte Kiffin, but now Dallas will have to look elsewhere for a permanent replacement this season.
Georgie Selvie
Defensive end George Selvie has already filled in for Spencer in all three of Dallas's games this season, totaling three sacks and seven tackles.
Playing with his fourth team in five seasons, Selvie was supposed to serve as a stopgap until Spencer came back. But Selvie has already surpassed his sack totals in each of his first four seasons, and he's earning rave reviews while allowing Ware to move around the field.
Edgar Jones
Behind Selvie on the depth chart is Edgar Jones. The 28-year-old spent last season with Kansas City, playing 10 games, and five seasons with Baltimore before that. He's never started a game in the NFL, but five years working with the Ravens veterans and in their system should have given him the knowledge possible to succeed in the NFL.
Caesar Rayford
The Cowboys traded for Rayford from the Colts three weeks ago, but he's largely played at defensive tackle. He could get some snaps at end behind Jones. His pro experience comes from the CFL and Arena League, but his 6-foot-7 and 267-pound frame makes him a great fit in the 4-3.
Jason Vega
Another former CFLer, Vega could be called up from the practice squad. He nearly made the 53-man roster, and is likely to be the first one promoted. He began training camp with New England, and is actually an excellent example of perseverance, after giving up football a few years ago.
© Copyright IBTimes 2023. All rights reserved.