Dallas Cowboys News: 3 Best Quarterback Options To Sign After Tony Romo's Injury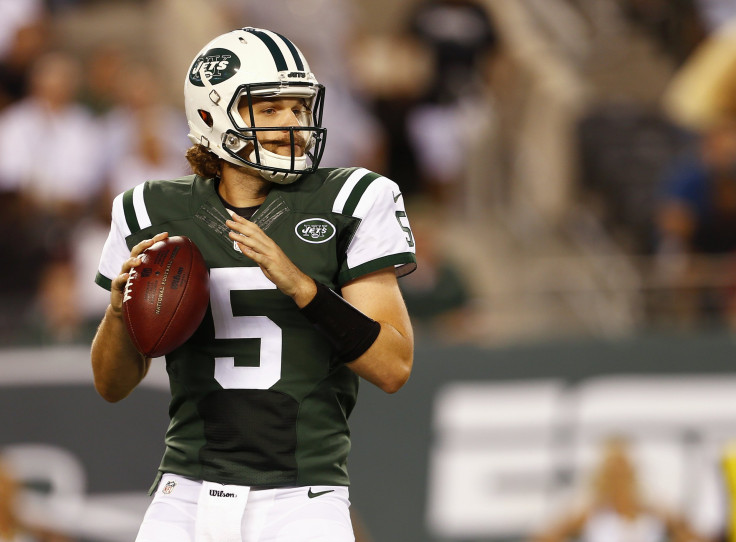 The Dallas Cowboys decided to just have two quarterbacks on their 53-man roster to start the season. But after a Week 2 injury to Tony Romo, the Cowboys will almost certainly need to add another quarterback this week.
Romo suffered a left clavicle injury on Sunday against the Philadelphia Eagles and did not return to the game. The Cowboys have already stated that he will receive tests on Monday, and it seems likely that the 35-year-old will miss significant time this season.
Romo was replaced by Brandon Weeden, a veteran who received playing time with the Cleveland Browns in 2012 and 2013. While Weeden is an acceptable backup, the Cowboys should be on the search for another quarterback.
Here are three players who might be good fits:
Matt Flynn
There was thought that Flynn had locked up the New York Jets' backup quarterback spot after decent performances in the preseason, yet he still failed to make the team. At age 30, and after playing in every season since his rookie year in 2008, Flynn seems like the best available quarterback. When he played five games with the Green Bay Packers in 2013 after Aaron Rodgers went down, he completed 61.4 percent of his passes and threw for seven touchdowns.
Josh Freeman
The former Tampa Bay Buccaneers starter did not play in 2014, but he has significant experience in a league that values past performance. However, Freeman was cut by the Miami Dolphins after struggling in preseason and his chances to play in the NFL again seem rather slim. But the 27-year-old has proved capable of posting strong statistics. In 2010, he threw for 25 touchdowns and just six interceptions, and he also threw for 27 touchdowns in 2012. At 6'6 and 240 pounds, he has good size to play in the league.
Kellen Moore
The former Boise State star is on the Cowboys practice squad, and it might be in the team's best interest to simply promote Moore than find another quarterback on the scrapheap. Moore, who went undrafted, has never thrown an NFL pass after starting his pro career with the Detroit Lions in 2012. The Cowboys would be taking a chance on the 26-year-old, but after a decent preseason, he might be ready to compete. In March, the Lions signed Moore to a two-year contract worth roughly $1.8 million.
© Copyright IBTimes 2023. All rights reserved.