Dallas Cowboys News: Battle For Final Roster Spots Heat Up, Running Backs Struggle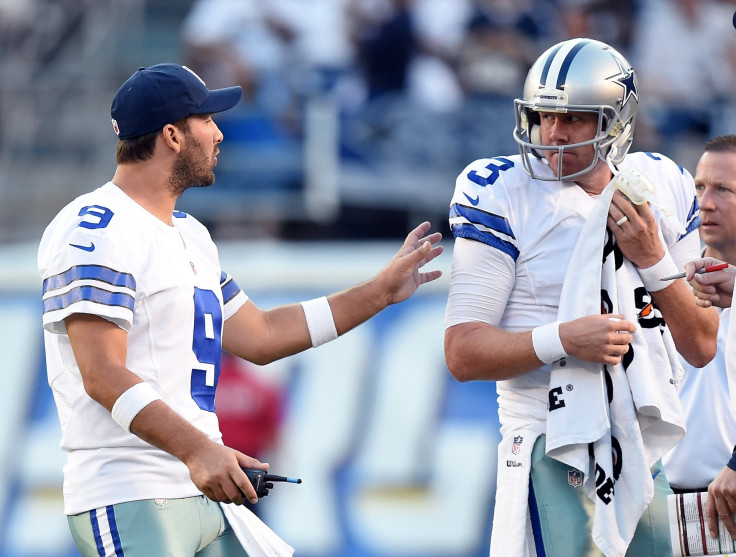 With just two exhibition games left until the start of the 2015 NFL regular season, the Dallas Cowboys still have major decisions to make regarding their roster. They have until Sept. 5 to get down to 53 players, and the fate of several players could go either way.
Dallas has gone 0-2 in the preseason, scoring just 13 total points in losses to the San Diego Chargers in their preseason opener and the San Francisco 49ers on Sunday. A few players have stood out, likely playing their way onto the roster. Others have to play better to secure a roster spot, even though they've been expected to make the team.
Some Cowboys stand out because they've struggled in the preseason, though they are guaranteed to make the team. Dallas is set at running back, but the position is full of unproven starters that haven't played well through two games.
Below is a look at how Dallas' final 53-man roster is shaping up, and who's competing to make the team on offense.
Third Quarterback
Tony Romo is the team's starter and Brandon Weeden is firmly entrenched as Dallas's backup, but their No.3 quarterback is not set in stone. Dustin Vaughan was third on the Cowboys' depth chart last year, but he's no guarantee to take that spot in 2015.
Vaughan was a disappointment against San Francisco, completing less than 50 percent of his passes and tossing two interceptions. Meanwhile, Jameill Showers didn't raise many eyebrows by completing just eight of his 17 pass attempts for 80 yards, but he nearly tripled Vaughan's quarterback rating. Showers also ran the ball two times for 19 yards.
Dallas could decide to only keep two quarterbacks on their roster. Despite Tony Romo's injury history, he's only missed two games in the last four seasons.
Running Backs
Dallas' running game was the team's strength a year ago, but it looks like replacing DeMarco Murray with a few different players might not be that easy. Joseph Randle, Darren McFadden and Lance Dunbar are all locks to make the roster, but after missing the first preseason game with injuries, the three running backs weren't very impressive on Sunday.
"We didn't run the ball very well," head coach Jason Garrett said, via The Dallas Morning News. "Obviously we were trying to control the line of scrimmage and didn't do a very good job of that."
Randle played the best with 30 yards on seven carries, but McFadden totaled just four yards on three tries. Dunbar didn't run the ball, catching two passes for three yards. The Cowboys had their most success late in the game with players like Gus Johnson and Michael Hill, who won't play a role in Dallas' running game this year.
Receiving Corps
Jason Witten will be Dallas' No.1 tight end for a 12th straight season, but Geoff Swain will be tough to keep off the roster. After catching two passes for 21 yards in Week 1 of the preseason, he led the team with four receptions for 57 yards.
Dallas's top three receivers, Dez Bryant, Terrance Williams and Cole Beasley will all be back this season. Last year's draft pick Devin Street will be a part of the receiving corps, as well. With another spot open, Luke Whitehead could make the roster, considering he is the favorite to replace Dwayne Harris in the return game.
Offensive Line
The Cowboys have been banged up on the offensive line this preseason, but it remains their deepest position as the injuries don't appear to be serious. With the likes of Zack Martin, Travis Frederick and Tyron Smith protecting Romo, Dallas should have a top offensive line for a second straight season.
Third-round draft pick Chaz Green isn't expected to be back for the start of the regular season because of hip surgery, leaving a potential roster spot open. The likes of Laurence Gibson, John Wetzel and R.J. Dill are all competing to make the final roster, though there's no guarantee that Dallas elects to keep any of them.
© Copyright IBTimes 2023. All rights reserved.