Dallas Cowboys Vs. Houston Texans: Early Prediction, Betting Odds, Preview And Injury News For Week 5 Texas Showdown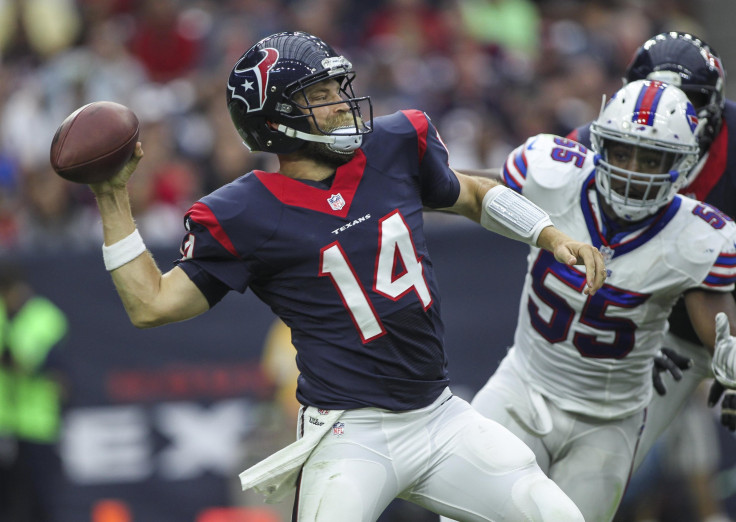 At the start of the 2014 NFL season, not much was expected of the Dallas Cowboys and Houston Texans. Heading into their Week 5 matchup, the league's two teams from Texas both find themselves with at least a share of first place.
After a win on "Sunday Night Football," the Cowboys are tied with the Philadelphia Eagles atop the NFC East. The Texans defeated the Buffalo Bills, giving them sole possession of first place in the AFC South.
While it'd be hard for either team to ask for a better start to the year, neither has a marquee win on the schedule. Dallas hasn't beaten a team that has more than one victory, and they got blown out by the San Francisco 49ers in their opener. Houston's wins have come over teams that are a combined 3-9, and their loss to the New York Giants wasn't close.
The Cowboys have won three games in a row, largely on the strength of their rushing attack. DeMarco Murray leads the NFL with 534 yards on the ground, racking up 156 more rushing yards than the league's No.2 rusher. Murray also ranks first with five rushing touchdowns.
The Texans' running game has suffered of late because of Arian Foster's health. Foster, who led the league in rushing four years ago, missed Week 3 with a hamstring injury and still isn't a 100 percent. He returned last week, but was limited to just six yards on eight carries.
Foster is playing through his injury, but Jadeveon Clowney hasn't been able to do the same. The rookie had surgery on his knee after getting injured in his debut, and will be out for a few more weeks.
While Houston will get Clowney back on the field eventually, Dallas's top pick from a few years ago is done for the season. Morris Claiborne will miss the rest of 2014 after suffering a torn patellar tendon in his left knee. Linebacker Bruce Carter won't play against the Texans due to a strained right quadriceps.
Even with a few injuries on defense, the Cowboys might not have a difficult time stopping the Texans' offense. With a hampered running game, the onus falls on Ryan Fitzpatrick. The quarterback has struggled in his last two games, throwing two touchdowns and five interceptions. Fitzpatrick didn't throw a pick in the first two contests, but he only threw for a combined 345 yards.
Tony Romo hasn't gotten off to the best start, but the quarterback could be in for a big day against Houston. He hasn't had a 300-yard game yet, but he's thrown for five scores in the last two games, improving his passer rating to 98.7.
Dallas began Week 5 as just 3.5-point favorites, but the point spread has continued to increase. As of Wednesday afternoon, the betting odds at Las Vegas casinos have the Cowboys giving the Texans six points, with an over/under of 46.5 points.
Prediction: Of the eight NFL teams with three wins, the Texans are probably the worst. They've taken advantage of an easy schedule, and could struggle on the road against a potential playoff team. Houston was able to win their first two games with a strong rushing attack, but Foster's injury means Fitzpatrick will have to make big plays in Week 5. He's one of the worst starting quarterbacks in the league, and Houston is in trouble if they have to rely on him.
Predicted Score: Dallas 31, Houston 17
© Copyright IBTimes 2023. All rights reserved.