'Dance Moms' Season 4 Finale Spoilers: Abby Lee Miller Announces ALDC LA, Girls Prepare For Nationals [PART 1 RECAP]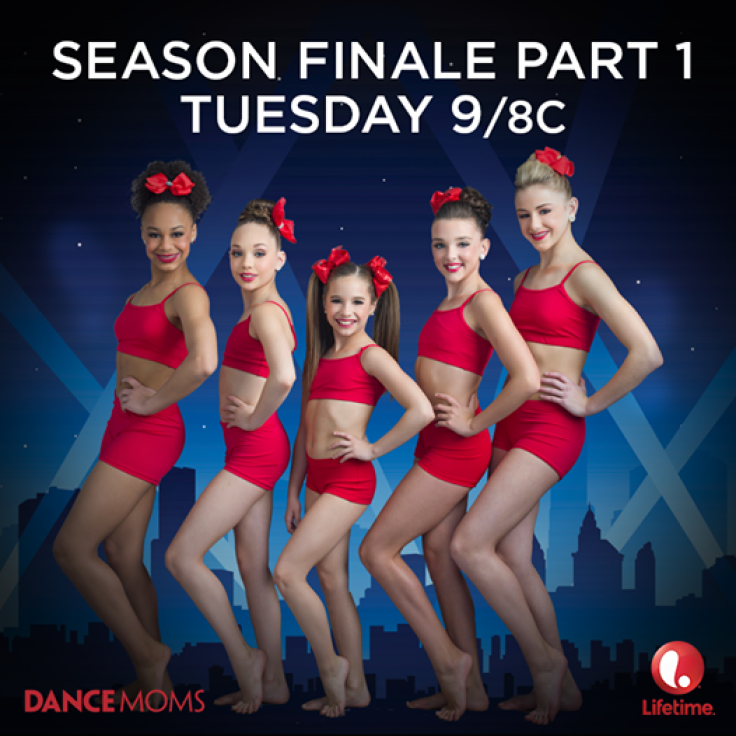 Part one of the "Dance Moms" Season 4 finale was jam-packed with drama as the girls head to Los Angeles, California alongside coach Abby Lee Miller in preparation for nationals. While the team won't hit the stage to compete until next Tuesday, "Here We Come Hollywood, Part 1" did not disappoint. With everything from mom drama, to an all out dance battle against the Candy Apples, here is a recap of everything that happened in Tuesday night's part one finale:
In typical ALDC fashion, Miller, 48, brought in her elite junior team together to discuss her plans for the coming week. Unbeknownst to her students and their dance moms, Miller also invited her select ensemble group to L.A. While the moms called Miller's decision to bring the newcomers back a diversion from this week's performance, Miller disagreed, claiming she was merely "in it to win it."
Due to her ensemble team's "beautiful technique," Miller gave the group a contemporary number aptly titled "Hollywood Stars." The elite team, similar to their award-winning "Where Have All The Children Gone" Season 1 routine, were gifted a wild-card dance about a child abduction called "Amber Alert."
Following the girls' 45 second solo competition during last week's episode, Miller granted three of her dancers solos. Despite Chloe Lukasiak suffering a foot injury and sitting out the showcase, the 13-year-old was granted a contemporary solo titled "Soarin." Kendall Vertes, 11, and newcomer Kamyrn Beck, 14, were also given the same honor.
In a shocking turn of events, Miller's go-to dancer and Sia "Chandelier" music video star Maddie Ziegler, 12, was not given a solo for the first time in three seasons. Miller said her decision was based on her busy work schedule, including an appearance on "Jimmy Kimmel Live." "I just want a solo really bad," Maddie said. "Even though I have other things that I have to do in L.A., I still want to be able to compete as a soloist."
Maddie was not the only dancer upset by the announcement, Nia Frazier, 13, and her mom Holly also voiced their concerns. "She is the only person on this team who has never done a solo at nationals. Nia has been here since she was three!" said Frazier. "I'm still dancing for you," Nia said after Miller questioned her loyalty to the studio. "It's just some things are really hard because I've been here a lot longer than other people."
After her dramatic solo assignment confrontations, Miller, as previously speculated by IBTimes, announced her decision to open a studio on the West Coast, ALDC L.A. "I will be opening a studio in Los Angeles, California," Miller said. "For the last two years I have hemmed and hawed about opening a studio in California. Well here we are! We are in Los Angeles and the time is right."
Unfortunately for Miller, her dance moms were not the only ones in for a surprise. Despite previously removing Ava Cota, 12, and her "stalker" mom Jeanette from her team, the mother-daughter duo made a cameo at the meet under the guise that Miller never officially dismissed the dancer from her ensemble group. "We are here because of perseverance and determination," said Cota. "If they want to call that stalking, so be it." In an effort to make Ava's dismissal permanent, Miller pulled the dancer in for a hug and shockingly removed her ALDC team jacket from her body. "She's not part of the team," Miller said. "Is that clear enough for you?"
The Candy Apples, the ALDC's rival studio, and their coach Cathy Nesbitt-Stein, also arrived in Los Angeles. The team expressed their desire to compete against the Pittsburgh, Pennsylvania group in hopes of scoring their first nationals win against Miller's award-winning team. "We have come so close to beating Abby in winning and I have spared no expenses in making this year the winning year," said Nesbitt-Stein, later revealing "So You Think You Can Dance" Season 9 winner Chehon Wespi-Tschopp would serve as her choreographer. In an effort to efficiently ruffle Miller's feathers, Nesbitt-Stein titled her dance "Chandelier," an ode to Maddie's award-winning music video performance. Nesbitt-Stein not-so-subtly revealed her plans for the group number to the ALDC, sending them a chandelier, complete with Apple accents, to their practice session.
Nesbitt-Stein's gift didn't bode too well for ALDC ensemble team member Sarah Hunt and her mother Christy. After Christy questioned Miller about the chandelier gift, Miller abruptly fired the 9-year-old dancer and her dance mom from the team. "You're a raving idiot. SHUT UP!" Miller said, later directing her anger at Sarah who burst out in tears after being cut. "No babies!" she said. "Christy and little Sarah missed out on the best opportunity she's ever had. Hit the road, Jack!"
Prior to competition day, Miller brought her elite team to a promotional event at Hollywood and Highland in an effort to promote her upcoming studio, set to open in Los Angeles this fall. While the meeting was originally intended to tout her latest business venture, the Candy Apples had a different intention. The ALDC's rival group crashed the meet, instead inviting the girls to compete in a public dance off. "Oh, Abby. Come out and play," said Nesbitt-Stein. "We want to challenge the ALDC dancers."
While Miller originally dismissed Nesbitt-Stein's request, she eventually caved, allowing her girls to participate. The Candy Apples dancer Mackenzie Morales's walked away with a win in the solo dance off. The ALDC's group performance in the street battle won first.
Catch part two of the "Dance Moms" Season 4 finale Tuesday at 9 p.m. EDT on Lifetime.
FOR FREE to continue reading
✔️ Unlock the full content of International Business Times UK for free
offer available for a limited time only
✔️ Easily manage your Newsletters subscriptions and save your favourite articles
✔️ No payment method required
Already have an account?
Log in
© Copyright IBTimes 2023. All rights reserved.