'Dance Moms' Star Maddie Ziegler Teaches Jimmy Kimmel The Sia 'Chandelier' Music Video Dance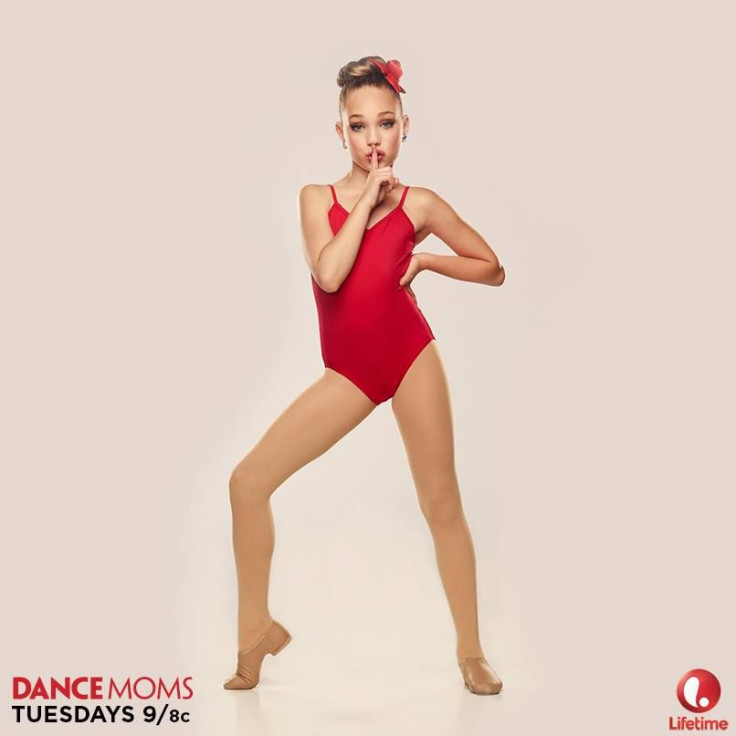 "Dance Moms" star Maddie Ziegler can now officially add the title "dance teacher" to her ever-growing resume. After her debut in Sia's hit music video "Chandelier" in May, the 11-year-old reality TV star appeared on "Jimmy Kimmel Live" on July 3 to teach the comedic host and his sidekick, Guillermo, the Web-famous music video's routine.
"I saw that [video] and I decided that I should know how to dance like that," Kimmel, 46, said of Ziegler's performance, which is currently at 54 million views and counting on YouTube. "Maddie was nice enough to take time to help us fly like a bird through the night and swing by the chandelier."
To appear more like the tween powerhouse, Kimmel and Guillermo comically adorned the same iconic platinum blonde wig and tan bodysuit as Ziegler for the lesson. "You have to sell it with your face," Ziegler instructed the duo before allowing each to perform the dance separately.
"I don't dance a lot, but when I do dance, I dance well," Kimmel said before his performance. "It's when I feel most free is when I'm dancing."
Ziegler wasn't a big fan of the "Jimmy Kimmel Live" host's skills. She appeared reluctant to tell him his dance was "better than she thought it would be," but Kimmel seemed unfazed by her hesitation.
"I feel very alive right now," he said. "I feel like I'm glowing, not just from the inside, but I feel like the outside of me is glowing also," he said.
Unfortunately for Kimmel, the "Dance Moms" star was more enthused with Guillermo's theatrical abilities. "Your face! You have, like, a dancer's face," Ziegler said.
The trio ended their segment with a group performance of the routine.
"I think it's better with three people," Kimmel said. "No offense."
"I don't want to say Jimmy and Guillermo are bad at dancing," the young dancer said, hesitating before adding, "… Alright, I'll just say it ... They're really bad at dancing."
Ziegler has starred in Lifetime's hit series "Dance Moms" since its premiere in 2011. In the program, Ziegler performs at the Abby Lee Dance Company in Pittsburgh with several other competitive dancers, including her sister, Mackenzie, 10, an in effort to win big for her highly demanding coach, Abby Lee Miller.
Season 4 of "Dance Moms" returns on Tuesday, July 29, at 9 p.m. EDT on Lifetime.
"Jimmy Kimmel Live" airs weeknights at 11:35 p.m. EDT on ABC.
© Copyright IBTimes 2023. All rights reserved.