Dell 4Q Earnings Preview: Will Huge Dip Explain Founder's Rush To Mega-buyout?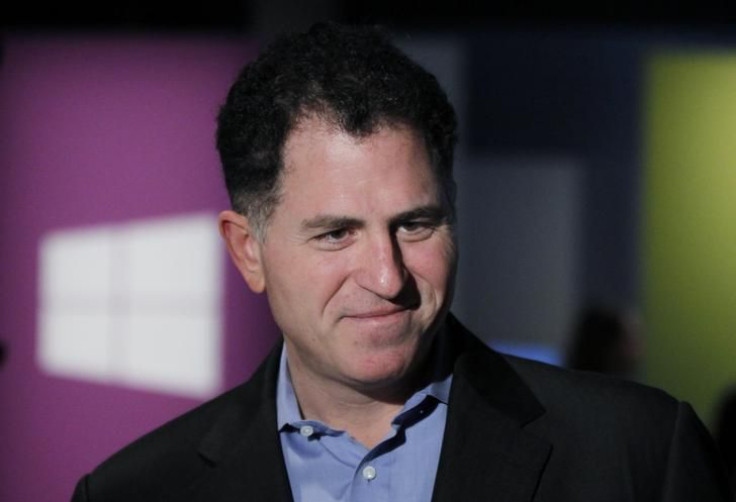 When Dell Inc. (NASDAQ:DELL) reports fourth-quarter results late Tuesday, millions of customers as well as investors might come to understand why Chairman Michael S. Dell is so determined to complete the $24.4 billion leveraged buyout of his company that he's selling his own shares at a discount.
As part of the deal, Dell, 47, agreed to sell his 243.4 million shares, or a 15.7-percent equity stake, for $13.36 a share, rather than the $13.65 offered to all other shareholders. That means he agreed to a $700,000 discount in the final stages of talks before the deal was announced on Feb. 5.
To be sure, Dell has sold shares of the Round Rock, Texas, company he founded at 18 over the years, leaving him as No. 41 on the Forbes billionaires list with a net worth of $14.6 billion. He's also throwing some of his own funds from his MSD Ventures into the mega-buyout, the second-largest ever in the technology sector.
The buyout is being led by Silver Lake Partners, the technology private equity specialist in Menlo Park, Calif., with funds from Dell himself, $2 billion from Microsoft and an estimated $15 billion in loans to be syndicated by four major banks.
Last year, Dell lost its rank as No. 2 PC company to Hewlett-Packard Co. (NYSE:HPQ), which was dislodged by China's Lenovo Group (PINK:LNVGY), the new No. 1. Then market researchers determined that the overall PC market slipped about 3 percent.
Analysts expect Dell to report a huge drop in earnings for the period ended Jan. 25.
Net income is expected to drop about 26 percent to $677.2 million, or 39 cents a share, from the prior year's $913 million, or 51 cents a share. Revenue is expected to ease 12 percent, to $14.12 billion.
For the full year, analysts surveyed by Thomson Reuters expect Dell to report net income of $2.99 billion, or $1.71 a share, on revenue of $56.75 billion, down from $3.49 billion, or $2.02 a share, on revenue of $62.07 billion in fiscal 2012.
Dell and CFO Brian Gladden have said for the past several years they want to position the company more as a provider of higher-margin software, storage and services than as a PC vendor, especially as the market shifts.
Since returning as CEO in 2007 after a brief "retirement," Dell personally has spearheaded acquisitions such as Perot Systems, Compellent Technologies and Quest Software to propel the company into services, a market in which rivals like Hewlett-Packard and International Business Machines Corp. (NYSE:IBM) do well.
"Tablets have dramatically changed the landscape," said Mikako Kitigawa, principal PC analyst for Gartner (NYSE:IT). She estimated that Dell's 2012 market share fell more than 12 percent last year, to only 37.6 million units.
But much of Dell's business is to enterprises and his longtime partner, Microsoft, which would support management's plan to retool for higher-end services.
This month, even IBM announced its cheapest-ever server for business, priced below $6,000, to entice customers to use it for cloud applications. With its global network of factories that are well-regarded for quality, a "new" Dell could compete with IBM in that game.
Analysts estimate that about 70 percent of revenue now comes from PCs. "This is progress from 85 to 90 percent in the early 2000's," said Shaw Wu, of Sterne Agee, "but proves it's a slow transition."
Dell himself won't participate in a call with analysts because he recused himself, the company said. That means Gladden will answer questions about fourth-quarter performance and may give a rough outlook for the current quarter.
Questions about the leveraged buyout won't come until the end of March at the earliest because the company has agreed to a 45-day period during which a special committee of its board of directors, chaired by Alex Mandl, a former president of AT&T Inc. (NYSE:T), can explore a higher bid.
Dell himself won't participate in any further evaluation, nor will he vote his shares against a higher bid, the company said in a filing with the Securities and Exchange Commission.
Perhaps the best rationale for the buyout will be in analyst expectation of the company's performance for the current fiscal year: Performance will slip again.
Full-year net income will be only $2.8 billion, or $1.66 a share, as revenue eases to $55.96 billion, analysts estimate.
Dell shares closed Friday at $13.78, up 7 cents. With dividends, the return to investors has been a negative 22 percent.
© Copyright IBTimes 2022. All rights reserved.
FOLLOW MORE IBT NEWS ON THE BELOW CHANNELS