Delta's Back In Black – And Giving Back To Its Employees
Exclusive IBT Q&A: CEO Ed Bastian says profit-sharing day is his favorite day of the year.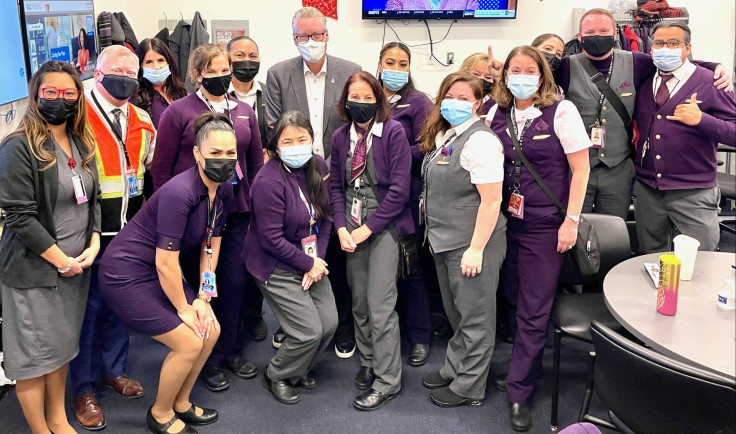 In 2021, we honored Delta Air Lines' Ed Bastian for being an authentic Social Capital superstar because of what he did to prove Delta values people first and foremost, even as the pandemic hobbled the world's airline industry. Now, in another amazing and exclusive Q&A with IBT's Social Capital team, "Ed," as he likes to be called, shares with IBT his heartfelt appreciation for the incredible employees whose loyal dedication helped bring Delta back to profitability -- and his heartfelt joy over being able to give back to those employees in some incredible ways, including returning to Delta's amazing practice of celebrating Valentine's Day by sharing those profits with their employees.
Chris Benguhe: Delta is marking an important milestone this Valentine's Day. Could you tell us more about how Delta employees are celebrating the day?
Ed Bastian: Valentine's Day is my favorite day of the year, and it has nothing to do with flowers or chocolates. It's because at Delta, Feb. 14 is our Employee Appreciation Day -- a special day where we celebrate the 75,000 Delta colleagues around the world who go above and beyond every day to serve our customers.
One way we share our appreciation every year is through profit sharing. In early 2020 before the COVID crisis, we paid the largest profit-sharing checks in our history to our people, which totaled $1.6 billion -- a record for a U.S.-based company. That was the sixth consecutive year we paid more than $1 billion in profit sharing. Unfortunately, given the pandemic's impact to our business, we weren't in a position to pay out profit sharing for 2020. But I'm thrilled to share that, because Delta was profitable in the second half of 2021, today we'll be paying more than $100 million to Delta people through a special profit-sharing payment. That comes out to $1,250 per employee.
It's our way of saying "thank you" for everything our employees do, and for their resilience and dedication in what's proven to be the most difficult period in our company's 95-year history. I'll be spending my day celebrating with our colleagues in person, and I couldn't be more thrilled.
Chris: How does it feel to be paying out profit sharing once again?
Ed: Given everything we've been through together over the past two years, it means more than ever before.
We decided a long time ago that Delta people should share in the success that they make possible. Profit sharing has been an important part of our culture for years, even as we emerged from the dark days of bankruptcy. It's more than just a check; it's an acknowledgement that Delta people are our greatest asset.
Not only does today mark an important milestone in our recovery, it's also an important acknowledgement that we will continue to invest in our people and they, in turn, will continue to share in the company's success, just as they did in the years prior to the pandemic.
Delta people are the very best in the world, and nobody deserves to celebrate more than they do after many months of hard work and perseverance.
Chris: You mentioned that profit sharing is an important way to say "thank you" to your workforce. What role did employees play in helping the company through the COVID-19 crisis?
Ed: Throughout the past two years, I've often shared how I'm a firm believer in that crises don't build character -- they reveal it. And if there's one thing the COVID-19 crisis has revealed, it's the strength and resilience of our people.
COVID's impact to our industry has been truly staggering. At the onset of the pandemic, travel demand fell by 95 percent nearly overnight, resulting in the largest capacity reduction in our history.
But Delta people rallied just as quickly. Within a matter of weeks, we had more than 40,000 employees volunteer to take an unpaid leave of absence. Over the course of a few months, we had more than 17,000 employees choose to depart the company through a voluntary package to help preserve jobs for others. We even had employees stepping up to spread work around and shift into new roles that were essential to our business at the time -- from flight attendants supporting our catering efforts to our airport customer services teams learning new roles like wheelchair handling, aircraft services and into-plane fueling. It's thanks to these efforts that were able to avoid involuntary furloughs for our flight attendants and ground-based frontline employees in the U.S.
It's hard to believe how far we've come in the months since. We've accelerated hiring across the business, and we've already made significant progress in our recovery. And, thanks to the outstanding efforts of our people, we were the only major U.S. airline to achieve profitability in the second half of 2021. That's why we're paying out profit sharing today: because Delta people deserve it.
Chris: What are some of the other ways Delta is working to support its employees?
Ed: One of the things I'm most excited about is our continued investment in our employees' holistic well-being. The pandemic has given us the opportunity to reshape how we approach the health and physical, emotional and financial well-being of our workforce. Under the continued guidance of our Chief Health Officer Dr. Henry Ting, we'll provide better tools, training and resources than ever before.
We'll also continue our intentional work to close gaps in diversity to ensure equity, so that all Delta people feel welcomed and valued. We've set some ambitious goals in this space and, while we've made great progress already, I feel personally accountable to keep us on this path.
Finally, we'll continue to intensify our efforts around safety, which is core to everything we do. The decisions we made to protect the safety of our people and our customers through the pandemic have served us well over the past two years, and these efforts will only increase in the months ahead. That's why I felt compelled to write a letter to the Justice Department earlier this month stressing the need for a zero-tolerance policy for any person convicted of an assault or disruption on our planes or at our airports. Those who have committed these crimes are a threat to civil aviation and they interfere with the safety of our people and customers. As such, they should be added to a no-fly list and banned from flying commercially. It's important that Delta people and customers know I will always have their back when it comes to safety.
Chris: What's on the horizon for Delta? What should we expect next?
Ed: The year 2022 is shaping up to be one of the most significant years in our history. Despite a challenging start to the year, with the omicron variant and winter weather systems across the U.S. causing a number of disruptions, I'm just as optimistic about what's ahead. And we have our sights set higher than before.
Our customers can look forward to new, state-of-the-aircraft, brand-new airport terminals in New York, Los Angeles and Seattle, a new era of onboard entertainment and much more. You'll also see our sustainable commitments come to life in new and exciting ways, like the launch of our new Delta One amenity kits made by Someone Somewhere artisans. These new kits reduce waste by approximately 4.9 million pounds per year while also supporting minority- and woman-run businesses and building communities.
While we know there are still challenges ahead, there are also tremendous opportunities -- and I can't wait to usher in this new era of travel. At Delta, we'll keep climbing: for each other, for our customers, and for the communities we serve.
© Copyright IBTimes 2023. All rights reserved.
FOLLOW MORE IBT NEWS ON THE BELOW CHANNELS