Denver Broncos News: Does Demaryius Thomas' New Contract Keep Denver In Contention?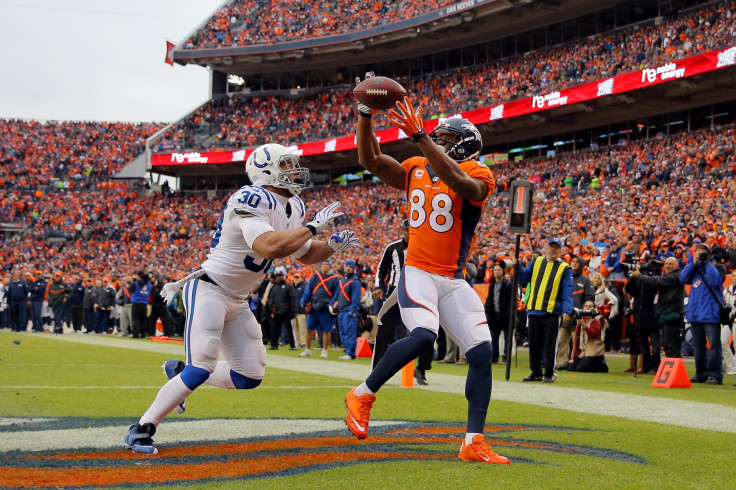 They waited up until the final few hours, but the Denver Broncos came to terms with No. 1 receiver Demaryius Thomas Wednesday on a five-year, $70 million contract with $43.5 million guaranteed. Unless Denver and Thomas had reached a deal before 4 p.m. ET, per league rules any more talks would be tabled until the end of the season and Thomas would likely play under the $12.8 million franchise tag.
Based off the particulars of the deal, it appears both sides got exactly what they wanted. Thomas landed a huge amount of guaranteed money, a total exceeded by only Dallas' Dez Bryant and Detroit's Calvin Johnson, while the Broncos keep their high-flying offense intact for at least more season.
Denver vice president and general manager John Elway smartly frontloaded the contract to keep the team's salary cap largely in check. According to the Denver Post, Thomas will receive $35 million of his guaranteed money in the first two years, and his cap hit won't register higher than $12.7 million in the next two. The final year calls for an $18.2 million cap hit, but by that point a restructuring seems more than likely.
The Broncos still have roughly $7 million in cap space this season, and could roll over most if not all of it into next season, when only $819,000 is free, according to figures from Spotrac.com. But with the rest of Thomas' guaranteed money largely in $2.2 million bonus increments, Denver won't be stuck with any bad long-term deals clogging up its cap. Not to mention, Peytong Manning's $21.5 million cap hit also comes off the books after 2016.
The Broncos can now enter training camp and the season with nearly every key piece of last season's No. 2 scoring offense on the field. With quarterback Manning at the helm, Thomas has perfectly rounded out the passing game with no less than 90 receptions for 1,400 yards and 10 touchdowns the last three season.
Lining up next to Thomas is veteran Emmanuel Sanders. The 28-year-old scorched opponents for a career-best 101 receptions for 1,404 yards and nine touchdowns last season, the type of numbers most teams would expect from their No. 1 receiver let alone their No. 2.
However, the Broncos will have to account for the loss of tight end Julius Thomas via free agency and will need one of their three viable running backs to breakthrough this season. Thomas bolted to Jacksonville after netting 24 touchdowns the last two season, and now veteran Owen Daniels steps in with Jacob Tamme and Virgil Green right behind on the depth chart.
Given how much Manning's relied on his tight ends throughout his career, and that Daniels has played all of his nine NFL seasons in new head coach Gary Kubiak's offense, likely means the transition should be seamless.
Running back is more of a question mark, but not for lack of talent. Last year's leading rusher, C.J. Anderson takes on Montee Ball and Ronnie Hillman for the No. 1 spot, with Anderson presumably ahead because he managed to stay healthy and played 15 games last season while netting 849 yards and eight touchdowns at 4.7 yards per carry. Hillman and Ball both dealt with injuries last season, and combined for 606 yards and four touchdowns, but Hillman faired a little better with 4.1 yards per carry.
While the questions at running back and tight end remain up in the air, the Broncos can still enter training camp on July 31 knowing their most lethal tandem, Manning to Demaryius Thomas, can carry them to the post season.
© Copyright IBTimes 2023. All rights reserved.