Denver Broncos Receivers Come To Russell Wilson's Defense From New Wave Of Critics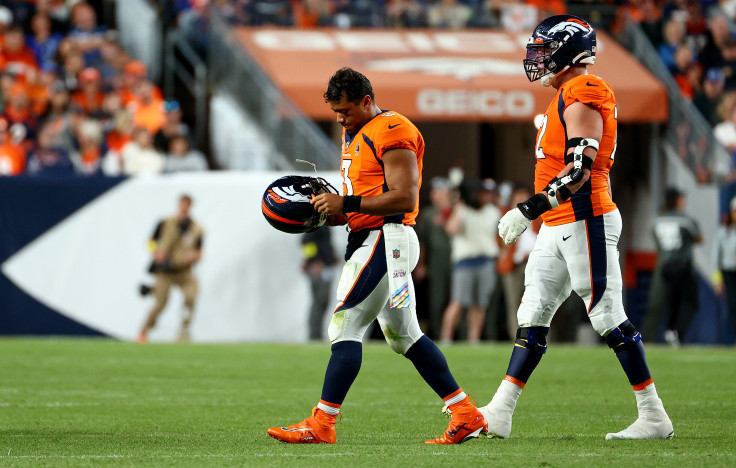 KEY POINTS
Russell Wilson has been a favorite target for observers to blame for the Denver Broncos' dismal 4-11 season
Wide receivers Jerry Jeudy and K.J. Hamler tweeted out their support for Wilson
Having a first-time head coach lead the Broncos this season certainly did not help Wilson's case
The Denver Broncos are on the outside looking in when it comes to the playoffs this season after racking up a dismal 4-11 record.
While many observers are quick to point the finger in the direction of quarterback Russell Wilson, some of the team's players do not feel the same way.
Wide receivers Jerry Jeudy and K.J. Hamler were quick to take to social media and defend their quarterback.
"As a teammate who sees the elite work ethic this man has is incomparable. He got an office because he's committed his life to this game. I never had a teammate who motivate me more [than] Russ," Jeudy said while Hamler professed that "3 (Wilson's jersey number) goes above and beyond to do whatever it takes to win for the team."
Following Thursday's practice, Jeudy explained that his comments come from a place of frustration against those who make Wilson the scapegoat for all of their issues on the field.
"I just wanted to get it out in the air that he is a good teammate and he is a hard-working teammate. I just feel like I needed to get that out there because there's a lot of false narratives out there," the outspoken Jeudy said.
From an outside perspective, it would surely be easy to blame the quarterback for an NFL team's dismal performance since he commands the entire offense – and the stats appear to support that sentiment.
The Broncos are dead last in points per game (15.5 points), 31st in total yards generated (4,749), tied for 30th in total passing touchdowns (14), tied for 28th in rushing touchdowns (eight), dead last in total touchdowns with 22 and, probably the most damning of them all, last in third down conversion (28.64 percent).
Acting as contrast, the Broncos' defense ranks fifth in yards allowed (4,696), tied for second in touchdowns allowed (28) and fourth in third down conversions allowed (33.5 percent).
Putting it all together and it makes sense for Wilson to get the majority of the blame for the Broncos' current standing.
However, an important point to consider here is that Denver was under the hands of first-time NFL head coach Nathaniel Hackett who faced scrutiny in their Week 1 loss to the Seattle Seahawks when he mismanaged the clock, instead opting to run it down and attempt a 64-yard field goal attempt to win.
With a multitude of coaching miscues and after their 51-14 Christmas Day beatdown at the hands of the Los Angeles Rams, Hackett was fired from his post–making him the fifth head coach in league history to not finish his first NFL season.
The Broncos' situation is not expected to improve under interim head coach Jerry Rosburg and the team is currently looking at a lost season as they hope to answer a mountain of questions in the offseason.
Russell certainly has looked a step slower and the soon-to-be 35-year-old quarterback will need to find the fountain of youth entering next season as he still has four years left on his five-year, $242.5 million deal that he signed in the offseason–hopefully with a new head coach that can get the most out of him.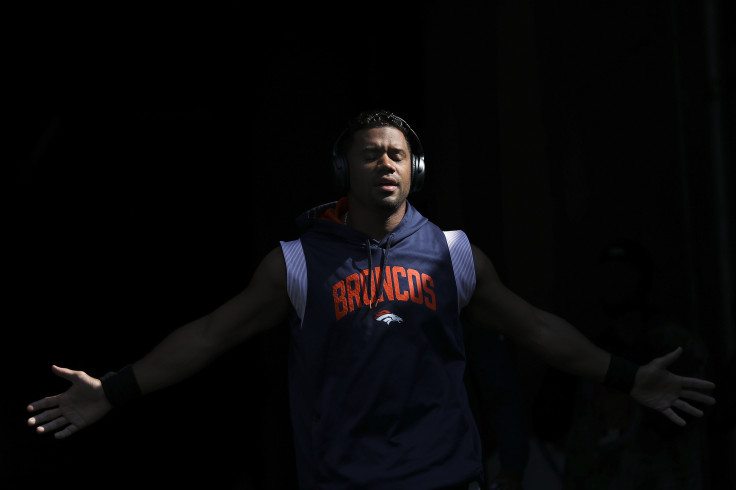 © Copyright IBTimes 2023. All rights reserved.