Denver Broncos vs. Baltimore Ravens: Start Time, TV Channel, Live Stream Info For 2015 Season Opener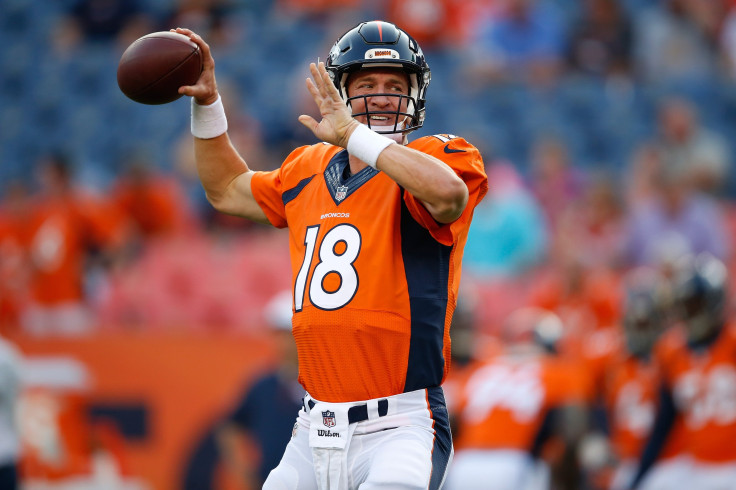 Head coach Gary Kubiak's hiring by the Denver Broncos and exit from the Baltimore Ravens created ripple effects on both sides offenses in the offseason.
Everyone saw Peyton Manning just wasn't himself during the Denver Broncos final three games of the 2014 season, tossing three touchdowns to four interceptions and failing to register a passer rating above 80.1. And no one would learn until after the crushing 24-13 loss to Indianapolis in the AFC Divisional round that the 18-year quarterback dealt with a serious thigh injury late in Denver's campaign.
The loss saw the ouster of head coach John Fox and led to much speculation as to whether Manning would give it a go for another year or call it a career.
Now, with Kubiak and his more balanced or even rush-heavy attack in town to take some pressure off the 39-year-old's right arm, the Broncos start anew with Sunday's opener against the visiting Ravens.
As a former Denver offensive coordinator in the mid-1990s, Kubiak consistently kept the Broncos rushing attack among the top five in the NFL and most years the passing game still ranked in the top 10.
Which may be an indicator that Manning won't see his eight-year run of 4,000-plus passing yards snapped, but it does appear like a good sign running back C.J. Anderson will carry a bigger load this season.
Last season, Anderson picked up 849 yards at 4.7 yards per carry and scored eight touchdowns. Entering his third season, Anderson won the outright No. 1 spot in training camp over talented backs like Ronnie Hillman and Juwan Thompson.
Anderson will certainly be the featured back in what figures to be one of the NFL's highest scoring offenses, but it helps when receivers like Demaryius Thomas and Emmanuel Sanders flank the sidelines. The tandem accounted for 20 of Manning's 39 touchdowns last season, and their numbers could balloon under Kubiak and with 12-touchdown tight end Julius Thomas now in Jacksonville.
On other side, the Ravens and Flacco were also eliminated in the divisional round last season after busting out of the difficult AFC North with a 10-6 record only to fall to eventual champion New England.
Flacco bounced back from a difficult 2013 to post new career-highs of 3,986 yards and 27 touchdowns, all when Kubiak was still running the offense in Baltimore. Now the Ravens have former Chicago head coach Marc Trestman running the offense, the fourth such coaching change in as many years for Flacco and the team.
Adjusting to Trestman's style may take some time, but the main concern for Flacco this week involves who is No. 2 receiver will be behind veteran Steve Smith.
Baltimore's first-round draft pick and rookie receiver Breshad Perriman continues to nurse a knee injury, and hasn't practiced all week, leaving third-year receiver Kamar Aiken and Marlon Brown to likely earn a high number of targets against the Broncos.
Both defense find themselves afflicted with injuries as wekk. For Denver, inside linebacker Brandon Marshall (foot) was a full go at practice this week while outside linebacker Lerentee McCray (groin) was limited. Defensive end Kenny Anunike (knee) did not participate in Wednesday and Thursday's sessions as he recovers from a knee operation from three weeks ago. And safety Omar Bolden (ribs) and tight end Mitchell Henry (finger) were full participants.
Other than Perriman, Baltimore saw defensive tackle Timmy Jernigan (knee) make his way back to practice after sitting out the last three weeks. Though he was limited, his return should provide a boost now that Haloti Ngata's gone to Detroit. However, cornerback Rashaan Melvin (thigh) and second-string running back Lorenzo Taliaferro have sat out practice all week.
Kickoff Time: 4:25 p.m. ET
TV Channel: CBS
Live Online: NFL Game Pass
© Copyright IBTimes 2023. All rights reserved.