Denver Broncos Vs Cleveland Browns: Where To Watch Live Online Stream, Preview, Betting Odds, Prediction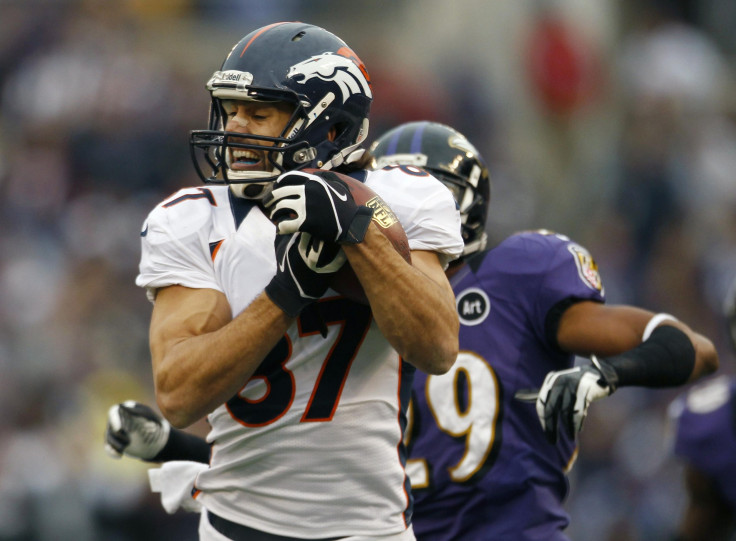 Riding their second best franchise winning streak and vying for a first round bye the Denver Broncos meet the Cleveland Browns Sunday afternoon at Sports Authority Field at Mile High.
The 11-3 Broncos have won nine straight, and already own the AFC West, but are one victory and one New England loss away from locking up the No. 2 seed.
Denver extended their win streak with a dominating 34-17 win over the Baltimore Ravens in Week 15. The Broncos broke out to a 17-0 first half lead after Chris Harris returned an interception 98 yards for a score, and the Denver defense didn't allow a touchdown until the fourth quarter.
Running back Knowshon Moreno rushed for 118 yards and a touchdown, while Peyton Manning was quiet 17-for-28 for 204 yards and a touchdown. Receiver Eric Decker also had eight catches for 133 yards and a score.
It was the second straight 100 yard game for Moreno, a first in his four year career. Moreno now has four career games of 100-plus yards.
The Browns could spoil Denver's push for a first round bye, going 5-4 since they started the season 0-5.
Cleveland was riding a three-game win streak before falling to the Washington Redskins 38-21 in Week 15. Quarterback Brandon Weeden's two second half interceptions led to a 28-7 burst by the Redskins and a Browns loss.
It was the sixth game this season Weeden threw at least two interceptions, and the fifth that resulted in a loss.
Cleveland held an early 14-10 halftime lead thanks to two red zone touchdowns by running back Trent Richardson. The rookie and top draft choice has 897 yards and 11 touchdowns this season, and is riding a four game streak with at least one score.
The game begins at 4:05 p.m. EDT and will be shown by CBS, or watch a live stream online by purchasing NFL Sunday Ticket Max.
Betting Odds: Denver is favored by 13 points
Over/Under: 44 points
Prediction: Cleveland has rallied late this season and won't lay down for the Broncos. But Denver appears to have a balanced offensive attack and a dominant defense at the right time. The Broncos are clicking and should win their 10th straight.
Predicted Score: Denver 27, Cleveland 10
© Copyright IBTimes 2023. All rights reserved.