Denver Broncos vs. Detroit Lions 2015: TV Channel, Start Time, Live Stream Info For Sunday Night Football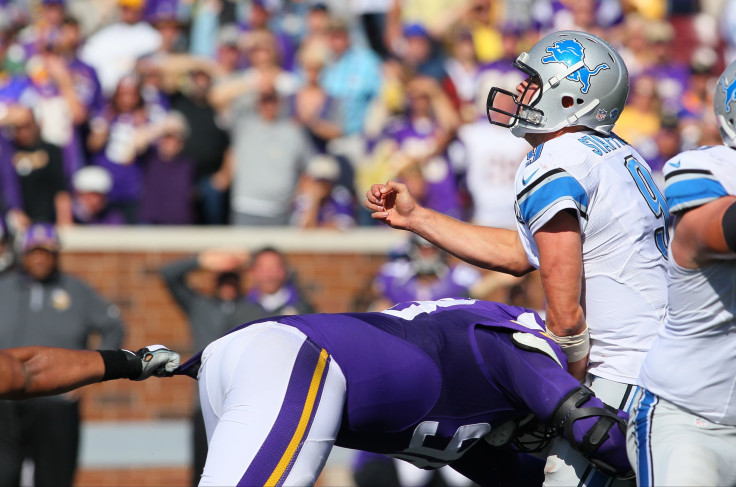 The Denver Broncos are one of nine undefeated NFL teams, and the Detroit Lions are among the eight teams that are still searching for their first victory of the 2015 season. Both teams' streaks could be halted in Week 3 when they meet at Ford Field in Detroit on "Sunday Night Football."
Denver has worked their way towards an improbable 2-0 record, beating the Baltimore Ravens despite totaling just 219 yards of offense, and needing the Kansas City Chiefs to commit five turnovers for a comeback victory in Week 2. Detroit hasn't played well since the second quarter of the season opener, having been outscored 56-23 in just a little more than six quarters of play.
NBC will broadcast the game on TV, and it's set to start at 8:30 p.m. ET. A free live stream will be available with NBC Sports Live Extra.
Matthew Stafford's Health
Stafford was banged up after Detroit's Week 2 loss, needing X-rays on his rib and chest. While his playing status was in doubt earlier this week, all indications point to Stafford starting the game.
Stafford was a full participant in Wednesday's practice, shaking off the bumps and bruises he acquired against the Minnesota Vikings. The signal caller was only sacked once, but he was hit eight times. Stafford threw the ball 53 times last week, totaling 286 yards, two touchdowns and an interception. He has thrown three interceptions in two games, and his 81.0 passer rating ranks 25th in football.
Denver's defense has wreaked havoc on opposing quarterbacks. They forced Alex Smith to throw two interceptions, something he's done just three times since the start of the 2011 season. Joe Flacco's 117 passing yards against the Broncos was his lowest total in almost three years.
Still Not The Manning Of Old
After he looked like a quarterback in the twilight of his career in Week 1, Peyton Manning was much improved against Kansas City. But there remains some uncertainty whether the future Hall of Famer can effectively return to his previous top form.
Manning began the season with an absymal 175-yard performance, but followed that by posting 256 yards and three touchdowns in Week 2. The 39-year-old also came up big when Denver needed him most, leading the Broncos on a late touchdown drive that tied the game up in the final minute.
Still, he threw another interception, something he didn't do in five of Denver's first seven games last season. Manning has completed nearly 70 percent of his pass attempts between one and 10 yards, but his ability to throw the ball down the field isn't what it used to be. Manning is 0-8 on pass plays of 21 yards or more. Just two seasons ago, he completed nearly 68 percent of such attempts.
In The Trenches
One of the biggest reasons why Denver's offense hasn't been up to par this season has been the play of their struggling offensive line. The unit has forced Manning to face more pressure than most quarterbacks, and it's given the Broncos one of the league's worst running games.
Through two games, Manning has been sacked seven times, tying him for fourth in the NFL and putting him just 10 sacks away from tying his total from last season. After a strong finish to last season, C.J. Anderson hasn't had much room to run, totaling 56 yards on 24 carries. Only the Philadelphia Eagles average fewer yards per attempt than the Broncos.
Detroit could control the line of scrimmage with their defensive line, which is one of their strengths. However, the absence of Ndamukong Suh was felt against the Minnesota Vikings, when Adrian Peterson was able to rush for 134 yards.
© Copyright IBTimes 2023. All rights reserved.