NFL Week 3 Picks Against The Spread 2015: Predictions And Updated Las Vegas Odds For Every Game ATS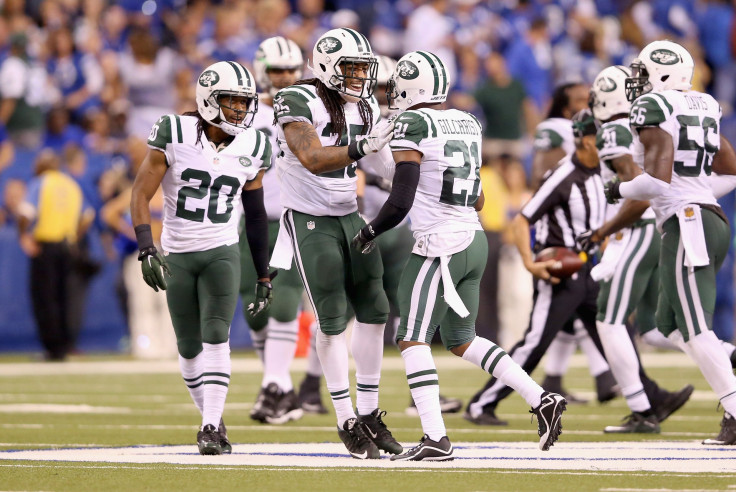 With every team having played two games, Week 3 features the biggest betting lines of the 2015 NFL. After no team was favored by more than 10 points in the first two weeks, two teams are giving their opponents more than 13 points on the upcoming schedule, according to vegasinsider.com.
Week 2 featured an unusual amount of upsets, as nine underdogs won outright. The four biggest favorites not only failed to cover the spread, but they lost their games.
Below are picks against the spread for every game in Week 3, as well as updated betting odds at Las Vegas casinos.
Washington Redskins (+4) at New York Giants
The Giants have inexplicably blown two fourth-quarter leads, but they could finally get in the win column on Thursday night. Kirk Cousins hasn't been asked to do much this season, and he could get exposed against the Giants, who picked him off four times last year. Cousins has never won two games in a row, and New York is 6-1 at home against Washington in their last seven meetings.
Prediction ATS: New York
Pittsburgh Steelers (-1) at St. Louis Rams
The Steelers opened the season with a loss to the defending champs, but they are legitimate Super Bowl contenders, themselves. With Le'Veon Bell returning, Pittsburgh should put up a lot of points in St. Louis. The Rams have a chance to win, but since a Pittsburgh victory guarantees a push at worst, the Steelers are the smart pick.
Prediction ATS: Pittsburgh
San Diego Chargers (+2.5) at Minnesota Vikings
The Vikings are much better than what they showed on Week 1 in their loss to the 49ers, and they rebounded nicely with a win over the Lions. Minnesota has been good at home, as well as undervalued, since last season, going 5-1 against the spread in their last six home games, according to Odds Shark. San Diego failed to cover the spread on the road last week, and Sunday's game could continue the trend.
Prediction ATS: Minnesota
Tampa Bay Buccaneers (+6.5) at Houston Texans
The Texans have a good chance to win their first game of the season on Sunday, but they are laying a lot of points, considering the way they've played over the first two weeks. Houston's defense has given up 51 points, and starting quarterback Ryan Mallett has completed less than 50 percent of his passes. Jameis Winston looked much better against the Saints than he did in his debut, and the game should be decided within a touchdown.
Prediction ATS: Tampa Bay
Philadelphia Eagles (+2.5) at New York Jets
If this game had been played in Week 2, the Eagles would have been favored. But Philadelphia hasn't been able to do anything right, and the Jets' defense has been terrific, limiting opposing quarterbacks to a 63.7 passer rating. New York should hold Sam Bradford in check, and considering Philadelphia ranks dead last in rushing, it could be a struggle for them to score for a second straight week.
Prediction ATS: New York
Jacksonville Jaguars (+13.5) at New England Patriots
The Patriots are giving a lot of points to a team that won last week, but it won't come as much of a surprise when New England wins by at least two touchdowns on Sunday. Tom Brady and Co. are dominant at Gillette Stadium, and five of their last six regular-season home wins in 2014 came by 22 points or more. The Patriots scored 40 points in Week 2, and they could have a repeat performance against Jacksonville.
Prediction ATS: New England
Cincinnati Bengals (+2.5) at Baltimore Ravens
Despite losing their first two games, Baltimore remains a contender in the AFC. They'll return home, where they've beaten Cincinnati in four of their last five tries. The Ravens' defense is much better than what they showed against Oakland, and Joe Flacco could have a big game against a Bengals defense that allowed Philip Rivers to post a 113.1 passer rating in Week 2.
Prediction ATS: Baltimore
Oakland Raiders (+3.5) at Cleveland Browns
It's hard to tell how good Oakland could be in 2015, since they've looked like two different teams in their first two games. But the same could be said for Cleveland, which is why making them more than a three-point favorite seems too high. Josh McCown will get the start for the Browns, and he's shown time and time again that he's not a good quarterback. Oakland's offense was terrific with a healthy Derek Carr at the helm last week, and they have a chance to win outright.
Prediction ATS: Oakland
Indianapolis Colts (-3.5) at Tennessee Titans
The Colts aren't as bad as their 0-2 record and minus-26 point differential might indicate, but the team does have a lot of issues. The organization didn't give Andrew Luck the help he needed on the offensive line or on defense, and Indianapolis will have trouble beating most teams on the road if Luck doesn't have a big game. The quarterback has the league's worst passer rating, and while that will undoubtedly improve, it's hard to pick Indianapolis when they're laying more than a field goal on the road.
Prediction ATS: Tennessee
Atlanta Falcons (-2) at Dallas Cowboys
The Cowboys have been able to withstand injuries to Dez Bryant and Orlando Scandrick, but the injury to Tony Romo will likely be too much for them to overcome in Week 3. Brandon Weeden completed all seven of his passes against Philadelphia last week, but he posted a 55.5 passer rating in his only start last year. Dallas' defense will keep them in the game, but the Falcons look much improved from last season, and they should start the year at 3-0.
Prediction ATS: Atlanta
San Francisco 49ers (+6.5) at Arizona Cardinals
Arizona has been the NFL's most impressive team in the first two weeks, and they have a chance to win big on Sunday. The Cardinals are 7-1 against the spread in their last eight home games, and they are playing well on both sides of the ball. San Francisco took advantage of a Minnesota team that was sloppy in Week 1, and getting blown out in Pittsburgh last week could be a sign of what's to come.
Prediction ATS: Arizona
Chicago Bears (+14.5) at Seattle Seahawks
With Jimmy Clausen at starting quarterback, Chicago might be the worst team in the NFL. But it's hard to go with a 0-2 team when they essentially need to win by three possessions in order to cover the spread. Seattle is one of the league's best home teams, but in four home games against teams that didn't have a winning record last year, the Seahawks won by more than 14 points just once. The defending NFC champs might still be one of the top teams in the conference, but they don't seem to be as dominant as they were in the last two seasons.
Prediction ATS: Chicago
Buffalo Bills (+3) at Miami Dolphins
The three-point betting line indicates that the Bills and Dolphins are even on a neutral field, but Buffalo might be the better team this year. Miami lost to Jacksonville and barely defeated Washington, who outgained the Dolphins by almost 100 yards. Buffalo's defensive line could give Miami trouble, and Tyrod Taylor might have a few big plays in him against a Dolphins defense that hasn't been as good as some thought it might be in 2015.
Prediction ATS: Buffalo
Kansas City Chiefs (+6.5) at Green Bay Packers
The Chiefs outplayed the Broncos for much of last week's game, ultimately losing because of costly turnovers. They should be able to keep their contest with the Packers close for most of the way, but Aaron Rodgers and Green Bay's offense could prove to be too much. The team hasn't been affected by the absence of Jordy Nelson, and after beating the Seahawks by 10 points at home, the Packers could have a similar result in Week 3.
Prediction ATS: Green Bay
Denver Broncos (-3) at Detroit Lions
It sounds like Matthew Stafford will play, and he could help the Lions get their first win of 2015. The Broncos have been fortunate to win their first two games, and they might finally run into some bad luck on Sunday night. Denver was aided by two Kansas City turnovers in the red zone last week, and they somehow beat Baltimore in Week 1, despite Peyton Manning's 59.9 passer rating. Manning was improved in Week 2, but it's looking more and more like he's headed towards the end of his career. Detroit should play better when they return home, where they've won five in a row.
Prediction ATS: Detroit
New Orleans Saints (+8) at Carolina Panthers
The Saints have struggled with Brees on the field, and Week 3 starter Luke McCown has thrown just one pass since the start of the 2012 season. New Orleans lost by 12 points and seven points with Brees under center in Week 1 and Week 2, respectively, and things could get much worse with the quarterback on the bench.
Prediction ATS: Carolina
Season Record: 21-10-1
© Copyright IBTimes 2023. All rights reserved.