Denver Broncos vs. Indianapolis Colts 2015: Prediction, Betting Odds, Preview For Week 9 Game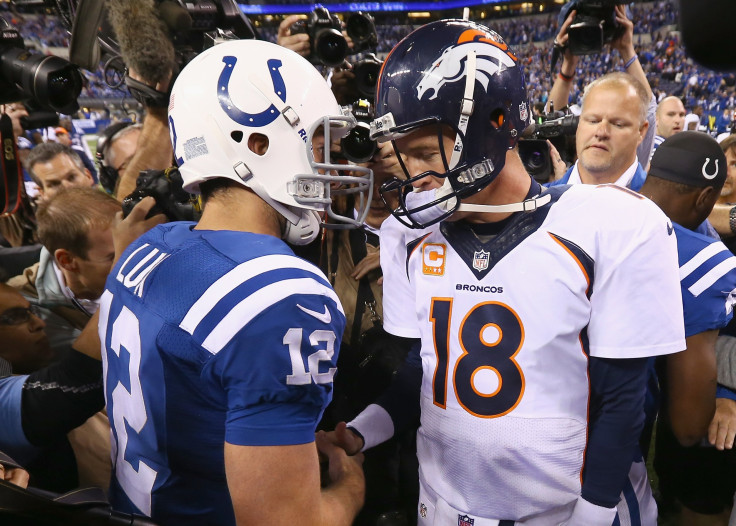 Peyton Manning has had a couple of tough losses against his former team, but the quarterback is in a good position to get a measure of revenge in Week 9. The Denver Broncos visit the Indianapolis Colts on Sunday as the future Hall of Famer tries to keep his team perfect in 2015.
Denver is one of four remaining unbeaten NFL teams, and they proved a lot of doubters wrong in their most recent contest, easily defeating the formerly 6-0 Green Bay Packers. The Colts are coming off an overtime loss against the Carolina Panthers on Monday night, dropping their third game in a row.
For the second time this year, the Colts are home underdogs. Las Vegas sportsbooks have made the Broncos five-point favorites, according to vegasinsider.com, and the over/under is 44.5 points. Manning is 1-2 against the Colts, including a loss in Denver in last year's playoffs.
Battle Of First-Place Teams
Denver has proven to be one of the NFL's best teams, starting out the season at 7-0. Indianapolis and their 3-5 record is one of the league's biggest disappointments. Still, both teams are in first place and considered favorites to win their respective divisions.
The Broncos have seemingly all but secured another AFC West title. The Oakland Raiders are much improved this season, but they trail Denver by three games and have already lost a head-to-head matchup in Oakland. The Colts are tied with the Houston Texans atop the AFC South, but the division is one of the worst in recent memory. Indianapolis has dominated the AFC South, winning all three divisional games this season, extending their winning streak over AFC South opponents to 16 in a row.
How The Mighty Have Fallen
When Indianapolis replaced Manning with Andrew Luck the decision seemed to work out well for both the Broncos and Colts. The two quarterbacks have made the Pro Bowl every year with their respective teams, and they were considered to be among the top MVP candidates to start the season. But Manning and Luck have both regressed in 2015, and Sunday's game won't be a battle of top quarterbacks like it was last season.
Manning and Luck are side by side at the bottom of the statistical rankings for quarterbacks. Manning's 75.1 passer rating is 31st in football, while Luck's 71.6 rating puts him at No.32. Luck leads all quarterbacks with 12 interceptions, and Manning is right behind him with 11 picks. Manning has been more accurate (62.8 percent to 54.9 percent), but Luck has thrown more touchdown passes (13 to seven).
Usually when the quarterbacks meet, the final result comes down to which one makes more big plays. On Sunday, the contest could be decided by which signal caller avoids a costly mistake in the fourth quarter.
Football's Best Defense
The Broncos were expected to have a good defense at the start of the season, but no one could have predicted the unit to play this well. Not only has Denver established itself as the clear No.1 defense in the NFL, but they might be one of football's best defenses in the last few years.
Denver ranks first in pass defense (171.9 ypg) and fourth against the run (89.3 ypg). No team has allowed fewer points per game (16.0), and the Broncos lead the league with 29 sacks, even though they've already had their bye week. Denver has allowed more than 20 points just twice, and they are second in the league with 17 takeaways.
No matter the competition, the Broncos' defense has come out looking strong. Aaron Rodgers only threw for 77 yards last week in Denver's 29-10 win over Green Bay. Baltimore, Kansas City and Oakland have top-15 scoring offenses, averaging a combined 73.7 points per game. The Broncos limited the three teams to 47 points and an average of 258.3 yards per game.
Prediction
For as bad as Manning has been, he was efficient against the Packers and has not cost the Broncos a win. Luck has been error-prone and Denver's defense is capable of jumping on any mistake. It wouldn't be surprising if the Broncos' front seven decides the pace of the game and forces the Colts' offense to take more risks. Expect Denver to take care of the ball, and earn a road victory.
Denver over Indianapolis, 27-17
© Copyright IBTimes 2023. All rights reserved.