Derrick Rose Injury: Chicago Bulls Guard Still Having Vision Problems?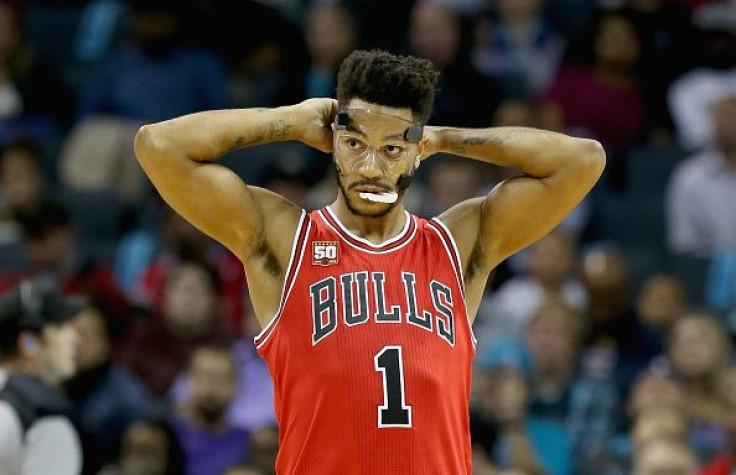 Chicago Bulls point guard Derrick Rose told reporters last month that he had been experiencing double vision. On Sunday, head coach Fred Hoiberg said the condition could persist for quite some time.
"[The doctors] said it could be as long as three months," Hoiberg said, according to ESPN. "But [the vision] has continued to improve, and that's obviously a positive."
Upon learning of Hoiberg's comments, Rose said, "That's the first time I'm hearing about that," according to a Twitter post from K.C. Johnson, The Chicago Tribune's Bulls beat writer.
Rose suffered a fracture to his left orbital bone after taking an inadvertent elbow from teammate Taj Gibson on the first day of practice in training camp. Rose has had problems with double vision since having surgery on Sept. 30, but the three-time NBA All-Star is remaining positive about improving his game despite the issues.
"For this to be seven or eight [weeks] out and still the same way, I can't do nothing but live with it. Get the most out of every day, keep putting my deposits in and keep working on my game until my eye gets better. "
The 2010-2011 NBA MVP has started all nine games but has struggled shooting the ball. There have been flashes of the old Rose, like a 29-point performance against the Oklahoma City Thunder on Nov. 5. But his field-goal percentage is under 36, and he has converted just one of his 18 three-point shot attempts. He's averaging 12.6 points per game, nearly eight points below his career average.
After admitting he played the season opener with just one eye open, Rose has been able to use both as time progresses. "I'm playing with both of them open now," Rose said. "But [my vision] is still blurry when I look certain ways. But that's part of [the recovery], I guess."
Rose anticipates his shooting production will improve as the season progresses.
"I'm missing a lot of shots where I normally hit," Rose said. "Floaters or layups I normally hit, but everything else will come. Just getting my legs under me. It's still preseason for me...I'm still warming up."
Rose has also been playing with a mask and may continue to do so for the entire season. He insists it hasn't been a burden.
"I mean, for right now it seems like it's the whole season," Rose said. "It was too painful. I never want to go through that again, so if I've got to wear it the whole season, I'll wear it. The mask, it's not a problem. It's just that my vision is kind of messed up right now."
Blurry vision hasn't deterred Rose from being a solid distributor. The 27-year-old has tallied at least five assists in eight of nine games this season and despite the inconsistent shooting, he's pleased with how things have gone so far as he continues his comeback.
"I'm loving the way that I'm working out, I'm loving the way that we're playing. We're winning games, so that's the only thing that I'm worried about. Everything else will come."
The Bulls are 6-3 and host the Indiana Pacers on Monday night before beginning a four-game road trip in Phoenix on Wednesday.
© Copyright IBTimes 2023. All rights reserved.