Derrick Rose Injury: Chicago Bulls Guard's Return Still A Work In Progress?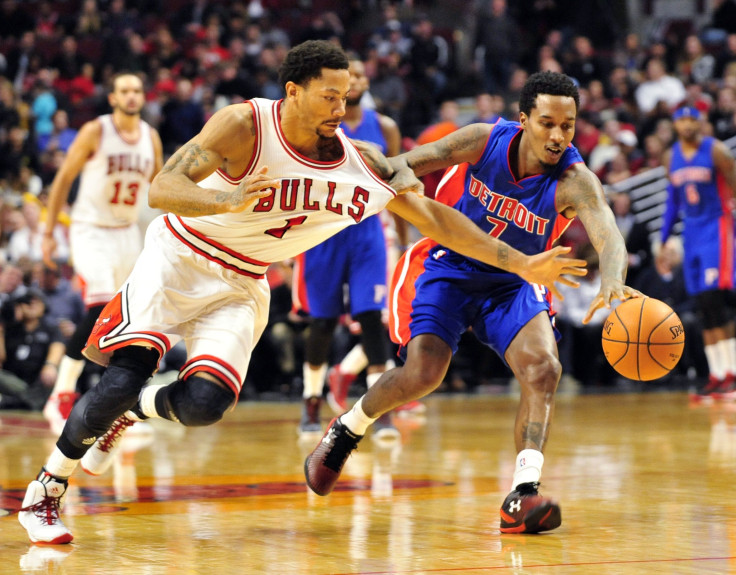 Derrick Rose lit up the Detroit Pistons for 24 points and seven assists in a Chicago Bulls' win, 102-91, on Monday night. It was a thorough effort from a point guard who has shown a proclivity to both score and distribute since entering the NBA in 2008-2009.
It may be an odd phrase to utter considering he's only 26, but the numbers suggested we were seeing "vintage Rose." It was the kind of game Bulls fans missed for two years while Rose recovered from two major knee injuries. And the expectations entering this season, following a successful stint with USA Basketball during the FIBA World Championships, were that Rose would churn out game after game of lightning quick ball, punctuated with explosive dunks.
Instead, it appears Rose and the Bulls organization have taken a more relaxed, possibly more mature approach to his second comeback season. And rather than beg the question of whether he's back to his old form, perhaps it should be asked if we're actually seeing a smarter, more-controlled version of Rose?
At first glance it may be easy to call Rose fragile or injury prone. Of Chicago's eight games so far, Rose has appeared in four, averaging 17.5 points, 5.8 assists and 1.3 steals over 27.5 minutes. After playing in the first two games of the season, he managed to sprain both of his ankles on Oct. 31 in the 114-108 loss to the Cleveland Cavaliers, and sat out the next two. He came back against Milwaukee on Nov. 5, shot 4-for-10 from the field for 13 points and seven assists and aggravated the new injury. Rose then sat out two more games, and came back to torch the Pistons.
The time off was clearly well spent, and a closer inspection of the victory over the Pistons shows a player who has found the right mix of athleticism and speed with veteran savvy and know-how. Every dribble, pass and shot seemed calculated. It looked like Rose and new big man Pau Gasol had been running the pick-and-roll together for years. There was a control to Rose's game that he hadn't displayed before. It was always barrel down court, either to get to the line or for a monster throw down. There's patience to his play now, the kind learned from watching teammates compete from the bench on-and-off for two years, knowing they could have contended for a title if only he was healthy.
But Rose is perhaps having trouble explaining his personal and physical growth. He didn't help his public perception with his comments following practice Tuesday.
"I'm good, man," Rose said to ESPN Chicago. "I felt like I've been managing myself pretty good. I know a lot of people get mad when they see me sit out or whatever, but I think a lot of people don't understand that ... when I sit out it's not because of this year.
"I'm thinking about long term. I'm thinking about after I'm done with basketball. Having graduations to go to, having meetings to go to, I don't want to be in my meetings all sore or be at my son's graduation all sore just because of something I did in the past. [I'm] just learning and being smart."
It's the kind of mature, forward-thinking response Bulls and NBA fans aren't accustomed to hearing from Rose. He was a determined, lightning-in-a-bottle guard who bolted out of the University of Memphis and took the league by storm with a style of play that seemed to combine Dwyane Wade's body control in the air, with young Kobe Bryant's power, all in a 6-foot-3 frame. But off the court he was quiet and short with the media, and said only the right things. His MVP speech was emotional, but he was still a 22-year-old learning about his fame.
Now Rose is expressing the kind of thoughts that only someone who saw their career flash before their eyes twice could feel or convey. And even after receiving significant pushback from critics who questioned his desire to play and commitment to his team, Rose stuck to his laurels.
"As long as I'm being myself, that's the only person I can be," Rose said to the Chicago Tribune Thursday morning. "As far as saying anything, probably blame me for thinking about the future. I'll probably think different but that's all I was doing."
If anyone can truly gauge whether Rose's heart is in the right place, its head coach Tom Thibodeau, who managed to frame his All-Star leader's comments in the proper context.
"I think this: I know Derrick, and I know he wants to play," Thibodeau said. "You have to take a look at what he's just gone through. It's been 2½ long years, two major injuries. So, there's a lot going on there. When you sprain both your ankles, you have to do what you think is right.
"As I said, if he's healthy, he should play. If he's injured, he should sit. It's a long time that he's been off. He's got to go. And I think he understands that. Derrick wants to win. We've got a good group. We've got a good opportunity. It's on us what we do with the opportunity. And the commitment from our entire team has to be special. If we want to do something great, the effort has to be great in all areas. I've been around a long time. I understand you can't shortcut this."
At this juncture of the season, Thibodeau likely also realizes that slowly working Rose back into the regular NBA grind serves the Bulls' cause far better than shoving him into the deep end prematurely. The Bulls are 7-1 and have young two-guard Jimmy Butler and Gasol to carry much of the scoring load, as well as All-Star center Joakim Noah and power forward Taj Gibson. Other than Gasol, that same crew represented the best defense in the NBA, and still made the playoffs in consecutive seasons. The only thing they were missing was Rose's scoring.
But what they gain back in scoring, the Bulls have also gotten back tenfold in leadership.
© Copyright IBTimes 2023. All rights reserved.