Derrick Rose Leads Chicago Bulls In Big Win Over OKC Thunder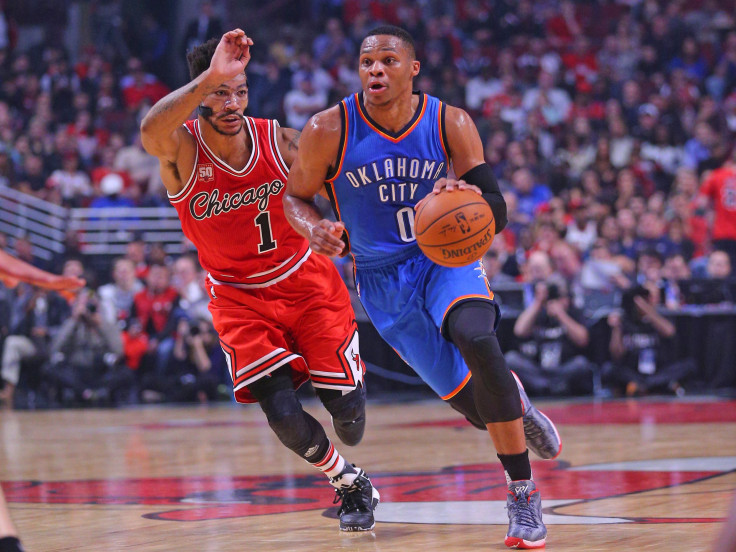 Derrick Rose looked like the same player who won the league's MVP award in 2011, leading the Chicago Bulls past the Oklahoma City Thunder, 104-98, despite an exceptional performance from Kevin Durant on Thursday night at the United Center.
Rose finished with a season-high 29 points on 12-of-25 shooting including some tough shots in the fourth quarter. The three-time All-Star, who has struggled with various injuries the past few seasons, also added five rebounds and seven assists to log his best all-around game of the young NBA season.
"For him to have a game like this, I know this is a huge confidence booster," coach Fred Hoiberg said.
Jimmy Butler also came up big, dropping 26 points to go along with four rebounds and two blocked shots.
The Thunder kept the game close after the Bulls blew a 10-point lead. Russell Westbrook had 20 points and 10 assists and eight rebounds, once again narrowly missing out on a triple-double. Serge Ibaka had 17 points, six rebounds and two blocked shots while Enes Kanter added 11 points off the bench.
Durant, who finished with 33 points for the night, willed his team with nine points in the fourth quarter. It's the third straight loss for the Thunder after starting the season 3-0.
"It's not four games in five nights," Durant said. "We have to figure it out. We have to figure it out, man. We've got to get stops. We have to buckle down and do it."
Hoiberg got a lift from Pau Gasol, who posted a double-double of 10 points and 11 rebounds, but the Bulls also got some help from the bench. Taj Gibson scored nine points and blocked two shots, while Aaron Brooks added nine points in just 13 minutes. Tony Snell and Joakim Noah combined for nine points and 12 rebounds.
Up next for the Bulls is a home game against the Minnesota Timberwolves on Saturday, while the Thunder host the Phoenix Suns on Sunday.
© Copyright IBTimes 2023. All rights reserved.