Derrick Rose Return: Will Injured Bulls Guard Be Back In Action This Summer?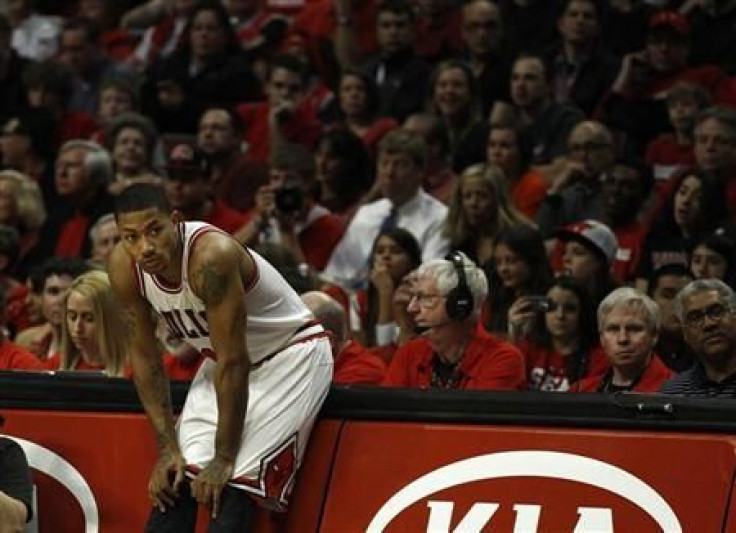 Derrick Rose is working towards making a return to the basketball court. The Chicago Bulls guard won't be ready to finish the 2013-2014 season, but he's hoping to play in the summer.
While the next Olympics isn't for another two years, 2014 is an important summer for Team USA. U.S. basketball will be competing in the FIBA World Cup in Spain in August. If Rose proves that he is healthy, he could end up making the final roster.
"I think he needs to find out just where he is physically," USA Basketball chairman Jerry Colangelo said Wednesday.
"So he is welcome to come to our camp, he is welcome to show us where he is. I think if nothing else, worst-case scenario, he practices and sees that he's either not ready or he is ready. And if he's ready, he has a chance to make the team."
Rose was ruled out for the rest of the season after undergoing knee surgery in November. The former MVP suffered a torn meniscus in his right knee. Prior to getting hurt, he played just 10 games this year. It was Rose's first action since the 2012 playoffs, when he tore his ACL.
With the summer still over two months away, Rose is making significant progress. He has been participating in drills and running for quite some time.
"Just continue doing what he's doing," Bulls head coach and Team USA assistant Tom Thibodeau said. "He's feeling great, which is the encouraging thing. He's bouncing all over the place. The rehab's gone very well."
Even if Rose is ready to play, there's no guarantee he'll be named to the squad. The point guard struggled this season, after sitting out for so long. In 31.1 minutes per game, he averaged 15.9 points, 4.3 assists and 3.2 rebounds on just 35.4 percent field-goal shooting.
The NBA's best stars will compete to make the roster. Point guards like Chris Paul, Russell Westbrook and Deron Williams are looking to play for USA basketball in the summer.
Team USA will have training camp for the final four days of July, which concludes with an exhibition contest at the Thomas & Mack Center in Las Vegas. The World Cup, which features 24 teams, is set to start on Aug. 30 and concludes on Sept. 14.
© Copyright IBTimes 2023. All rights reserved.