DeSantis Leads Trump By 9 Points In New Poll, In 'Strongest Position' To Win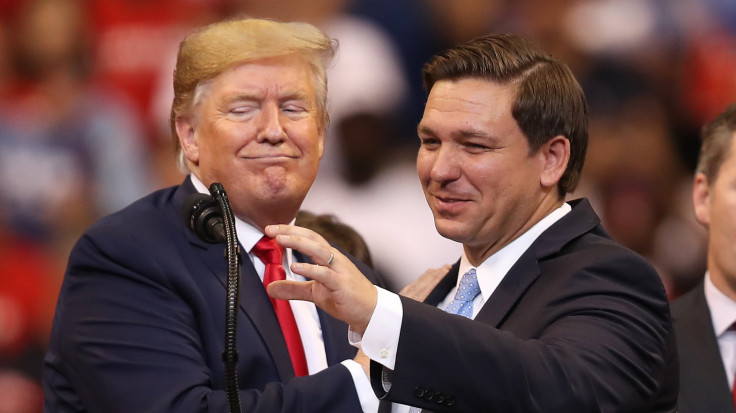 KEY POINTS
Florida Gov. Ron DeSantis is leading against former President Trump, 49% to 40%
Trump holds a narrow lead over DeSantis in a hypothetical crowded GOP primary field
Club for Growth President David McIntosh will help Trump if he gets the GOP nomination
A new Republican-funded survey revealed that Florida Gov. Ron DeSantis is in the "strongest position" to defeat former President Donald Trump in a hypothetical one-on-one match-up in the 2024 GOP primary.
According to the survey conducted by the influential conservative group Club for Growth, DeSantis leads Trump by nine points — 49% to 40%.
The survey revealed that DeSantis is leading among Republican voters who said they were either somewhat conservative or moderate/liberal, 56% to 51%.
But Trump is leading against DeSantis to GOP voters who identified themselves as very conservative with 52%.
Should there be a crowded GOP primary contest, Trump is holding a narrow four-point lead against DeSantis, 37% to 33%, the Hill reported.
Former Vice President Mike Pence, Trump's former running mate, is trailing in third with just 7% among Republican respondents.
Despite the survey, the Club for Growth appears to distance itself from Trump, currently the only Republican to declare his intention for the presidency in 2024.
In a meeting with reporters on Monday, Club for Growth President David McIntosh appeared to criticize Trump.
"What the club believes the Republican Party should do is make sure whoever we nominate will actually win," McIntosh said.
McIntosh also suggested that the GOP look for another candidate other than Trump, saying that DeSantis has a better chance as a Republican candidate in 2024.
"The party should be open to looking at a different candidate. DeSantis is in the strongest position," McIntosh said.
But McIntosh stressed that the conservative organization is not a "never Trump," noting that if the former president gets the nomination in 2024, "we'll help him try to win." However, he noted that Trump "lost" in the last three elections.
The new survey came after another poll conducted by Club for Growth showed Trump is expected to lose to Democratic President Joe Biden.
NBC News reported that Biden holds an eight-point advantage against Trump, 48% to 41%.
However, in a head-to-head presidential match-up between Biden and DeSantis, the Florida governor is ahead of the president, 45% to 42%, which is essentially a statistical tie.
Amid the latest polls showing the former president's difficult path to return to the White House, Trump is also beset with problems in bankrolling his 2024 presidential bid.
According to the filing reported to the Federal Election Commission (FEC) in December last year, Trump's primary fundraising committee had spent more cash than it had raised.
The Save America Joint Fundraising Committee reported to the FEC that it had spent over $5.1 million, compared to almost $5 million it raised.
© Copyright IBTimes 2023. All rights reserved.