Did Donald Trump Break The Law? Anti-Corruption Attorney Hired By New York AG To Scrutinize White House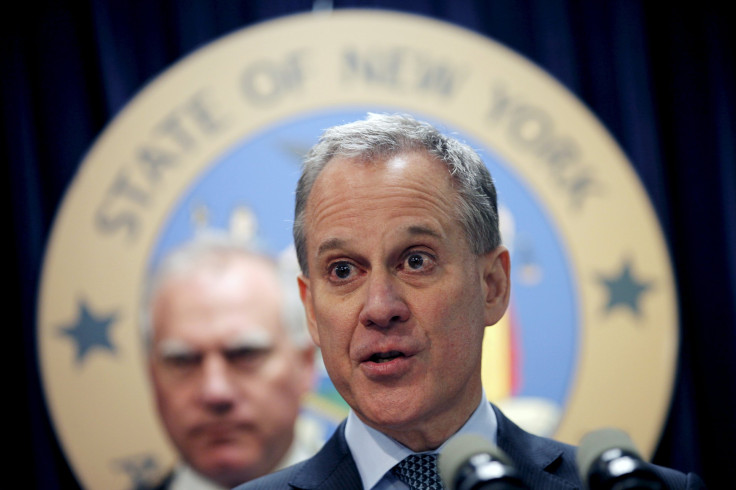 New York Attorney General Eric Schneiderman, a vocal opponent of President Donald Trump, hired anti-corruption attorney Howard Master, a prosecutor who's worked closely with former Manhattan District Attorney Preet Bharara, to target the Trump administration. He would act as senior enforcement counsel within the state office, the Wall Street Journal first reported Sunday.
Master, whose tenure at the Southern District of New York stretched back to 2007, won a high-profile case against the corrupt former New York State Assembly Speaker Sheldon Silver in late 2015. A judge found the politician guilty on all seven counts, including extortion and money laundering. Silver's lawyer said Thursday the former speaker would appeal the decision.
Read: Why Was Preet Bharara Fired? New York Attorney Was Investigating HHS Secretary Tom Price Before His Removal
Bharara, who was abruptly ousted by the Trump administration about two weeks earlier, in spite of expectations that he'd stay on, quickly congratulated his colleague Monday morning, calling him an "absolute superstar."
The former prosecutor, known for his aggressive pursuit of the Wall Street bankers responsible for the 2008 financial crisis, was investigating the stock trades of Trump's newly-appointed Health and Human Services secretary, Tom Price, at the time of his removal, ProPublica reported Friday.
Master's new boss, Schneiderman, took on Trump's administration, and Trump personally, winning a $25 million settlement in November. It was one of the three suits against the now-defunct Trump University program, which allegedly misled paying participants by touting itself as a real university.
Following Trump's Jan. 27 executive order banning travel to the U.S. by refugees and citizens of seven Muslim-majority countries, Schneiderman was one of three state attorneys general engaging in a legal battle against the federal government on behalf of travelers stranded by the action at airports in their states. When Trump released a revised version of that executive order on March 6, eliminating Iraq from the list of countries whose nationals couldn't enter the U.S., Schneiderman announced he'd join his Washington state counterpart in renewing litigation against the president.
Read: Trump University Settlement Worth $25 Million Gets Preliminary Approval From Federal Judge
© Copyright IBTimes 2023. All rights reserved.