Did Twitter And Odell Beckham Jr.'s Circus Catch Help NBC's Sunday Night Football Win The Ratings Last Night?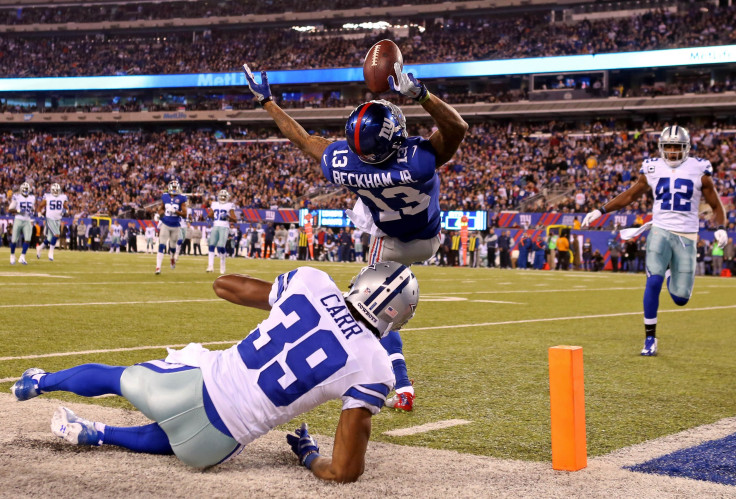 NBC's Sunday Night Football has been on a losing streak against AMC's "The Walking Dead" among the 18-49 demographic that matters to advertisers. But that ended last night with a big-market matchup between the Dallas Cowboys and New York Giants.
Big-market teams generally translate into bigger ratings, but last night had something special: Odell Beckham Jr.'s amazing one-handed catch that detonated Twitter, generated a meme and elevated the rookie to instant stardom. The grab came in a losing effort, so unlikely to unseat "The Catch" of Joe Montana-to-Dwight Clark fame, but the question it raises is: Did the clip, widely disseminated on the Web, help or hurt NBC?
The ubiquity of clips and gifs can allow people to watch the highlights of a game without really watching a game. But in this case the hurt side of the ledger seems incredibly thin: Sure, a lot of media companies that are not NBC made a lot of money on the game. But that's always been the case for highlights, only now there are many, many more quick-twitch media outlets that dined out on reposted clips and gifs reaping page views and ad dollars.
For example: Gawker's Deadspin published three posts on the catch with images, gifs and NBC's clip, which have so far generated nearly 700,000 page views. SB Nation's initial post has 3,485 tweets and 7,565 Facebook shares. Mashable, not particularly known for its sports coverage, claims 5,000 shares on its post. SB Nation and Bleacher Report published multiple posts each on videos of the catch and Beckham's pre-game warm-up of one-handed grabs. Then there's YouTube, which has racked up 580,000 plays on the clip in 16 hours, plus many pirate off-TV versions with hundreds of thousands of views.
NBC registered 170,000 views of the catch clip and 12,872 of Odell's pre-game one-handed catches. The NFL, which controls rights to online clips, has a revenue-sharing deal with Twitter which means there was some ad revenue connected to this official tweet, which was promoted by fantasy sports site DraftKings. The YouTube clips carried advertising as well.
Odell Beckham just broke the internets. Catch. Of. The. Year. #DALvsNYG http://t.co/e8J5kzCFN4 - NFL (@nfl) November 24, 2014
All of this activity is great for Web-based media. Is it great for NBC as well? The catch took took place in the second quarter, giving those not watching SNF a chance to tune in for the second half, or at least turn on their DVRs. The echo in social media was immediate: Twitter says the moment was the most-tweeted during the game, resulting in 1.1 million tweets of the video that were viewed by 7.8 million people. If any of those people not watching the game then tuned in, it would have been material: NBC won the night averaging more than 20 million total viewers, according to preliminary results from Nielsen. "Walking Dead" clocked in at 13.3 million total adults.
It's difficult to prove cause-and-effect in media, but in this case it certainly didn't hurt. The audience grew during the second-half of the game, peaking in the fourth quarter, according to the preliminary ratings. That might have been the case for any close game between big-market teams; in blowouts the drop-off in audience is dramatic. So whether Twitter added a tenth of a point or two on the ratings is anyone's guess.
"I think a close game has a lot to do with higher ratings and the Dallas Cowboys has always been a popular attraction with casual viewers," said Brad Adgate, director of research at Horizon Media.
Keep in mind if Twitter helped Sunday Night Football, it helped the ABC's American Music Awards even more. Nielsen counted 5.6 million tweets connected to the awards show, reaching 10.3 million people. Ratings of the the show were down 15 percent from last year.
As it stands, the Twitter-helps-TV theory remains that: a theory. Right now the evidence points to some impact but how much is anyone's guess. A competitive matchup between two big market teams should win the night with or without Odell Beckham Jr. or Twitter.
© Copyright IBTimes 2023. All rights reserved.
FOLLOW MORE IBT NEWS ON THE BELOW CHANNELS