Dodging 2016 Election Polls, Donald Trump Launches His Own 'Mainstream Media Accountability' Survey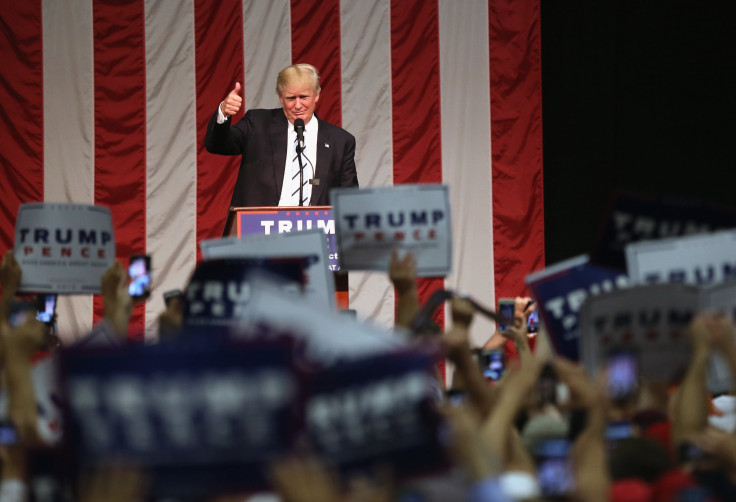 Republican presidential nominee and noted poll lover Donald Trump has decided to subvert the system and conduct a survey of his own. In a fundraising email sent Monday and shared by several reporters on Twitter, Trump said he wanted to hold the media responsible for attempting to fix the outcome of the upcoming election.
"All too often I'm asked about a 'poll' put out by a liberal organization that says the American people disagree with our common-sense reforms to fix our country," Trump wrote. "Well, [name], with your help today, the next time I'm being interviewed, I will have my own poll that shows that the American people disagree with the dishonest media!"
The email linked to a form titled "Mainstream Media Accountability Survey." It includes yes-or-no questions like "Do you trust CNN to fairly report on our campaign?" and "Do you trust the mainstream media to tell the truth about the Republican Party's positions and actions?" It also asks respondents to agree or disagree with statements like "More time is spent covering fake 'scandals' involving Trump than real scandals involving Hillary and our national security."
Given the internet's history with public polls and online voting contests, yeah, there's no way this could go wrong.
Trump has recently stepped up his attacks on the media, on Saturday calling out the New York Times for an article that criticized the inner workings of his campaign.
"The newspaper is going to hell," he said, according to CNN Money. "Maybe we'll start thinking about taking away their press credentials ... When they write dishonest stories we should be a little bit tough."
The GOP nominee has previously banned reporters with BuzzFeed, the Daily Beast, Politico and the Washington Post from attending his campaign events. He's also said that "nobody cares" what the Wall Street Journal says and suggested Univision might be controlled by the Mexican government.
Trump's opponent, Democrat Hillary Clinton, doesn't have the best relationship with the press, either. She hasn't given a formal press conference since December, though she did speak earlier this month at a meeting of the National Association of Black Journalists and National Association of Hispanic Journalists, according to U.S. News and World Report.
© Copyright IBTimes 2023. All rights reserved.