Does Kevin Durant Want To Stay With The Nets? Superstar Explains His Past Trade Request
Kevin Durant says he's happy with the Brooklyn Nets, but it wasn't long ago that the superstar wanted to leave the club. Durant asked to be traded during the summer, and the Nets ultimately denied his request.
Weeks after Durant's trade request still hadn't been granted, Durant told Nets owner Joe Tsai that he had to choose between general manager Sean Marks and head coach Steve Nash or himself, according to The Athletic.
Nash's firing seven games into the season and Durant's latest comments have only strengthened the idea that the Nets star wanted a change in team leadership.
"It wasn't difficult at all to request a trade because it was about ball," Durant told Bleacher Report's Chris Haynes. "I went to them and was like, 'Yo, I don't like how we are preparing. I don't like shootarounds. I like practices. I need more. I want to work on more s---. Hold me accountable. Get on my a-- in film if that's going to help you get on everybody else's head. I want to do more closeouts. I want to work on more shell drills at practice.'
"This was the type of s--- I was coming at them with. It wasn't like, 'Yo, y'all need to make sure everybody around me can make my life easier.' Hell nah, I want to make everybody else's life easier. Ask Steve Nash, you can go call him right now. I would say, 'Yo, I need more closeout drills. We need to practice more.' That's what I was on."
The Nets were favored to win the championship for most of last season, but Brooklyn was swept in the first round of the playoffs. When it was reported that Durant wanted to be traded, the Nets were expected to move on from both Durant and Kyrie Irving.
"I wasn't feeling that, and nobody was on that same vibe with me," told Bleacher Report. "Jacque Vaughn is. I had some complaints in the summer, and my complaints were not about just me; it was about how we are moving as a unit. I want us to be respected out here in the basketball world. I don't want players to look at us and say, 'Oh man, these [expletive] are full of s---. That's not the type of team I want to be on.' So when we're all playing like s---, you know the one person they're going to look at. That's why I requested a trade."
Most of the teams in the league reached out to the Nets regarding a possible Durant trade. The Phoenix Suns were viewed as the top potential destination for the 34-year-old. The Miami Heat and Boston Celtics became candidates to trade for Durant, as well.
No suitor met Brooklyn's lofty asking price of quality NBA players and future first-round draft picks. With four years left on his contract, Durant had little choice but to accept the Nets' decision to keep him.
Following a 2-5 start to this season, Brooklyn parted ways with Nash and replaced him with Vaughn, who had been a Nets assistant since 2016. The Sacramento Kings blew out the Nets 153-121 Wednesday night, giving Brooklyn a 6-9 record. The Nets are the No. 12 seed in the Eastern Conference and out of the playoff picture.
Brooklyn's tumultuous start to the season goes well beyond its losing record. Irving's suspension for sharing a link to an antisemitic film on social media is up to seven games and is unlikely to end soon. Ben Simmons has only played 10 games, and The Athletic reports that some members of the organization are questioning his desire to play basketball.
Durant, however, doesn't seem prepared to ask for another trade in the near future.
"I just love the people in here," Durant told Andscape when asked if he wants to stay in Brooklyn. "We had a rough season last year. A lot of ups and downs. I felt like me pressing a trade or telling how I felt about the organization, we were able to have some honest conversations on both sides. So, I think that was what we needed, and we were able to move forward. So, it was about grinding. I committed here. I signed here. So, it's about grinding, seeing where it takes us."
Durant is averaging 30.3 points per game and is on his way to a 13th All-Star selection.
If the Nets continue to struggle, it won't be surprising if they revisit the idea of trading Durant.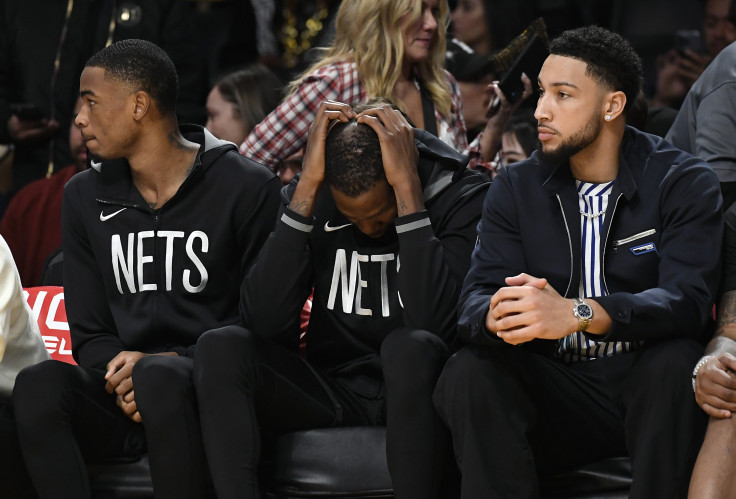 © Copyright IBTimes 2023. All rights reserved.
FOLLOW MORE IBT NEWS ON THE BELOW CHANNELS