Does Mama June Have A Boyfriend? After Dramatic Weight Loss, Her Daughters Try To Find Her A Date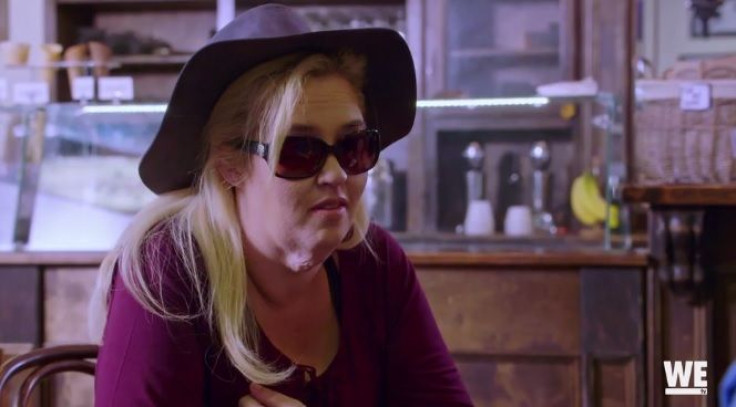 When former "Here Comes Honey Boo Boo" star Mama June Shannon slimmed to under 200 pounds, her daughters tried to help her find a date to Sugar Bear's wedding. Pumpkin and Alana thought they discovered a suitor when a man bought them ice cream.
"He's not even my type," Shannon, 37, explained, according to People Magazine Friday.
READ: Mama June's Estranged Daughter Slams Weight Loss
But Pumpkin, 17, thought that was just an excuse. "What you mean not your type? You were with Sugar Bear for 11 years. You ain't got no d--- type," she said. "And he already showed you a little bit of respect, he bought your kids ice cream."
Shannon wasn't convinced. Still, Alana tried to persuade her. "Hope this guy is good and cool for you because you don't have much time to find a date for Sugar Bear's wedding," she said.
For now, Shannon doesn't have a boyfriend.
Even though most people were impressed with Shannon's weight loss, her estranged daughter, Ana "Chickadee" Caldwell, wasn't fazed. "I think she did it just to be more famous," the former reality TV star told E! Online in an exclusive interview Thursday. "I don't think she did it just for her because she never mentioned anything ever before about getting plastic surgery."
"I think Mama did get herself out there to get another show," Caldwell continued. "That's my opinion on that. I don't think she did it or anything for herself. If she would have done it for herself, she would have tried to lose the weight a long time ago."
READ: Mama June Gives Diet Tips To Fans
Shannon did not publicly respond to her daughter's comments. Instead, she gave other dieters tips for their weight loss journeys. "You to continue on," Shannon told International Business Times in a phone interview last week. "If you cheat, don't put yourself down because everyone does it." She added: "No one is perfect."
"Mama June: From Not to Hot" airs Fridays at 10 p.m. EST on WEtv.
Follow me on Twitter @mariamzzarella
© Copyright IBTimes 2023. All rights reserved.