Dogs Can Smell And Detect COVID-19 Infections, Study Suggests
KEY POINTS
Initial results of a study suggested that dogs can be used to identify COVID-19 infections by means of sniffing
The trained dogs showed a sensitivity rate of up to 94% in detecting COVID-19 infections
It is still too early to conclude that this approach would work in real-world settings, an expert says
Dogs may soon play a large role in detecting COVID-19 infections, a study has suggested.
Man's best friend could also be man's sidekick in fighting the pandemic. This is according to the initial findings of research led by the London School of Hygiene & Tropical Medicine (LSHTM), Durham University and the group Medical Detection Dogs. The study's Phase 1 trials aimed to find out if dogs would be able to identify COVID-19 infections through smell, CNN Health reported.
After about six to eight weeks of training, the six dogs participating in the study, which comprised Golden Retriever, Labrador and Cocker Spaniel breeds aged 4 to 6, were able to pick up the scent of COVID-19, researchers
During the trial, dogs were made to detect COVID-19 by smelling around 3,500 odor samples donated in the form of unwashed socks or T-shirts worn by members of the public and health workers.
The dogs could detect those infected with up to 94% sensitivity, scientists found. Chemical analysis indicated that this is because the dogs have developed the skill of identifying the smell of COVID-19 through a "distinct" odor that it emits.
"The results are extremely exciting," said James Logan, a project lead on the study.
"Dogs could detect COVID with incredible speed and accuracy, even if a person was asymptomatic," Logan added.
Although researchers agree that a PCR test is still considered the "gold standard" when it comes to detecting COVID-19, they suggested that trained dogs would make the screening easier and quicker, especially in high-volume traffic areas.
"The other thing about dogs is that they would serve as a visual deterrent, so if people knew that dogs were going to be screening at the airport, it's very likely that people would think twice about traveling if they were infected," Logan said.
Although the results of the Phase 1 trial have procured promising results, it is still too early to conclude that these trained dogs could actually be used in real-world settings. According to Lawrence Young, a virologist at Warwick Medical School, several factors could still affect the accuracy of the dogs' judgments.
"This could be compromised by the density of individuals in crowded spaces and whether well-ventilated external spaces, where odors are rapidly dispersed, compromise the ability of the dogs to detect individuals with low levels of infection," said Young.
The question of whether this "sniffing approach" will work in real life still stands. If conclusions are made too soon, this could result in false positives when identifying COVID-19 infections.
"The big question is will this approach work in the real world on people rather than samples of socks and shirts?" he said. "There is a variation from dog-to-dog particularly in specificity which could result in increased numbers of false positives."
The dogs who participated in the study are named Millie, Kyp, Lexi, Marlow, Asher, and Tala. The group was trained by the Medical Detention Dogs in partnership with the LSHTM.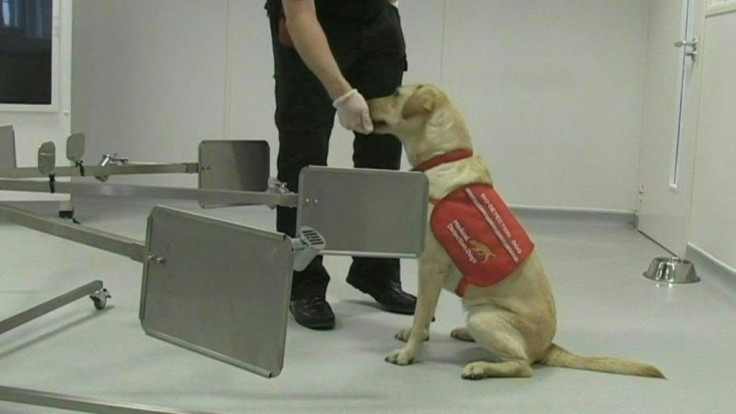 © Copyright IBTimes 2023. All rights reserved.