DOJ Sues Arizona For Shipping Container Border Wall
The Department of Justice (DOJ) has filed a lawsuit against the state of Arizona for building a border wall made of shipping containers on federal land without authorization.
The DOJ's lawsuit comes after a months-long stand-off between Arizona Gov. Doug Ducey (R) and federal agencies such as the Department of the Interior and U.S. Forest Service, which oversee the public land where the shipping container wall is being hastily built.
On Tuesday, residents and environmentalists protested Ducey's executive order, which directed the Arizona State Department of Emergency and Military Affairs to fill in gaps in the existing border wall in Yuma and Cochise County. The executive order designated $95 million to purchase 3,000 containers topped by razor wire to construct the wall, which is about a third of the way complete.
"Arizona has made every attempt to work with Washington to address the crisis on our border. Time and time again, we've stepped in to clean up their mess. Arizonans can't wait longer for the federal government to deliver on their delayed promises." Ducey said in the August executive order.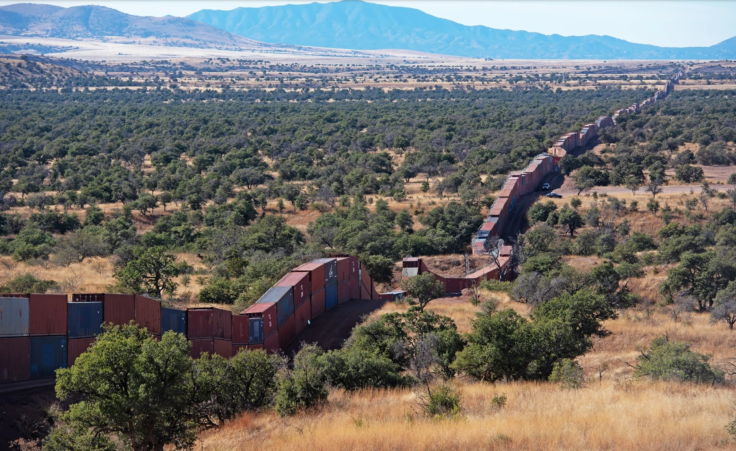 The lawsuit, filed on behalf of the Bureau of Reclamation, the Department of Agriculture, and the Forest Service, requests "immediate injunctive relief prohibiting" the state from continuing work on the wall. The DOJ says it is being built on federal land without the required permits or authority.
"Arizona unlawfully and without authority failed to remove the shipping containers from lands owned by the United States or over which the United States holds easements, thereby damaging the United States," says the lawsuit.
U.S. Agriculture Secretary Tom Vilsack said in a statement that the makeshift wall "is not an effective barrier, it poses safety hazards to both the public and those working in the area, and has significantly damaged public land."
"We need serious solutions at our border, with input from local leaders and communities," Vilsack added. "Stacking shipping containers is not a productive solution."
As Ducey prepares to leave office, Democratic Gov.-elect Katie Hobbs said last week she was "looking at all the options" and hasn't decided what to do about the containers after her Jan. 5. inauguration. She has proposed the containers be repurposed as affordable housing, an increasingly popular option for homeless and low-income people.
"I don't know how much it will cost to remove the containers and what the cost will be," Hobbs told Phoenix PBS TV station KAET in an interview Wednesday.
© Copyright IBTimes 2023. All rights reserved.