Donald Trump Helping ISIS Recruitment? At ABC Democratic Debate, Hillary Clinton Says Republican Front-Runner's Videos Boost Islamic State Membership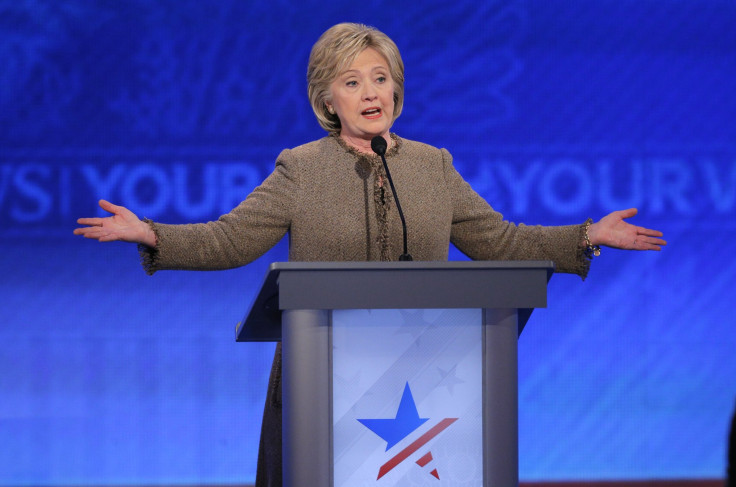 Are videos of Republican presidential candidate Donald Trump being used as a source of propaganda for the Islamic State group? That's what many on the internet are wondering after Democratic front-runner Hillary Clinton said terrorists have been showing the Republican candidate's videos to boost their membership.
"He is becoming ISIS's best recruiter. They are going to people showing videos of Donald Trump insulting Islam and Muslims in order to recruit more radical jihadists," Clinton said during Saturday's Democratic debate.
Many questioned whether the allegation was true. "Is ISIS really showing @ realDonaldTrump videos as @ HillaryClinton just said? Has anyone reported that?" Middle East analyst Peter Beinart tweeted.
Others have argued that Trump's recent statements about Muslims have emboldened anti-Western sentiment in the Middle East and worked to bolster ISIS' message of a clash of civilizations. But whether videos of Trump are actually being shown by the extremists is not clear.
Trump has suggested that the U.S. ban all Muslims from entering the country for a time, following the deadly shootings in San Bernardino, California, earlier this month. The comments sparked outrage and widespread condemnation from both Republicans and Democrats. Trump has also in the past suggested that he would be open to issuing special IDs for Muslims. Some Republicans also have said Trump's comments work to support ISIS' narrative that the West is at war with Islam.
A number of people reached out to their Twitter networks to see if anyone had seen evidence of Trump clips being used in ISIS videos, and many expressed skepticism about Clinton's claim.
Clinton, with 59 percent support, has maintained a clear lead in national polls. Vermont Sen. Bernie Sanders remains her closest challenger, who was favored by 26 percent of likely Democratic voters, according to a poll released Wednesday by Monmouth University in New Jersey. Former Maryland Gov. Martin O'Malley polled at just 4 percent.
The debate, hosted by ABC News and Saint Anselm College in Manchester, New Hampshire, was the third scheduled 2016 Democratic presidential debate. Clinton has suggested that authorities need to work closer with Muslim communities to combat extremism, and said that recent statements by Republicans have hurt those efforts.
"We have to reach out to Muslims and say, 'You are not our adversary. You are our partner'," she said.
© Copyright IBTimes 2022. All rights reserved.
FOLLOW MORE IBT NEWS ON THE BELOW CHANNELS