Donald Trump's Sons Under Fire After Photos Posing With Carcasses of Dead Animals Surface Online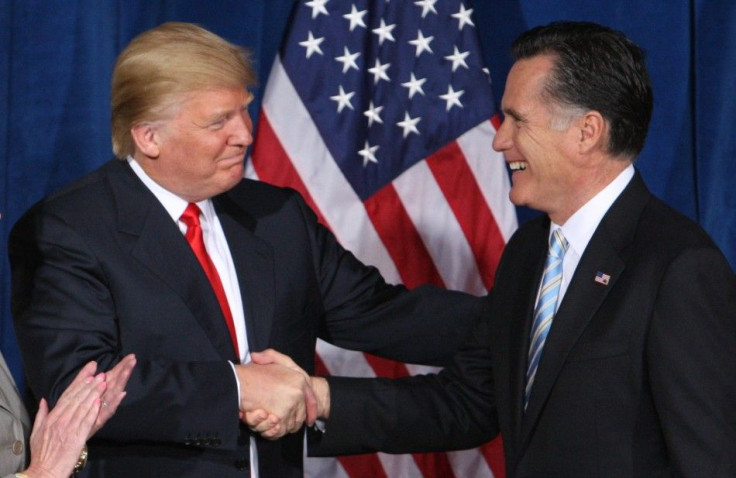 Donald Trump's sons, Donald Jr. and Eric, are under fire from animal rights activists after their photographs posing with dead animals from an African hunting safari, last year, surfaced online.
Donald Trump Jr. and Eric Trump are now facing criticism from animal rights organization PETA and social networking sites for the photos of dead creatures including an elephant, a crocodile, a civet cat, a kudu and a waterbuck.
The photos put up on the Hunting Legends Web site show the two men standing next to a number of dead animal bodies.
One of the images shows the brothers standing next to a crocodile hanging from a tree, while another image shows Donald Jr. sitting next to a dead buffalo.
"If the young Trumps are looking for a thrill, perhaps they should consider skydiving, bungee jumping, or even following in their anti-hunting father's footsteps and taking down competing businesses—not wild animals," a PETA spokeswoman said in a statement.
"Like all animals, elephants, buffalo, and crocodiles deserve better than to be killed and hacked apart for two young millionaires' grisly photo opportunity. If the Trumps want to help villagers, they have plenty of resources at their disposal."
The photographs came into limelight Monday after the Web site Wildlife Extra wrote an article about the brothers with the photo.
The animal rights organization also called the hunt insensitive and shocking, but the brothers defended their actions and the pictures taken during their hunting trip in Zimbabwe last year. They said that meat from the dead animals went to feed the local villagers.
In a joint statement, the brothers told E! Online that "We are both avid outdoorsmen and were brought up hunting and fishing with our grandfather, who taught us that nothing should ever be taken for granted or wasted. We have the utmost respect for nature and have always hunted in accordance with local laws and regulations. In addition, all meat was donated to local villagers who were incredibly grateful. We love traveling and being in the woods. At the end of the day, we are outdoorsmen at heart."
Donald Jr. received a lot of criticism on Twitter. However, he defended himself tweeting, I have no shame. I HUNT & Eat game. I'm a hunter, for that I make no apologies." "If u think we wasted the meat? It fed a village for a month."
"Not a pr move I didn't give the pics but I have no shame about them either. I HUNT & EAT game."
Donald Trump also spoke in support of his sons and told TMZ: My sons love hunting. They're hunters and they've become good at it. I am not a believer in hunting and I'm surprised they like it. I know that anything they did was 100 per cent OK in terms of the hunting community.
© Copyright IBTimes 2023. All rights reserved.
FOLLOW MORE IBT NEWS ON THE BELOW CHANNELS