Dr. Fauci To See Daughters For The First Time Since Start Of Pandemic
The nation's leading infectious disease expert Dr. Anthony Fauci will, for the first time since the COVID pandemic started, see his daughters now that they are vaccinated.
Fauci told Business Insider that "For the first time in a year and a half, my three daughters are going to be coming in to visit their daddy at the end of the month," and that added "that's going to be a very happy time."
The visit for Fauci comes as 66% of the adult U.S. population have received at least one dose of the COVID vaccine, according to the Centers for Disease Control and Prevention – a number that may fall short of President Biden's goal of vaccinated 70% of Americans by July 4.
Fauci's three daughters – Meghan, Alison, and Jennifer – are spread across the U.S., making this first reunion since the pandemic started an emotional one for the family, Fauci told Business Insider.
Megan is a Johns Hopkins University graduate that teaches elementary school in New Orleans, while Alison, the youngest, graduated from Stanford University and works for Twitter in California as a software engineer, the Daily Mail noted.
Jennifer, the eldest daughter, has a master's degree from Harvard in developmental and child psychology from Columbia University and works at Cambridge Health Alliance in Massachusetts, the news outlet said.
Fauci, 80, said the main reason his daughters chose not to get together during the pandemic was his age – a risk factor that could cause complications if he were to contract the virus, according to Business Insider.
But now that Fauci and his wife are vaccinated along with his three daughters, it is time for a reunion.
"They're all vaccinated, I'm vaccinated, my wife is vaccinated. So we're going to spend some time together," Fauci told Business Insider.
Fauci also gives the green light to others that are vaccinated as he said on NBC's "Today" show on Wednesday, "Those who are vaccinated can have a great 4th of July. I mean, you can just do all the things you wanna do."
Health officials continue to warn those Americans that are not vaccinated against COVID-19 about the risks of large gatherings or not wearing a mask in public, especially as the Delta variant continues to spread across the U.S.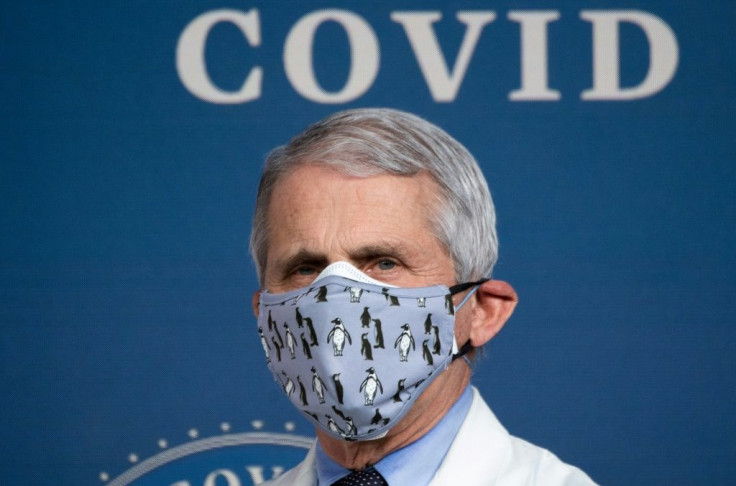 © Copyright IBTimes 2023. All rights reserved.