Drunk Duo Eats Deadly Snake To Prevent It From Biting Others, Hospitalized
Two intoxicated men in India ate a half-burnt venomous snake allegedly to prevent it from biting others, and to avenge the frequent reptile attacks in their village.
The incident took place in a village in the northern state of Chhattisgarh on Sunday. A family in the village discovered the Indian Krait in their home and set the reptile on fire before throwing it on the street, News 18 reported.
A while later, the men, named Guddu and Raju, who reside in the same locality, saw the half-burnt snake and ate it. Raju first picked up the dead reptile and chewed on its head. Guddu then snatched the snake from Raju and chewed on its tail. Moments later, the two started feeling dizzy and fell unconscious.
Passersby rushed them to a nearby hospital for treatment. After regaining consciousness, Guddu told local media they ate the reptile in anger as several snake bite cases were being reported in the village. He said they knew the snake was alive when they found it.
"Raju and I were drunk. We thought we would chew it before it could bite anyone. Due to anger, we did not understand anything and chewed on the snake," he said, India.com reported.
While Guddu remained under medical supervision, Raju was reported to be in critical condition.
Kraits are highly venomous snakes that belong to the cobra family. Mostly found in Asian forests, these reptiles are terrestrial and feed mainly on other snakes, frogs, lizards and small mammals. Kraits are dangerous to humans mostly when they are provoked and a bite can kill a person within 15 minutes in some cases.
Last month, a man in the eastern Indian state of Odisha chewed a deadly snake to death after the reptile bit him in the foot. As soon as 45-year-old Kishore Badra was bitten by the reptile, he caught hold of the snake and bit it to death. He then walked around the village with the dead snake wrapped around his neck.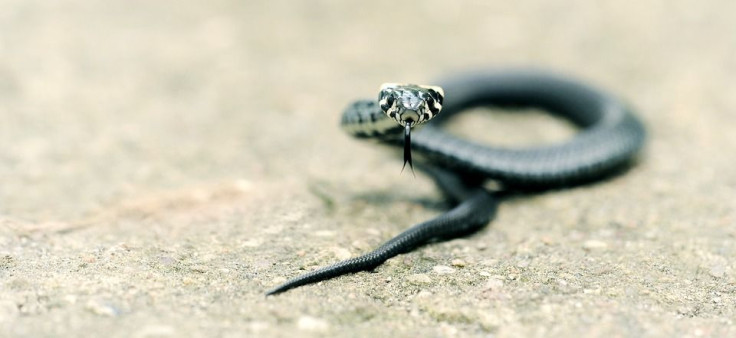 FOLLOW MORE IBT NEWS ON THE BELOW CHANNELS