Each Of Us Can Make A Global Social Impact. Here's How I Did.
Building Social Capital Is As Easy As Sending An Email. Here's My Story.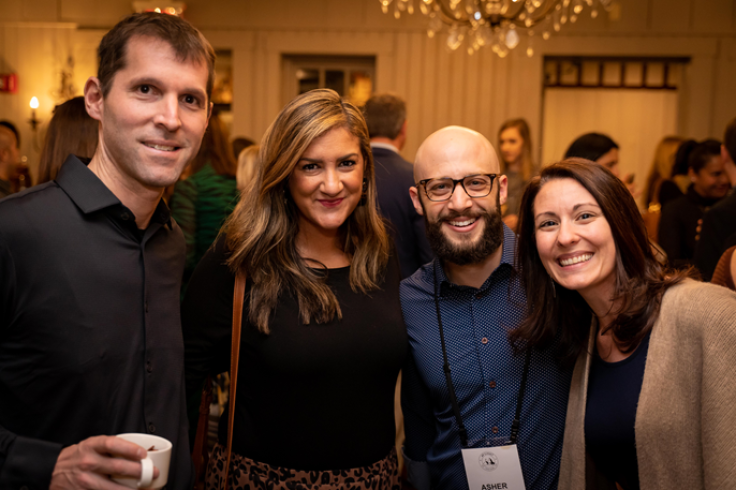 In 2015, I started sending an email every Friday to my team of 40 people at Acceleration Partners . This isn't unusual—many CEOs send out weekly wrap-ups—but I veered from the traditional course by focusing the emails on topics that had nothing to do with our business.
Instead, I wanted to provide a dose of positive inspiration that challenged employees to improve. The ultimate goal was encouraging our employees to want to achieve more in all areas of their lives, not just at work.
I thought my Friday emails would be skimmed, at best; maybe even ignored. But to my surprise, employees started telling me they looked forward to the messages each week and were sharing them with friends and family outside the company. The weekly emails were also having a noticeable impact within our company, as members of our team started running races, taking bucket list vacations and improving their professional performance along the way.
Encouraged by these results, I began to wonder if the email could have greater benefits outside our organization. I had always wanted to make a bigger impact beyond our business, so I renamed the newsletter Friday Forward—because it was being forwarded regularly—and opened it up to the public.
The result has been beyond my most optimistic expectation: today, over 200,000 people in 60 countries receive Friday Forward each week and share it with friends, family and their teams and companies. The newsletter has also led directly to two books, Elevate , which came out last year, and Friday Forward , which publishes this week.
The experience of brainstorming, writing and publishing Friday Forward each week has had a profound impact on my personal leadership journey and growth. It has become a vital tool for me to reflect on my own principles and has also provided an essential way for me to share and connect over those principles with others, even people I have never met.
Friday Forward has led to conversations around the world with people I would not have otherwise met, partnership inquires about our business and even to several new employees.
What has always inspired me to keep publishing Friday Forward every week for five years, without missing a Friday, has been reader responses. On many occasions, especially this year, readers have shared that a post was exactly the inspiration they needed at that specific time in their lives.
Readers have shared that a certain post made them realize their work wasn't fulfilling them, and they needed a career change. Some have shared deeper, personal stories about relationships in their lives that were toxic and needed to end. One reader shared that she lived in a remote part of the world, where it is sometimes difficult to find a community to engage with, and Friday Forward helped her feel grounded. Often times, the messages just hits at the right time.
In this way, I have come to think of each Friday Forward as investing SOCAI CAPITAL into the world, lifting somebody else up at a time they need it most, so they can eventually pay that forward to somebody in their own circle.
We each have a responsibility to elevate each other—this is the essence of leadership. While I know a simple newsletter can't change the world in any single Friday, I hope that by investing SOCIAL CAPITAL in helping others, and pushing them to pass that inspiration along, there is a compounding effect over time.
On a smaller scale, I have also seen how Friday Forward has built SOCIAL CAPITAL within Acceleration Partners. We have been a remote organization since our founding in 2007, and while we've excelled in a virtual workplace, we've had to be intentional about building deep connections on our team without the closeness provided by an office .
Friday Forward has nothing to do with the specificity of our business, but it is a clear reflection of the core values that our company promotes most: stepping up to face challenges, valuing relationships with others, and consistently improving at work and in life.
We want our team members to support each other while also encouraging each other to be their best; to mentor and hold each other accountable. The consistent dose of inspiration Friday Forward provides constantly reinforces the importance and impact of this growth mindset.
Of all the lessons I've learned in five years of writing Friday Forward, this one is perhaps most important: there is a clear need for inspiration and positivity in the world today. Too many people are caught in a dispiriting cycle of negative news and divisiveness. They also see people sharing only the best five percent of their lives on social media, leading them to believe they are falling short in all facets of life.
These stimuli quickly overwhelm us, and can make us feel like each day is lost before it has begun. People are yearning for something that will lift them up and inspire them to attack the day, and that type of motivation has in some ways never been harder to find.
Friday Forward is proof that each of us can help break this cycle if we invest our time and effort. In effect, each of us can choose to invest SOCIAL CAPITAL in each other, to share inspiration with each other, and to reach out to others to offer some motivation and mentorship.
I challenge you to make an investment of your own. Reach out to a friend, colleague or member of your team at work and ask them how they would like to improve. Offer to be their accountability partner, or even their mentor. Be the person they need in their life to grow to the next level.
Also, consider starting your own weekly email, text or Slack. You might be surprised by the return you get when you invest a bit of social capital in somebody else. Today is the perfect day to start.
I'd love to have you join the Friday Forward community and check out the book .
FOR FREE to continue reading
✔️ Unlock the full content of International Business Times UK for free
offer available for a limited time only
✔️ Easily manage your Newsletters subscriptions and save your favourite articles
✔️ No payment method required
Already have an account? Log in
© Copyright IBTimes 2023. All rights reserved.