Eagles vs. Chiefs: Who Will Win Super Bowl 2023? Bettors Split
Who will win Super Bowl 2023? Neither the Philadelphia Eagles nor the Kansas City Chiefs stand out as the obvious choice among the betting public.
More than 50 million American adults are expected to place a bet on Super Bowl 2023, according to the American Gaming Association. The AGA's research found that those prospective bettors are picking the Eagles and the Chiefs to win at the same rate.
According to the AGA, 44% of Super Bowl bettors will pick the Eagles to win. Another 44% of the bettors are taking the Chiefs to the Super Bowl. The remaining 12% are still undecided or have other wagers in mind for the big game.
The betting odds suggest that this year's Super Bowl is among the most evenly matched in NFL history. The Eagles are 1.5-point favorites over the Chiefs. It's only the third time in the last 40 years that the Super Bowl features a point spread of less than a field goal.
Philadelphia and Kansas City both have a 16-3 record through the regular season and the playoffs. The two teams have scored the exact same number of points.
There is expected to be a record number of bets placed on the Super Bowl and a historic amount of money wagered. The $16 billion that is projected to be wagered on the Super Bowl is more than double last year's projected handle of $7.6 billion. The number of expected Super Bowl bettors is up 61% compared to last year's game between the Cincinnati Bengals and Los Angeles Rams.
Approximately 30 million adults are expected to make a Super Bowl bet online, at a retail sportsbook or with a bookie. About 28 million Super Bowl bettors plan to wager casually with friends as part of a pool.
More than eight days since the Super Bowl matchup was made official, the majority of bets that have been made with sportsbooks against the spread have been placed on the Eagles.
The Chiefs are playing in their third Super Bowl in the last four years. Kansas City beat the San Francisco 49ers 31-20 three years ago. The following year, the defending champion Chiefs were upset 31-9 by Tom Brady and the Tampa Bay Buccaneers.
The Eagles are back in the Super Bowl for the first time in five years. Philadelphia upset Brady and the New England Patriots to win its first Super Bowl in franchise history.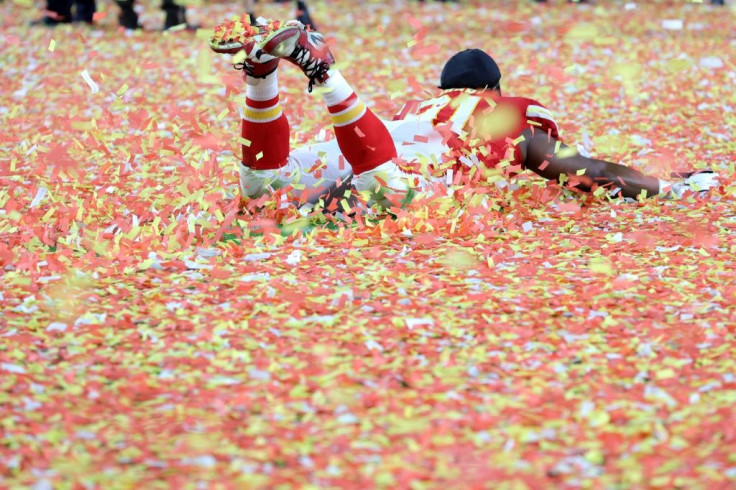 © Copyright IBTimes 2023. All rights reserved.