Ed‌ ‌Bastian‌ ‌Raises‌ ‌The‌ ‌Bar‌ ‌On‌ ‌People-To-People‌ ‌Connections‌ ‌
Delta's CEO creates Gaining Altitude podcast series of powerful conversations as expansion of company-wide Town Halls.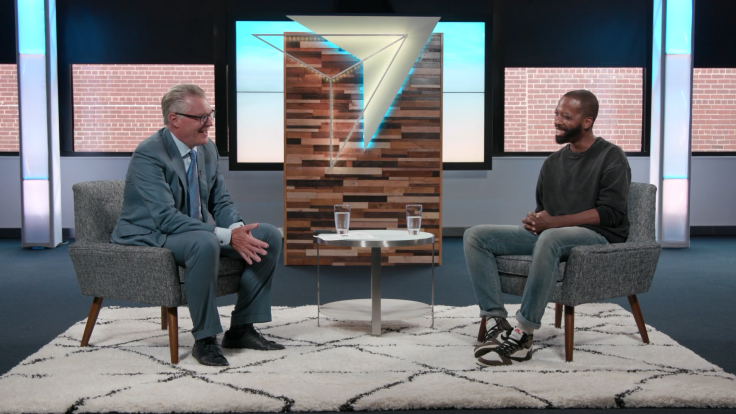 We honored Delta Air Lines' Ed Bastian for being an authentic Social Capital superstar last year because of what he has done to prove Delta values people first and foremost. Now, in another amazing and exclusive Q and A with IBT's Social Capital team, "Ed," as he likes to be called, gives us an inside view of how he's taking Delta's Social Capital mindset and commitment to a new level by ramping up his ability to connect to customers and employees in an exciting and powerful new way!
Chris Benguhe: Why do you think it's so important to keep the lines of communications open with your customers and your employees? What's the biggest value you get from that?
Ed Bastian: We have been living in challenging times where there are always new updates to be shared. There was no such thing as overcommunication for the past year and a half. I participated in more Town Halls and spoke with the media in 2020 more than ever before, as I wanted Delta people and customers to hear directly from me to reassure them that Delta had their health and safety as our top priority.
Chris: Tell us about where the idea for the Gaining Altitude series began.
Ed: If our mission at Delta is that no one better connects the world, then we should take that statement beyond connecting people to places and also connect people to one another. That's what the Gaining Altitude series is all about.
The genesis of this dates to the start of the pandemic, which has been the worst crisis in our industry's history. With employees spread around the world, and many physically isolated, we began hosting weekly virtual Town Halls where our people could tune in to hear from me and other Delta leaders directly and ask us questions. We talked about the impact of the pandemic on our business, our protocols for keeping our employees and customers safe and healthy, and our plan for the recovery.
While we had previously held Town Halls in person, the virtual sessions allowed people all over the world to tune in, with thousands of employees engaging. Beyond business conversations, we invited guests, such as Paralympian Mallory Weggemann, who talked about growing from the challenges we overcome. We also invited Black leaders like Bryan Stephenson, Dr. Bernice A. King and Ambassador Andrew Young for frank and honest discussions on social justice and equity, and how we as a company can help build a better, more just world.
It became evident that these powerful conversations needed to be shared more broadly.
We started hearing from Delta people asking if they could share our Town Hall discussions with family, friends and neighbors. So, we thought, why not share these powerful conversations more broadly?
Talking to new people with different perspectives and experiences helps us understand other points of view and expands our ability for empathy. That's why Gaining Altitude was created this past spring as a way to amplify these discussions that matter to our world. Now, anyone can tune in to watch and ask questions live.
Chris: Why do you think it's important to have these conversations?
Ed: During the pandemic, we had more time to stop, think and reflect than ever before. I spent a lot of time listening and learning in ways that I hadn't been able to in years. Gaining Altitude is one example of a new opportunity to learn from one another and helps to broaden my perspective. It also allows those watching to pause for a moment of reflection in their busy lives to listen and learn from others.
Chris: Can you give us some examples of lost value that came with the loss of some of the communication during the pandemic?
Ed: Before the pandemic, I used to travel and visit with my Delta colleagues in person frequently. I wasn't able to do that as often as I would have liked for the past eighteen months, but we have started to safely reconnect.
I was thrilled to recently visit with our team at LaGuardia. It was refreshing to engage and meet with one another face to face after more than a year apart. I look forward to more of these interactions soon.
Chris: There are a lot of companies hosting external conversations now, thanks to video platforms becoming popular during the pandemic. How does yours stand out?
Ed: This series is about connecting people. These discussions will cover a wide variety of topics, whether it be sustainability, mental health, entrepreneurship or leadership. I hope that Gaining Altitude starts conversations and takes us all on a journey that builds a shared understanding through transparency and education from our incredible guests. Tuning in and asking questions means you are taking time to listen to others' perspectives and experiences. Dedicating your time to listen to others is the beginning of the journey.
For example, our first episode featured my friend, Tristan Walker, founder and CEO of Walker and Company Brands and founder of nonprofit Code2040. Tristan talked about how he led his organization through the confluence of crises throughout the past year and a half. He said, "I recognized quickly: We're people first. At the end of the day, I'm a person. We had to reflect on everyone's person-ness. We had to acknowledge the trauma we were all feeling first. The disproportionate impact from the pandemic, but also the issues related to unrest this [last] summer. And once you acknowledge the trauma, then you can model the way."
Despite the trauma we all experience during the pandemic, he said he expanded his capacity for empathy in ways that he would never have believed and described how that is what we should work toward. I highly recommend watching the replay.
Chris: How does Gaining Altitude relate to social capital? How will the series continue to evolve?
Ed: Large corporations like Delta can make a positive impact on the world every day. Delta's people are our most powerful asset, and hearing their questions and feedback directly is very important to me. It helps me to be a better leader.
With Gaining Altitude, I'm honored to hear from our customers and communities. Listening and acting on customers' feedback about their flying experience is paramount to our commitment to being the world's best airline. And now, expanding those conversations beyond the airline to other topics that matter is quite special.
Chris: What should people look forward to the next episode?
Ed: Danny Meyer joins me on August 11 to discuss entrepreneurship and the importance of failure, service, the power of empathy and how we have grown through crises. Danny is Union Square Hospitality Group founder and CEO, Shake Shack founder and USHG Acquisition Corp. chairman, and I know we will learn a lot from his experiences.
Danny opened Union Square Cafe at age 27, and 30 years later, he's known around the world for having created beloved restaurants, built an incredible hospitality group and founded Shake Shack while prioritizing employees along the way – something that doesn't always happen in his industry. He has so much to share about leadership and entrepreneurship.
Chris: How will you use these conversations to introduce more Social Capital into Delta's future?
Ed: My hope is that one day our customers and employees will be able to have a conversation in flight about something that stayed with them from a Gaining Altitude episode. Being able to connect beyond small talk with one another is a reminder that we are more alike than we are different.
Chris: How can people tune in?
Ed: You can sign up for the livestream, as well as watch archived episodes, at delta.com/gainingaltitude. In the future we plan to present these discussions as an audio podcast as well. I hope everyone joins us and look forward to hearing their questions!
© Copyright IBTimes 2023. All rights reserved.