Edie Wasserman dies at 95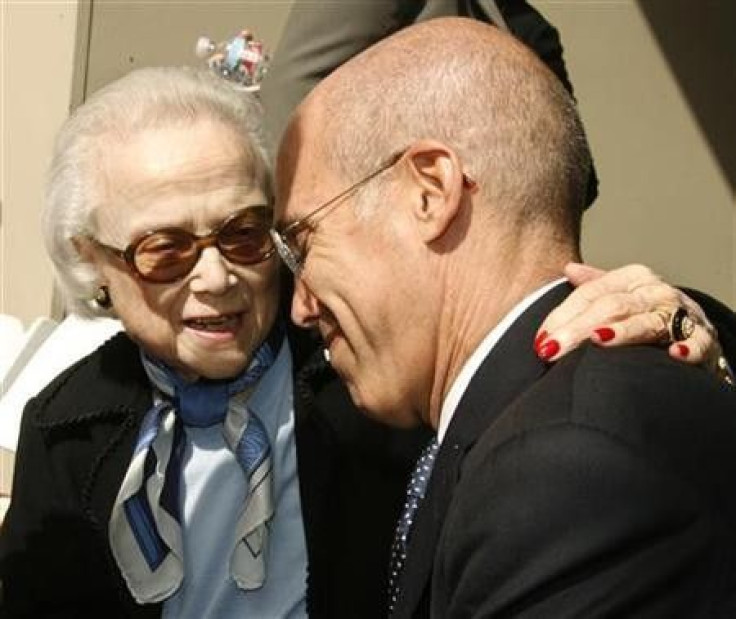 Edie Wasserman, a Hollywood philanthropist and the wife of legendary mogul Lew Wasserman, has died of natural causes, family spokeswoman Melissa Zukerman told TheWrap.
She was 95.
At the risk of mixing metaphors, though her husband was known as The Pope of Hollywood, she was seen as the town's first lady.
Her passing, coupled with the 2002 death of her husband, marks not just the final coda to one of the industry's most prominent power couples, but also the end of an era -- a time when the center of the movie world driven by outsized personalities, not just corporate behemoths.
Though Lew Wasserman commanded a higher profile in the industry, his wife played a key role in his rise from agent to the chief of MCA/Universal.
She was known as being her husband's eyes and ears in the town, helping him build and maintain relationships with actors, industry executives and other power players.
Wasserman's time at the center of Hollywood society spanned decades, starting in the 1950s when her husband was an agent to the town's top talent through the 1990s when he found his influence at Universal increasingly diminished following Seagram's purchase of the studio.
But she was born far from the movie industry's home in Cleveland, Ohio. She married Lew Wasserman in 1936 and was married to him for over 50 years. For the couple's fiftieth anniversary in 1986, a portion of Universal's backlot was made up to look like Cleveland would have appeared in 1936. Over 700 guests attended.
In addition to her status as a Hollywood tastemaker and social doyenne, Wasserman was a noted philanthropist. As a member of the board of directors, she was intimately involved in fund-raising for the Motion Picture and Television and celebrated her birthday every year at the organization's Woodland Hills facility.
Her interest in education, led her to create a Wasserman Scholars program at six major universities nationwide. She was also served on the board of Cedars-Sinai Medical Center and supported the Los Angeles Music Center.
She was also a lifelong Democrat, a friend to President Bill Clinton and President Jimmy Carter and an active party donor.
Survivors include daughter Lynne Wasserman, grandson Casey Wasserman and his wife Laura Wasserman, granddaughter Carol Leif and her husband Jeff Parker.
She is also survived by three great-grandchildren, Emmet and Stella Wasserman and Jake Parker.
© Copyright Thomson Reuters 2023. All rights reserved.