Election 2016 Cuba Policy: Florida Impact For Jeb Bush, Hillary Clinton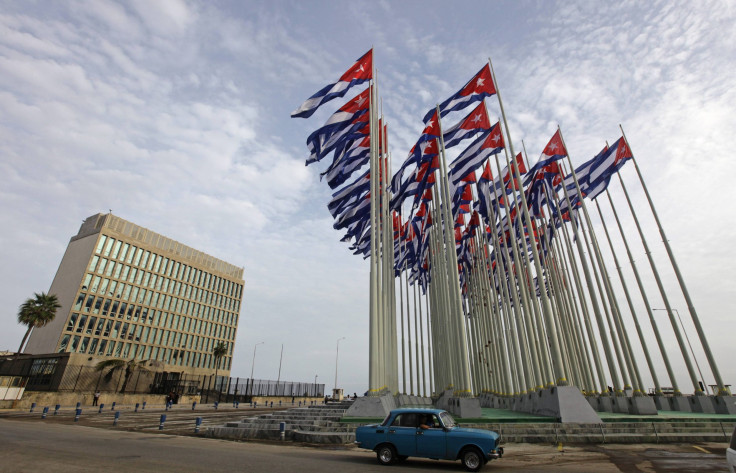 WASHINGTON -- For all the instant outrage stemming from President Barack Obama's shock decision to restore diplomatic relations between the U.S. and Cuba, it's not the kind of policy shift that is likely to reverberate in the 2016 presidential campaign. By and large, those who support keeping the diplomatic freeze and embargo were already going to vote Republican. Those who support loosening restrictions were already going to vote Democrat.
But that doesn't mean some candidates won't try to make it an issue. In Florida, a swing state that has notoriously decided national elections by only a few hundred votes, the state's estimated 1.2 million Cubans, mainly living in the Miami region, are highly sought-after voters. And both Republicans and Democrats are likely to talk about the changing Cuba policy in order to connect with those voters.
Support or opposition to the Cuban embargo has never decided an election. Until recently, there was vast bipartisan support for the embargo. But in the past decade, a bipartisan movement to ease the restrictions has grown. And there is a generational divide that is unlikely to shift because of Obama's decision. Older Cuban exiles have remained firm in their support for the embargo. Younger American-born Cubans, as well as those who have recently migrated from the nation, are frequently more supportive of easing the restrictions.
And their voting patterns are also changing. Historically, Cubans have supported Republicans, attributing their unhappiness with Democrats to JFK's disastrous invasion of the Bay of Pigs; they embraced President Richard Nixon's decision to offer sweeping amnesty to Cuban immigrants. But those young Cuban-Americans with no personal experience of the Castro dictatorship have begun supporting Democrats in much larger numbers.
Still, 2016 candidates may want to focus on the issue more often in order to motivate Cuban-Americans for whom the embargo is a litmus test. "Where this might have an impact at the ballot box, however, is with turnout," said University of Miami political science professor Casey A. Klofstad, who has researched voting patterns among Cuban-Americans. "Both Republicans and Democrats will likely use this issue as they mobilize voters. It is hard to say whether these efforts will be more salient among Democrats or Republicans."
If nothing else, the move by Obama will not seal Florida in either party's favor. "It just drives a further wedge between conservatives who view this regime under Raul Castro every bit as bad as it was under his brother," said University of Florida political science professor Richard Conley.
However strongly Florida Republicans feel, they may not make a difference in choosing the presidential nominee because the primary schedule has diminished their impact. In 2012, Florida was an early state, voting after South Carolina and before Nevada in February. But because of moves to prevent early voting going wild, Florida won't vote as early this year.
Right now, Florida is slated to hold its primary on March 1 as part of Super Tuesday, a day when many states will vote. (The state will lose delegates if it tries to reschedule its primary earlier.) That means the GOP race may be nearing an end, and many of the candidates who began the campaign in Iowa and New Hampshire will already be gone.
As for the much-coveted national Hispanic vote, it's unlikely this decision will have much impact. Cuban-Americans have tended not to vote with the rest of the nation's Hispanics, who are predominantly of Mexican, Central American, Puerto Rican or Dominican descent and who have become reliable Democratic supporters. "The issues they're focused on are really the economy, education and obviously any easing of immigration reforms that would aid having their family members come if they want to or those who are 'working in the shadows,'" Conley said. "The experience of Mexican migrants, Central American migrants is vastly different than Cuban migrants."
Still, in a general election Florida is a big prize, and some potential candidates moved quickly Wednesday to make their views known.
Jeb Bush, the former two-term governor of Florida who is married to a woman of Mexican descent and who carried the Latino vote, is likely to have a strong voice about Cuba during the presidential campaign (assuming he runs). "I don't think we should be negotiating with a repressive regime to make changes in our relationship" until Cuba changes, said Bush said at an event on Wednesday, according to USA Today.
Former Secretary of State Hillary Clinton has also been on the front lines of Cuban-America relations -- on the side opposite to Bush. She has supported rolling back some of the embargo restrictions.
"Near the end of my tenure I recommended to President Obama that he take another look at our embargo," Clinton wrote in her book "Hard Choices." "It wasn't achieving its goals and it was holding back our broader agenda across Latin America. After 20 years of observing and dealing with the U.S.-Cuba relationship, I thought we should shift the onus onto the Castros to explain why they remained undemocratic and abusive."
Sen. Marco Rubio, R-Fla., who has hinted at a presidential campaign, was infuriated with the decision by Obama. "I'm committed to doing everything I can to unravel as many of these changes as possible," Rubio said at a Wednesday press conference.
© Copyright IBTimes 2023. All rights reserved.