Election 2016: Jeb Bush Super PAC Donors Benefited From Bush's Time As Florida Governor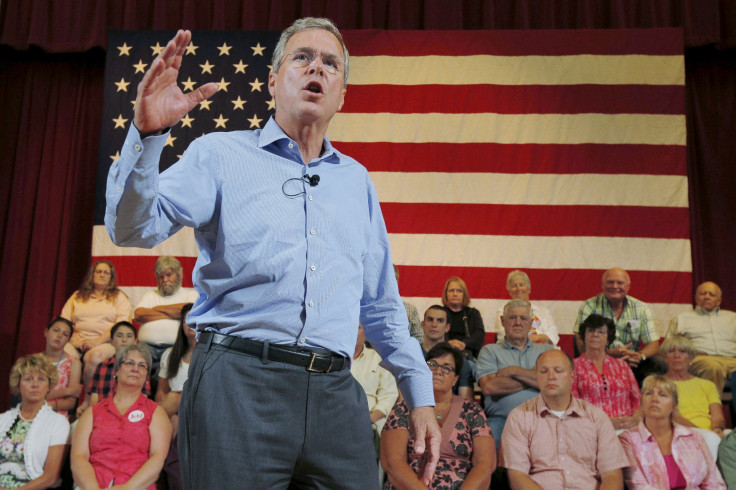 Jeb Bush is pitching himself as a clean-government reformer who rejects transactional politics. But a review of donations to the group backing his presidential campaign shows that Bush's candidacy is relying on cash from executives whose firms benefited from his time as Florida governor -- as well as on donors who bankrolled his brother's presidential races. Almost $17 million of the $103 million that flowed to "Right to Rise," the Bush-aligned super PAC, came from direct corporate contributions.
One major source of cash for the super PAC: executives at financial firms that received deals from Bush's administration to manage Florida pension money. They donated nearly $3 million, according to federal campaign finance documents released Friday.
Those firms -- which include Goldman Sachs, JPMorgan and Morgan Stanley -- were collectively given over $1.7 billion worth of state pension investments by Florida officials while Bush was in office, according to state reports. International Business Times previously reported that while Bush was governor, his administration directed state pension investments to 11 financial firms affiliated with his brother's top campaign donors, known as Rangers and Pioneers.
While Bush, on the campaign trail, has been denouncing the influence of lobbyists and public officials who become lobbyists, his super PAC pulled in more than $164,000 from the Southern Strategy Group, a Florida lobbying firm made up of former government officials. The donations came from individual lobbyists at the firm and also a $100,000 corporate donation from the firm itself. Emails reviewed by IBTimes show that Bush consulted with the firm's lobbyists on legislative matters as governor, and at times took actions that benefited the firm's clients. The firm is run by Paul Bradshaw, a Right to Rise donor who is married to Bush's top campaign adviser, Sally Bradshaw.
Bush's campaign did not immediately respond to IBTimes questions about the donations.
Brad Freeman, a Pioneer fundraiser whose private equity firm received a $50 million pension deal from Florida officials while Bush was governor, has given $1 million to Right to Rise and has raised money for the group.
"They really believe in the candidate [or] they like to be one of the in-club," Freeman told the Wall Street Journal, explaining what motivates donors to cut large checks to the super PAC. "For some, when it gets time to have appointments, those names stand out."
Jeb Bush created the super PAC in January as he began considering a bid for the presidency. While committees like Right to Rise are supposed to be independent from campaigns, Bush and his advisers were intimately involved in raising money for Right to Rise and setting its long-term strategy. Sally Bradshaw was paid $50,000 by Right to Rise by the end of May. She is now being paid by Bush's campaign as an adviser.
Unlike super PACs, candidates are permitted to accept donations only from individuals, not from corporations. Right to Rise vacuumed in $16.9 million directly from corporate treasuries.
© Copyright IBTimes 2022. All rights reserved.
FOLLOW MORE IBT NEWS ON THE BELOW CHANNELS