Ellen Barkin Claims 'Jealous' Ex Johnny Depp Threw Wine Bottle At Her
KEY POINTS
Ellen Barkin claimed that Johnny Depp was controlling, demanding and jealous during their relationship
She alleged that Depp once threw a wine bottle in her direction but that it didn't hit anyone
Depp called Barkin's claims "untrue" and said his ex-girlfriend held a grudge against him
Johnny Depp's ex Ellen Barkin and Amber Heard's sister Whitney Henriquez testified on behalf of Heard this week in the ongoing defamation trial between the actor and his ex-wife.
In a pre-recorded deposition from 2019 — presented to the jury in a Fairfax, Virginia, courtroom Thursday — Barkin, 68, claimed that Depp once "threw a wine bottle across the hotel room" in her direction during an alleged fight between him and his friends, People reported. She said she didn't "know why he threw the bottle," but that it didn't hit anyone.
The "Animal Kingdom" star also testified that Depp was "drunk... a lot of the time" while she knew him, both professionally as a co-star in 1998's "Fear and Loathing in Las Vegas" as well as during a "sexual" relationship between the pair.
Barkin claimed that Depp was often "tripping" or under the influence of hallucinogenics and used cocaine at least "dozens of times" over the course of their association.
In her testimony, she also detailed Depp's "controlling" and "demanding" behavior, describing the actor as a "jealous man" who would often ask her questions like, "Where are you going, who are you going with, what did you do last night?"
"I had a scratch on my back that once got him very, very angry because he insisted it came from me having sex with a person who wasn't him," she added in the deposition.
Depp previously addressed Barkin's claims, calling them "untrue," Reuters reported. He claimed that Barkin held a grudge against him, adding: "I do not have an anger-management problem."
On Wednesday, Heard's younger sister, Henriquez, took the stand and was questioned about an alleged fight between the siblings and Depp on a staircase at the former couple's penthouse in March 2015.
According to Henriquez, Heard found text messages that showed Depp was allegedly having an affair, causing an argument in which the actor said, "Amber made me do it," People reported.
Henriquez also testified that Depp threw a Red Bull can that hit his nurse Debbie Lloyd in the back.
"I'm at the top of the stairs with my back to the stairs, and that's when Johnny runs up the stairs. I'm facing Amber, he comes up behind me, strikes me in the back. I hear Amber shout, 'Don't hit my f------ sister!' She smacks him, lands one. At that point, that's when [Depp's security guard] Travis [McGivern] runs up the stairs, after Amber landed one," Henriquez alleged.
She then alleged that Depp grabbed Heard by the hair and whacked her repeatedly in the face. Depp's bodyguard, McGivern, pulled the two apart, Henriquez added.
She claimed that Heard's closet was "completely destroyed" by Depp afterward. Following the staircase incident, Henriquez claimed she received a non-disclosure form to sign "to keep things private."
"My understanding is it's a contract to keep things private. To keep your mouth shut, essentially. I was asked to sign one. I don't believe I signed it. I left sometime after," Henriquez said.
McGivern, one of Depp's witnesses, previously testified about the staircase incident in the trial but offered a different account. In his testimony, the security guard said Heard and Depp initially had a "relatively peaceful conversation" that eventually became "louder" and "more volatile."
He alleged that it was Heard who threw a Red Bull can at Depp, leading McGivern to stand near the actor as the "verbal onslaught continued from both of them."
McGivern added that he also blocked a purse thrown by Heard and that the actress "tried to spit on" Depp amid the "verbal vitriol from both of them."
"Out of the corner of my eye, I saw a fist and an arm come across my right shoulder and I heard and saw a closed fist contact Mr. Depp in the left side of his face. That was Ms. Heard's fist," McGivern said.
He said that both he and Depp were shocked at what just happened and that he immediately moved the actor down the last flight of stairs to the lower level for Depp's safety.
Depp is suing Heard for defamation over a 2018 op-ed she wrote for The Washington Post about surviving domestic abuse, though she didn't mention him by name in the article. He has said under oath that he has never struck Heard or any woman.
Heard is countersuing for defamation, claiming Depp launched a smear campaign to discredit her allegations as a "hoax."
Deep and Heard's defamation trial continues.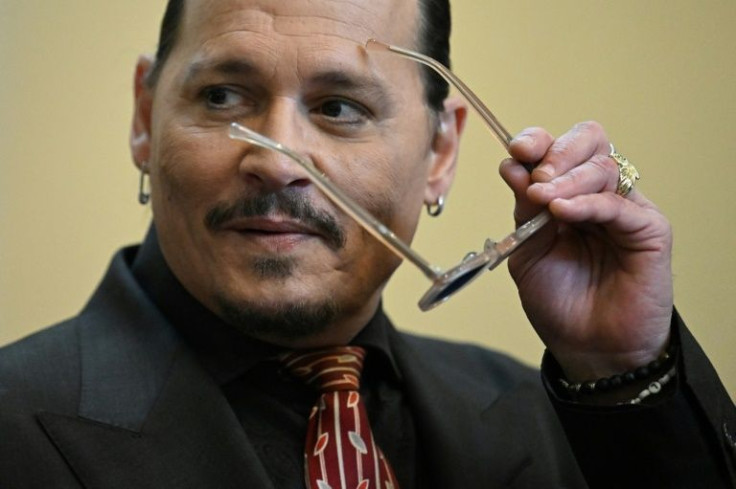 © Copyright IBTimes 2023. All rights reserved.